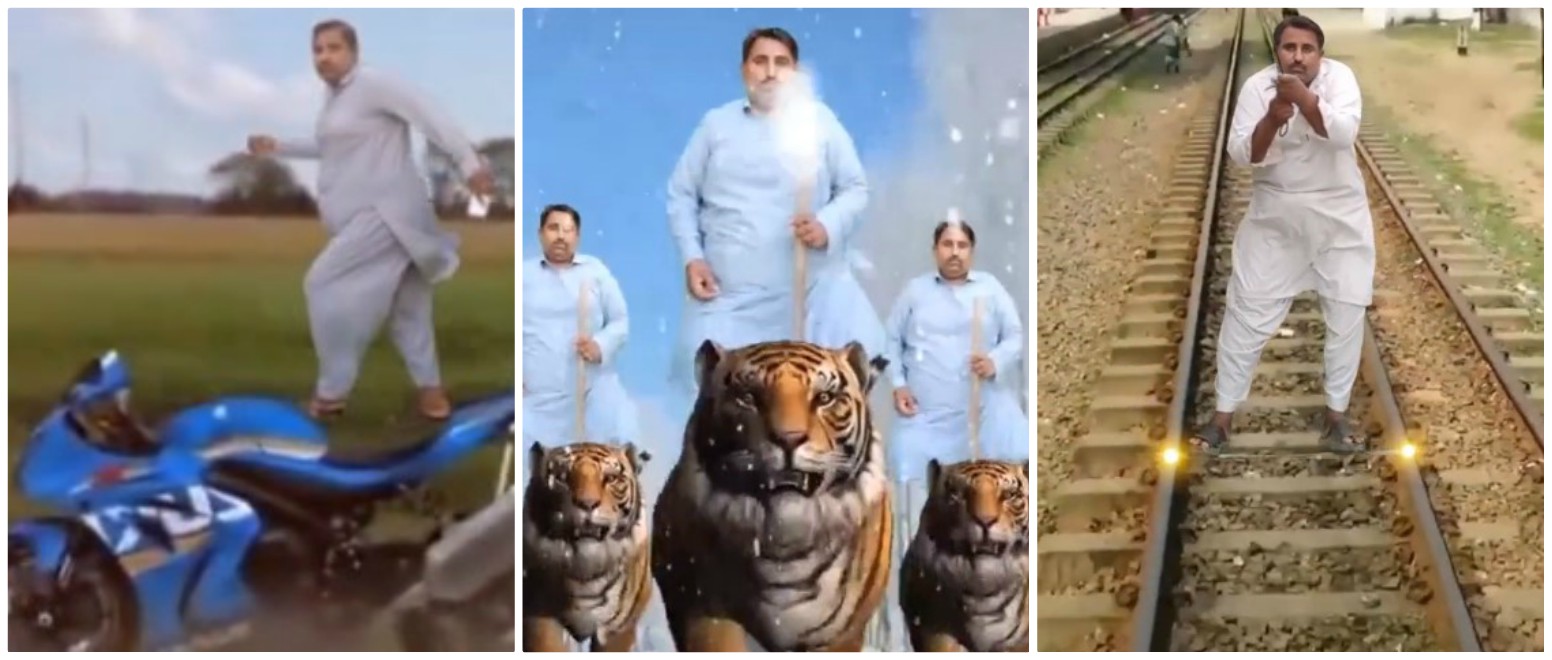 ---
KARACHI: Let this be clear, phupas are highly underrated. Be it in real life or fiction based on stereotypes, not much heed is given to phupas. In the latter one could argue that the villainous persona of their better half which is second only to Shao Kahn in Mortal Kombat, ends up overshadowing them.

But what about real life? When was the last time you actually asked him for career advice? Have you ever actually 'hated' your phupa? He doesn't even make the cut when you ridicule the extended family. Momanis get more air time.

Heck, no one even bothers to make ironic posts about the underwhelming role Phupas have been reduced to. They are just there. That's about it. While the weak would accept their fate and have the universe pass them by, TikTok's very own Phupa G refuses to become a footnote in history.

Beyond one's imagination

With his mad editing skills coupled with his extraterrestrial imagination, Jam Safdar, often dubbed as Phupa G by his followers, has taken TikTok by storm.

[video width="576" height="1024" mp4="https://c.tribune.com.pk/2020/04/tiger-1588060121.mp4"][/video]



The essence of his videos being that anything is possible for Phupa G, even that which is beyond conception. In one video he could be seen giving the likes of Joe Exotic, Carrol Basins and Doc Antle a run for their money. The video sees multiple versions of him riding on tigers, that too standing up while a couple of gallons rally behind. Remind me again who the real Tiger King is?

In another our beloved Phupa G reveals that he has been Dracula all along. After being approached by a snake, Safdar turns into a gigantic bat beast and flies off. Perhaps it's an existential commentary on how Coronavirus has given way to xenophobia against the Chinese. With the innocent snake that just wants to reach out representing China where the virus originated and Phupa G's transformation being the rest of the world's tendency to trigger disease-induced-discrimination.

[video width="576" height="1024" mp4="https://c.tribune.com.pk/2020/04/no-views-no-likes-with-the-fu-k-foryo-foryo-tiktok-1-1588060184.mp4"][/video]



Or it could just be that Safdar had just discovered a new feature on his editing app. Either way, it has that " What the hell did I just watch?" effect.

Safdar's creativity, however, goes way beyond animals and beasts. He is seen jumping from the wheel of an airplane into an infinite abyss of google earth images while in a fetal position. Even if a person binges on a kilo of shroom and ten tabs of acid, chances are they'll die before conceiving even a fraction of what transpired in the video.

Then there are the more simpler ones. One has him come face to face with a shrunk version of his own self only for the latter to go full giant size and cast the former aside. Ok, that was far from simple.

[video width="576" height="1024" mp4="https://c.tribune.com.pk/2020/04/no-views-no-likes-with-the-fu-k-foryo-foryo-tiktok-1588060246.mp4"][/video]



Meanwhile, he's also seemingly inspired by Superman. Flying across the world while stopping charging locomotives with a single blow. With that said, this is not even scratching the surface of what Phupa G is capable of. Needless to say, this does make one ponder over hat goes in the mind of any phupa while he's stuffing himself with food in the corner.

Aesthetics of cringe

It's time that we all agree that out of place, shoddy special effects is a genre of its own. To label this under the banner of "Why would anyone make this ?" would be intellectual dishonesty, considering that the novelty of something bizarre doesn't last long.

[video width="576" height="1024" mp4="https://c.tribune.com.pk/2020/04/illu-illu-illu-illu-illu-illu-1-1588060289.mp4"][/video]



It is not just a bizarre edit with him. It's the total package. The Atta Ullah Khan Esakhelvi numbers in the background coupled with a 40 something average man being the protagonist, are equally as important as the superpowers, if not more. Replace Safdar with an equally awkward teenager with Himesh numbers doing the same shenanigans and it will be something else entirely. There's a strong possibility it will end up with the gazillions of one-hit wonders on TikTok.

A simple man at heart

In a recent interview with Urdu Point, Jam Safdar revealed that he's a father of five and is often the last person to have access to his own phone in the house. "One hurdle I face is that whenever I come home all my kids want to do is play games on my phone. Each one of them uses it for an hour, then they give it to me for two hours, after which they take it back from me," he said.

Safdar was also man enough to admit that he started out his career as a TikToker after taking inspiration from his son. " My youngest son used to make TikTok videos. After watching him for some time, I decided to do so myself as well."

[video width="576" height="576" mp4="https://c.tribune.com.pk/2020/04/illu-illu-illu-illu-illu-1588060338.mp4"][/video]



Speaking about his haters, Safdar said that all the criticism and the low-brow commentary by people motivates him to excel in his work. " People who don't like you now will eventually love you tomorrow," he said. He couldn't have summed up his fan base more eloquently.

To sustain relevance and to keep your fans waiting is something close to impossible on a democratic platform like TikTok, but Safdar has nailed the game.

Unlike your A-listers, he doesn't need a bandwagon to ride with the tigers or a product to sell himself. Safdar is Alladin, the flying carpet and genie combined. He is the pop culture icon we have but will never acknowledge, and perhaps he doesn't even care.

Paap culture is a bi-monthly column about cynical commentary on bizzare pop culture happenings. 

Have something to add to the story? Share in the comments below.