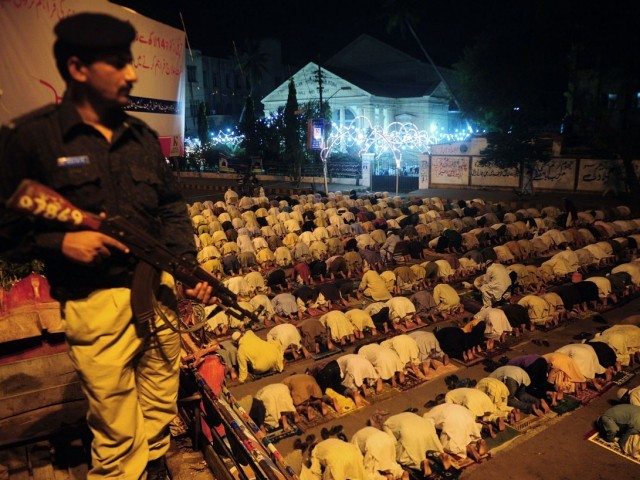 ---
KARACHI: As the Covid-19 tally in the province continues to surge, the Sindh government banned Taraweeh prayer congregations in mosques during Ramazan on Friday. The announcement came days after the federal government and Ulema had come to a consensus on the matter, deciding upon a 20-point agreement for precautionary measures.

In a late-night video message, Sindh Chief Minister Syed Murad Ali Shah said that though the mosques would be open, the Taraweeh prayers in mosques would be restricted to three to five staff members. He urged everyone else to offer the prayers at home due to the fear of a greater spread of the coronavirus.

Shah said the "difficult" decision had been taken after consultation with doctors and medical experts, while President Dr Arif Alvi had also been taken into confidence.

As tally rises, Sindh 'struggling' to contain Covid-19: CM

He pointed out that doctors in Karachi and Punjab had expressed their concerns about the issue in separate press conferences, claiming that the healthcare system would not be able to withstand the pandemic if it worsened.

The CM said that the next 15 days would be crucial for the country, and a stricter lockdown would be imposed in Sindh during the period.

"Even if we are making the wrong decisions, Allah will forgive us, as our intentions are good," he stated, adding that the decision did not deviate from the agreement between the federal government and the Ulema.

He explained that he had consulted President Alvi, who said that the Centre's decision to allow congregational prayers could be altered in line with the prevailing situation. He also pointed to a tweet by the president, which clarified that the federal and provincial governments could make such changes in the policy if they felt the standard operating procedures (SOPs) were not being followed or the situation was worsening.

Ramazan SOPs

Announcing SOPs for Ramazan, the Sindh government decided that business activities for permissible sectors will take place from 8am to 5pm, with some exceptions. Additionally, with earlier restrictions still in place, people may not leave their homes from 5pm to 8am unless in case of emergency or already given exemptions.

Milk and dairy shops may operate until 8pm, on the condition that no sale of samosas, pakoras, jalebis and other such items will take place. The orders explained that the sale of traditional Iftar items, sold before and at the time of Iftar, was usually accompanied with the increased gathering of customers, and so could not be allowed in any form at any place. However, they may be sold to consumers through home delivery services.

Similarly, restaurants may operate only through home delivery, while no take-away or dine-in services shall be allowed. Moreover, cooked food can only be delivered from 5pm to 10pm, with delivery not permitted at any other time, including Sehri. The same timings apply to drive-through restaurant outlets as well.

Furthermore, the Ehteram-e-Ramazan Ordinance is to be strictly enforced.

The government warned that violators of the SOPs would be punishable by law, in accordance with Section 4 of the Sindh Epidemic Disease Control Act, 2014, as well as any other applicable law. Besides, any businesses found operating in contravention of the orders would have their operation permissions suspended immediately and may be closed.


Sindh Chief Minister Syed Murad Ali Shah announces lockdown on Friday & announces SOP for Taravih..... pic.twitter.com/GSzaWZB3gJ

— Sindh Chief Minister House (@SindhCMHouse) April 23, 2020
COMMENTS
Comments are moderated and generally will be posted if they are on-topic and not abusive.
For more information, please see our Comments FAQ