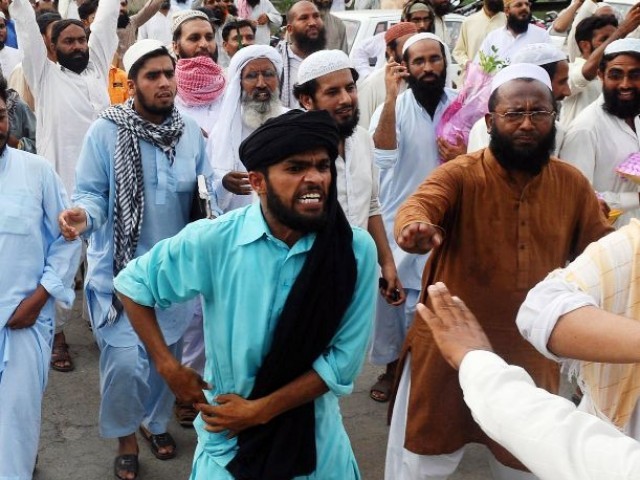 ---
LAHORE: The Punjab Home Department on Thursday appealed to the people not to give Zakat and donations to the 79 proscribed organisations and parties during the holy month of Ramazan, which will begin on Saturday.

The provincial authorities have issued the list of banned groups and organisations, stating that "action will be taken against those who donate to them".

The list included Lashkar-e-Jhangvi, Sipah-e-Muhammad, Jaish-e-Muhammad, Al-Rahmat Trust Bahawalpur and Al-Furqan Trust Karachi.

Similarly, Lashkar-e-Taiba, Sipah-e-Sahaba, Tehreek-e-Jaffariah Pakistan, Tehreek-e-Nifaz-e-Shariat-e-Muhammad, Tehreek-e-Islami, Al-Qaeda, Millat-e-Islamia Pakistan, Khudamul Islam (former Jaish-e-Muhammad), Islamic Movement (former Tehreek-e-Jaffariah), Jamiatul Ansar, Jamaatul Furqan and Hizbut Tahrir are also on the list.

Moon not sighted, Ramazan to begin on Saturday

Khairul Nas International Trust, Balochistan Liberation Army, Islamic Students Movement, Lashkar-e-Islami, Ansarul Islam, Haji Namdar Group, Tehreek-e-Taliban Pakistan have also been banned by the home department.

Balochistan Republican Army, Balochistan Liberation Front, Lashkar-e-Balochistan, Balochistan Liberation United Front, Balochistan Musalha Difa were also banned for collecting donations.

Shia Students Action Committee Gilgit, Markaz Sabeel Organisation Gilgit, Tanzeem Nojawanan-e-Ahl-e-Sunnat Gilgit, Peoples Aman Committee Lyari, Ahl-e-Sunnatwal Jamaat, Al-Harmain Foundation, Rabita Trust, Anjuman-e-Imamia Gilgit-Baltistan, Muslim Students Organisation Gilgit, Ahl-e-Sunnat Wal-Jamaat Gilgit and Balochistan Bunyadparast Army are also on the list.

The authorities warned that donating and aiding banned organisations is a criminal offence.
COMMENTS
Comments are moderated and generally will be posted if they are on-topic and not abusive.
For more information, please see our Comments FAQ