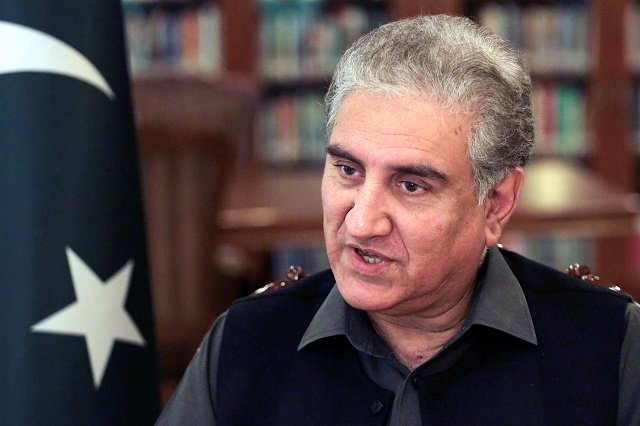 ---
Coronavirus cases expected to peak in Pakistan by end of May or early June: FM Qureshi
PM Imran's test result will come out today, says foreign minister
---
ISLAMABAD: Foreign Minister Shah Mehmood Qureshi on Wednesday said the number of coronavirus cases are expected to peak in Pakistan by the end of May or early June.

"As the country's testing capacity increase, the real number of coronavirus cases would emerge," FM Qureshi said. "We have not reached our peak as of now."

The foreign minister warned that the country has to be prepared for the increase in the number of Covid-19 cases and an increase in the death rate is also "not out of the question".

No benefit, higher death rate for malaria drug in coronavirus study

"We have to maintain a balance in limiting the spread of the virus and saving people from hunger," the FM said.

"Pakistan is a poor country. We can't impose lockdown permanently; we have to formulate or change the strategy keeping all the factors in view."

Referring to the repatriation of stranded Pakistanis nationals, the minister said that the country would be able to repatriate a larger number of its citizens in the near future.

Qureshi said currently around 2,000 citizens are being repatriated per week, but as soon as more airports resume operations and the country's testing capacity increases, up to 6,000 citizens will be brought back to Pakistan.

He added that that the Ministry of Overseas Pakistanis and Human Resources is constantly coordinating with the aviation division on the matter.

PM Imran tested for Covid-19 after potential exposure

"We understand their predicament but we also have to consider our potential as well," FM said. "Repatriating stranded Pakistani nationals is our responsibility."

"There is a possibility of a person carrying the virus and is asymptomatic," Quershi warned. "We have to take every possible precaution to keep people safe from the contagion."

The foreign minister added that the coronavirus test result of Prime Minister Imran would come out today.