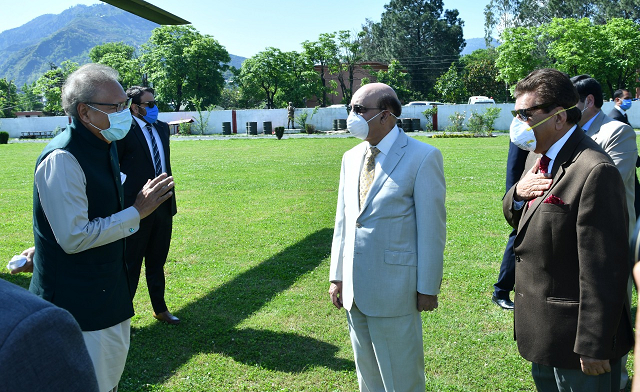 ---
Alvi calls for observing self-discipline in following govt orders, maintaining social distance
Alvi urges UNSG Antonio Guterres to take notice of discrimination faced by Muslims in India
---
President Dr Arif Alvi on Tuesday called for observing self-discipline in maintaining social distance and following government orders on lockdown to fight the novel coronavirus.

Talking to media in Muzaffarabad, the president said he came to review the steps taken by the Azad Jammu and Kashmir (AJK) government to curb the spread of the virus.

Alvi lauded the government's efforts and appreciated the people of the region for following government orders.

Moreover, the president said self-discipline should also be observed in mosques during the month of Ramazan and urged people to follow the 20-point strategy agreed upon with the country's top religious leaders.

Referring to the situation in occupied Kashmir, Alvi condemned the use of heavy artillery along the Line of Control (LoC) by the Indian armed forces.

LIVE: PM Imran Khan calls on public to cooperate in these trying times; nationwide tally jumps to 9,505

In the wake of the novel coronavirus, Muslims in India and the occupied region are being discriminated against, he added.

Alvi urged the United Nations Secretary-General Antonio Guterres to take notice of the discrimination faced by Muslims in India, after reports surfaced of Indian hospitals refusing to admit Muslims.

He further reiterated Pakistan's support for the people of Kashmir and said Pakistan will continue to expose brutalities by the Indian Army.

Earlier, Alvi was briefed about various steps taken by the AJK government to fight the virus. Azad Kashmir President Sardar Masood Khan and Prime Minister Raja Farooq Haider welcomed Alvi and apprised him about developments in the region.

The president also handed over personal protective equipment (PPEs) for doctors and medical staff to the AJK government.

National Disaster Management Authority (NDMA) Chairman Lieutenant General Muhammad Afzal also accompanied Alvi on his visit.