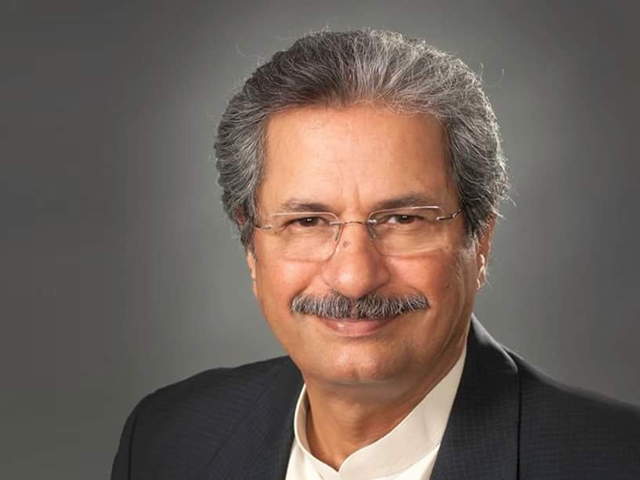 ---
ISLAMABAD: The government's distance learning television channel, TeleSchool, has received tremendous response from parents and students across the country in its first week.

This was stated by Minister for Federal Education and Professional Training Shafqat Mahmood on Monday. In a message on micro-blogging site Twitter, he said that millions of children were getting quality education daily while sitting in the comfort and security of their homes.

"This was the result of the efforts of the education ministry and other departments concerned," he added.

He stressed upon teachers and students to take advantage of the online learning opportunity productively during the on-going lockdown in the country, imposed to control the spread of the novel coronavirus (Covid-19).

"It was mandatory to work out new methods of imparting education to students by connecting them with teachers under this extraordinary situation," he said talking to the state-owned news agency.

This platform, he said, can help students revise their lessons, practice academic exercises, find additional materials on difficult topics as well as get immediate feedback from their teachers.

Educators have been advised to offer their services to help pupils catch up during the lockdown period with reliable internet connectivity, he said.

The Higher Education Commission (HEC), he said, is also making efforts to arrange online classes in universities, but this plan has yet to succeed due to technical issues and unavailability of internet in some parts of the country.

However, he said that the state television has great outreach. "We can be connected with a maximum number of students all over the country," the minister said, adding that they are also working to improve connectivity issues.

Meanwhile, Parliamentary Secretary for Federal Education and Professional Training Wajiha Akram said that the government is taking several initiatives to bring education to the doorsteps of students, especially in the rural and remote areas during the pandemic.

Educational institutions are closed but the government will not compromise on students' education, she said adding that the TeleSchool project is providing a vital opportunity to students to learn while staying at home.

President praises TeleSchool

President Dr Arif Alvi directed the Ministry of Federal Education and Professional Training and the Higher Education Commission (HEC) to work for the promotion of online education in the country. In a meeting with heads of these institutions, they discussed various options to continue the provision of education in view of the closure of educational institutions.

Highlighting the importance of education, President Alvi said that the country needs to adopt innovative information and communication technology to minimise the loss of students in this pandemic.

Mahmood, briefed President Alvi about the initiatives taken by his ministry for providing education through a television channel in view of the lockdown. Called Teleschool, the channel broadcasts ready-to-air content on major subjects such as English, Math, Urdu, Science etc, for grades one through 12, from 8am to 6pm every day.

This content, Mahmood said, has been provided free of cost by edtech companies and partners such as the Sabaq Foundation, Taleemabad, MUSE, Allama Iqbal Open University (AIOU) and Knowledge Platforms.

Published in The Express Tribune, April 21st, 2020.