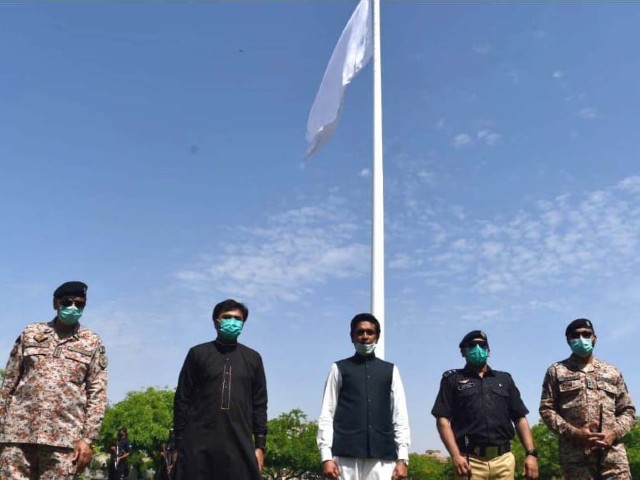 ---
World's largest white flag flown in tribute to frontline workers
Terming them 'heroes', Sukkur mayor promises support of the nation
---
SUKKUR:

Sukkur mayor barrister Arsalan Islam Shaikh paid tribute to the frontline workers fighting Covid-19 by raising the world's largest white flag at the public walking track on Military Road in Sukkur on Monday.

Those honoured included doctors, medical and paramedical staff, law enforcement officials, armed forces personnel, media representatives and municipal staff.

No evidence antibody tests can show coronavirus immunity, warns WHO

Speaking at the occasion, Shaikh pointed out that since Pakistan was a developing nation, its healthcare system is not strong enough to deal with Covid-19; therefore, he stated, prevention would not be possible without the efforts of frontline workers.

Addressing these workers, he guaranteed them the full support of the nation, stating that the risk they had been taking was admirable and they would go down in history as the 'real heroes' in the war against coronavirus.

Antibody: a nature's promise

During the ceremony, social distancing was ensured, while portable wash-basins as well as walk-through sanitisation gates had been installed at the entrances of the track.

Pakistan Rangers Sukkur wing commander Colonel Imran, Sukkur deputy commissioner Rana Adeel Tassawur, Pano Aqil Cantonment Headquarter 16 division's Colonel Ikram, SSP Irfan Samo, Sukkur deputy mayor Tariq Chauhan, Sukkur municipal commissioner Ali Shaikh and Sukkur Civil Hospital medical superintendent Dr Tasleem Akhtar Khamisani, among others, were present at the occasion.