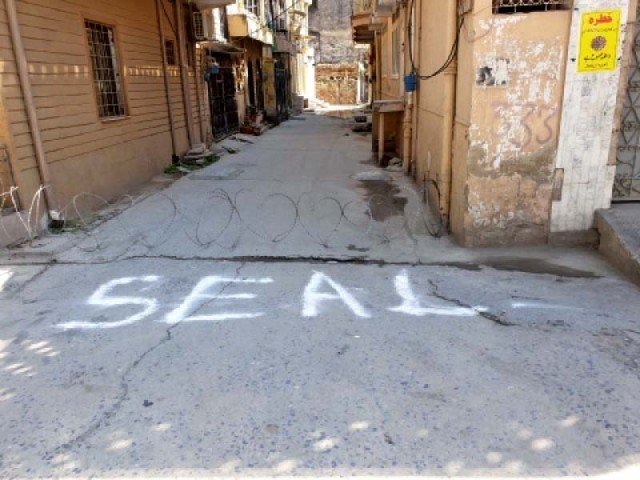 ---
Larkana hotspots sealed after 21 test positive for Covid-19
Affected areas, including Bakrani Road, Darri Mohalla, Nawa Tak, appeared deserted
---
KARACHI:

Parts of Larkana city were sealed after 19 people tested positive for the novel coronavirus in the area on Sunday, with two more reported on Monday.

Some of the most affected areas wore the look of a curfew as residents were ordered by the local police to stay at home. Contingents of Rangers and police personnel have been deployed in different areas of the city, including the main roads and around the sealed streets.

The city's Bakrani Road, Darri Mohalla, Nawa Tak and adjacent areas were sealed, while all the streets from Darri Mohalla to Ataturk Tower were closed with barriers placed at the entry and exit points.

All the shops, including pharmacies have also been closed. Larkana's main medical market, situated in the sealed area, has also been shut for the next two days.

Citizens miffed at 'ill-planned' sealing orders amid spread of Covid-19 in Karachi

Moreover, the exit and entry points of Larkana were being monitored closely, while law enforcement officials repeatedly tried to dissuade citizens from leaving their homes except in case of emergency.

Larkana's Darri Mohalla is home to some very prominent political, social figures and officials. Imtiaz Ali, a resident of Darri Mohalla, told The Express Tribune that the city's posh areas were sealed after some prominent businessmen tested positive for the virus. He added that even Larkana mayor Kher Muhammad Shaikh lived in the same area.

"It is like a curfew in Larkana. I have never seen anything like it before," said Riaz Ahmed, another resident. However, he approved of the administration's decision, saying that sealing a few areas would be for the benefit of the rest of the city. "It seems like the virus is spreading very fast now."

UAE tells Muslims to pray at home during Ramazan

According to the Sindh health department, at least 65 individuals have tested positive for Covid-19 in Larkana, of which three have recovered so far. No death caused by the coronavirus has yet been reported in the city.

Sealing hotspots has been one of the prominent measures taken by the provincial administration to contain the spread of the deadly virus. Earlier this month, citizens in Karachi found themselves in the middle of a panic after the city administration ordered to seal 11 union councils in the city. The decision was later revoked; only affected areas and streets were then decided to be sealed.