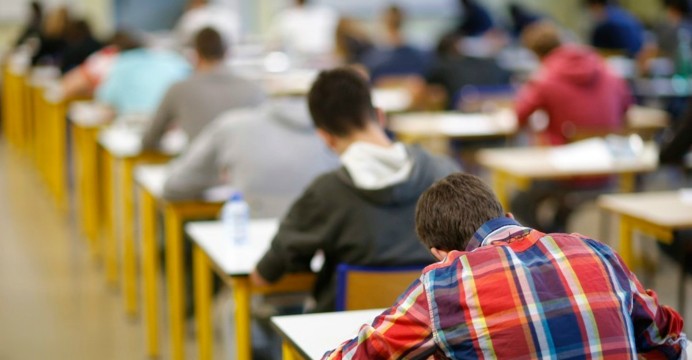 ---
KARACHI: Cambridge Assessment International Education (CAIE)'s March announcement to suspend all May/June 2020 examinations amid the coronavirus threat, blew an air of uncertainty on the academic futures of thousands of students associated with the programme. Where each successive statement issued since then has kept students on tenterhooks waiting for an adequate policy, the final announcement has left private candidates with no option but to compromise an entire academic year.

Despite being largely unrepresented in previous statements, private candidates who make for 35% of Pakistan's entire enrollment had long been holding out hope for a comprehensive plan to be accommodated in the new exam-less evidence based grading system. However much to their dismay, several private candidates were left high and dry when the final notification dated April 7, revealed that the largest examination exercise had no plans for them but to appear in the November 2020 exam series.

As per prior notifications issued by CAIE, private candidates were to be assessed in the same manner as school students, in that all grading was to be based on evidence acquired by centres and supplemented by what is already available with the examining body. Although previous schools and tutors were accepted as evidence providers for private candidates, all evidence still had to be authenticated by the centre to be considered for grading. The notification although told nothing about how the centre will acquire or authenticate said evidence in the first place, the final notification was expected to offer a more comprehensive plan. However, the April 7 update informed students that in case their centres fail to receive adequate or desired evidence regarding their performance, they had no option but to compromise an academic year and appear for the November 2020 examinations while examination fee will be charged for the previous session.

Furthermore, in its final notification issued to Cambridge affiliated schools, CAIE also revealed a grading scale to be followed by evidence issuing bodies in bid to assure transparency and fairness across the board. As per the grading scale, other than the provided evidence teachers are also required to rank their students based on their year-round performance in the subject. Whereby, the head of the center would then confirm the predicted grade and ranking sent by the teacher and forward it to the CAIE, where it will award a final grade, after combining it with available data

It is imperative to mention that the centre for private candidates in Pakistan refers to the British Council, which per notification is responsible for collecting the students' academic evidence for CAIE to produce the expected grades. Howbeit, following the unceremonious announcement, the British Council too has disassociated itself from private students and their parents; failing to provide any further guidance and turning a deaf ear to all queries and concerns. "The centre was supposed to issue guidelines for private candidates by Monday April 13 after CAIE issued the grading scale on April 6. However no information has been provided to us as yet and British Council representatives have been ignoring all our calls and emails, which means they too have failed to devise a mechanism for us," a private A Level candidate informed The Express Tribune. "There is no time left and we have no option but to waste and year and take the November examinations," he added.

According to father of an O Level candidate, the British Council has so far remained entirely absent in the scenario while all his emails too have fallen on deaf ears. "My son was supposed to take two exams this year and have been constantly trying to contact the British Council but there is no one to even inform the candidates about the procedure of withdrawing from these series and grading much less anything else," the father lamented.

On the other hand, when The Express Tribune tried contacting CAIE Country Director Uzma Yousaf for her comments on the situation, no proper response could be provided. While CAIE Pakistan Deputy Director Shahid Ashraf too instead of providing any new information dodged the question on Cambridge's plans for its private students by sending another copy of the notification already available on CAIE's website.


COMMENTS (1)
Comments are moderated and generally will be posted if they are on-topic and not abusive.
For more information, please see our Comments FAQ