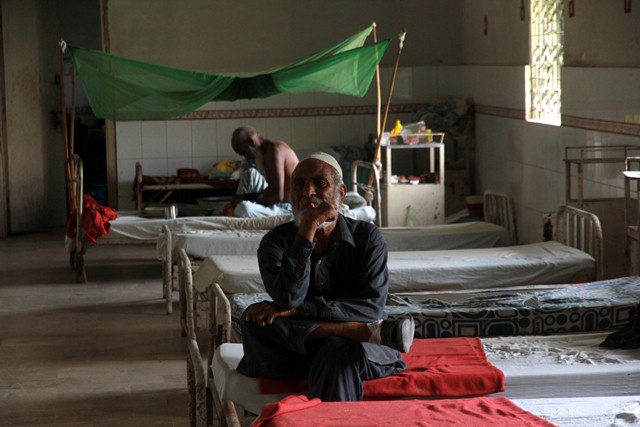 ---
Expo Centre unfeasible for Hyd field isolation centre, says DC
Proposes Hyderabad Club, sports hostel as alternative locations to Expo Centre
---
HYDERABAD: The Sindh health department's proposal for setting up a 500-bed field isolation centre for Covid-19 patients at the Expo Centre in Hyderabad is unfeasible, according to Hyderabad deputy commissioner (DC) Fuad Ghaffar Soomro.

On Friday, Soomro wrote to the authorities that not only was the centre's capacity limited to around 100 beds, but population density in the area, frequent power outages and few washrooms made it an unviable location.

"[I] visited the Expo Centre, which is located in a thickly populated area of Hyderabad city and could cater for not more than 100 beds, and it also has an insufficient number of bathrooms," he wrote to Hyderabad commissioner Muhammad Abbass Baloch.

The chief technical advisor to the Sindh health secretary had earlier requested the district administration to establish a 500-bed field isolation centre at the location, while the Hyderabad Chamber of Commerce and Industry had also offered the same facility for this purpose to the administration.

Covid-19: How virus weighs on businesses?

However, the DC proposed, two 194-bed isolation centres could be established at Hyderabad Club, which is a community club, and Sindh Sports Board Hostel at 'a few hours' notice.' Both of these venues, falling under the jurisdiction of the Sindh sports department, are located in the premises of the Niaz Cricket Stadium.

"These establishments have all the basic facilities, such as electricity, water, sewerage, air conditioners and washrooms, and they are ready to move into within a few hours of notice," the DC wrote in his recommendation letter to the commissioner.

The Hyderabad Club can accommodate 116 beds, in nine four-bedded rooms, two 30-bedded halls and two 10-bedded halls. Meanwhile, the sports hostel can hold 78 beds, with 12 rooms and two halls available in the old block and 10 rooms and a hall in the new block.

Covid-19: 226 stranded Umrah pilgrims repatriated from Saudi Arabia

Following DC's recommendations, the commissioner's office on Saturday wrote separate letters to the Sindh health department and Sindh sports secretary, seeking approval to establish isolation centres at the club and the hostel.

If approved, the capacity of the district's isolation centres will increase from the current 394 beds to 588 beds. At present, the capacity of the isolation centre at Isra University Hospital is 210 beds, while Kohsar Government Hospital has 120 beds and Liaquat University Hospital 64 beds.

Meanwhile, quarantine centres have been set up at Rajputana Hospital, Memon Hospital and the Labour Colony flats.

The number of coronavirus patients in Hyderabad has decreased from 199 to 58 after several of them recovered. Coronavirus patients from neighbouring districts are also referred to Hyderabad. 

Published in The Express Tribune, April 19th, 2020.