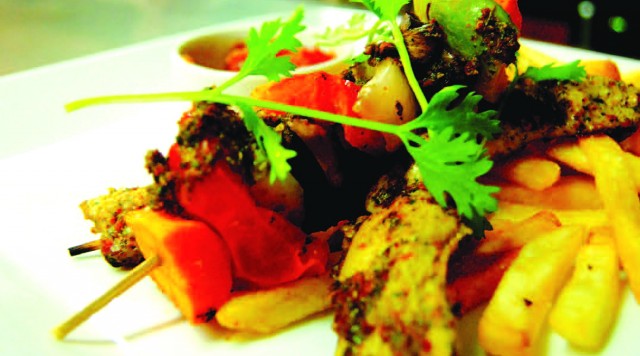 ---
Koel may on the outside seem airy and sylvan, an oasis of calm located off one of Karachi's busiest streets. But what the white-washed furniture and drooping frangipani trees tend to conceal is the focused, precise knowledge that has turned what was once a home-furnishings store and art-gallery into one of Karachi's most popular restaurants.

Rasikh Ismail, who opened this café in the gallery space that goes by the same name, is a veteran restaurateur. That comes across clearly in his discussion of how Koel Café came about, and more importantly, how it has undergone unexpected — and dramatic — growth. Experienced in working with the Cupola Restaurants group, Ismail swears that when he was thinking about Koel, all that he intended was to set up a small place, the kind of operation that serves a few dozen people per day and would be the sort of venue where one could just come, have a quiet bite and relax.

His plan to serve about 30 people per day failed, but in a most spectacular manner. Currently serving an average of a hundred people daily, Koel has wound up becoming one of the more popular venues in Karachi, with a range of menu offerings that start with breakfast items and head all the way across to a late-night dinner.

"We tried out things at home," Ismail comments, when I ask how the reasonably eclectic menu at Koel came about. "For two or three months, we cooked at our house, trained our staff there in not just preparing the food, but also serving it. That's how we ran our trial by fire — if we couldn't serve it to our friends and family, and do it well, we knew that a restaurant would be out of reach."

The menu at Koel is interesting, to say the least. Mostly comprised of desi or desi-inspired items (such as sandwiches made using kulchas instead of sliced bread), it manages to cater to everybody. And with the addition of a breakfast menu, the range of offerings has increased tremendously, and it's hard to imagine how that came about. From omelettes in the morning to dhoklas and paneer salads in the afternoon, or teriyaki chicken in the evening, the sheer variety of dishes in an admittedly limited menu beggars attempts to categorise Koel as a particular type of venue. Unlike many restaurants, most of which pick one or two broad food palates and focus on developing dishes in keeping with their "core" themes, Koel runs a full gamut of items that let you nosh, indulge or just linger over some good conversation.

"The whole point," he explains, "was to have the sort of place where I would want to come and spend an afternoon having a coffee and talking to friends or reading. But we wound up becoming far more popular than we had expected. We had to pick up the pace, and as we expanded, reality kicked in, and we had to start thinking about the increased complexity that comes with scaling up something. We started by realising that you have to set up a price-point. You have to think about what people like to eat, what you like to eat, and how you can bring that across. But really, it's a business that you're running, so it's all about taking cash to the bank. We never thought about how much of a mark-up to put on our dishes to make the most money possible; in fact, we're cheaper than most comparator restaurants, but we can only do that because we thought about our price-points, we went to places like Sabzi Mandi to figure out what was in season and what menu we could create around it; and really, what worked for us was to approach the issue backwards. We thought "Here's what we want to serve; how can we do it, and how can we afford it?" Once that was done, we reverse-engineered the process and decided to go with what made sense to us, both from a sense of taste and a business perspective."

As with the other restaurants mentioned in past articles from this series, Koel also attributes its success to having a very structured set of controls and systems in place. In addition to a master schedule (or as Ismail puts it, "who's doing what, when and where?"), there is also an amazing amount of exactitude that comes into preparing the food. "You have to be strict with your recipes," he says says firmly. "Portions and measurements are important, so that you know how much you have in place, what your delivery can look like for the day, and how many plates of something you can send out."

More than anything else though — and much like the opinions shared by other restaurateurs —the one key component of getting everything right is the people.

"You have no idea how difficult it is to find good staff," comes a muffled groan. "It's so hard to find people with restaurant experience, and it's even tougher to keep them around. One day you open, the next day you're empty because some new place has poached your staff." But people issues aren't just related to the kitchen staff. A typical new waiter can't cope with more than three or four people at a time; someone slightly more seasoned can handle about six guests simultaneously. Beyond that, issues start to come up, and so to cope with a rise of volumes, constant emphasis on training and hiring new staff is key.

Ismail is slightly unique in his approach though. "I don't necessarily always look for the most experienced people," he says very seriously. "The personality and the attitude are more important to me. You can teach someone how to become a good server, but if at a grassroots level, you're hiring staff who don't look presentable or can't smile and engage with your customers, it doesn't matter. This is a hospitality industry: people have to feel welcome and your front of house and wait-staff are the only people who will do that." He sits back. "You can't be in this business if you can't manage people."

With the way Koel has grown in the last year or two, it's no surprise that Ismail is so focused on systems and individuals: the human capital that really works to make Koel successful is closely tied to the actual equipment and the menu. And in the café business, rather than in fine dining or coffee-houses, what really drives growth is the combination of cuisine and comfort. It's a fine line that Koel manages to walk, perhaps not always with ease, but certainly with flair.

Published in the Express Tribune, June 20th, 2010.
COMMENTS (3)
Comments are moderated and generally will be posted if they are on-topic and not abusive.
For more information, please see our Comments FAQ