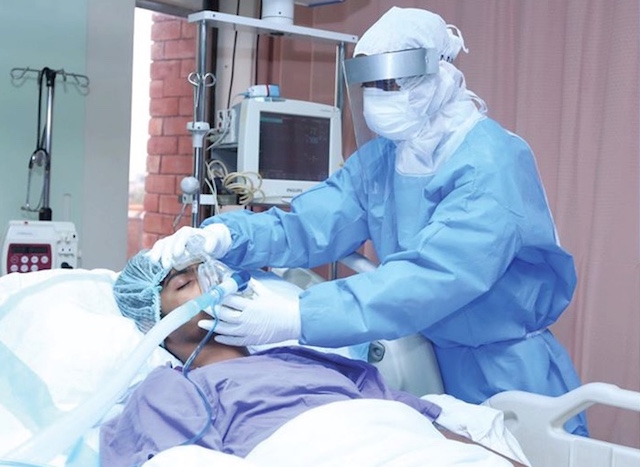 ---
The Shaukat Khanum Memorial Cancer Hospital and Research Centre (SKMCH&RC) in Lahore was inaugurated twenty-five years ago as a ray of hope when cancer was considered an ultimate symbol of hopelessness. Today, Shaukat Khanum Hospitals in Lahore and Peshawar are providing state-of-the-art diagnostic and therapeutic facilities to thousands of cancer patients, 75% of whom are underprivileged and who could not otherwise hope to access such expensive cancer treatment. The standard of patient care at the Shaukat Khanum Memorial Cancer Hospitals is recognized by many national and international health regulatory bodies. Recently, both the Hospitals in Lahore and Peshawar made us proud by earning the Joint Commission International's Gold Seal of Approval® for Hospital Accreditation.

During the ongoing coronavirus (COVID-19) pandemic, SKMCH&RC stepped up and took countless unprecedented steps to fight both threats at the same time: Cancer and COVID-19. In an attempt to contribute to the national efforts against the spread of the ongoing pandemic, SKMCH&RC took an initiative to provide other healthcare institutes an opportunity to learn from their experiences over the years, so that coordinated efforts can be made to fight COVID-19 more efficiently.




SKMCH&RC used digital platforms as well as conventional media to raise awareness about COVID-19. Their informative content and videos include guidelines and precautionary measures such as the correct way to use Personal Protective Equipment (PPE) especially in high risk areas, as well as a plethora of other instructive and credible videos to educate the public. All the videos educating the audience about various precautionary guidelines can easily be accessed by anyone from the comfort and safety of their homes via SKMCH&RC website: https://shaukatkhanum.org.pk/coronavirus/




When it comes to their expertise of being able to deal with infection control, Shaukat Khanum Hospital has an edge over most other hospitals. The infectious diseases experts at Shaukat Khanum Memorial Cancer Hospital and other health care experts are continuously reiterating the significance of washing hands regularly for 20 seconds in the correct manner with soap and water. Their main emphasis is always on the importance of social distancing in order to avert the spread of this virus.



The Hospital has also augmented its capacity greatly, and is now well equipped to deal with this national crisis. Previously, the Intensive Care Unit had the capacity of 11 beds, whereas now they have expanded to 35 beds, all equipped with ventilators. An Inpatient Care Area, consisting of 50 rooms has also been dedicated entirely to COVID-19 patients. The staff at SKMCH&RC is working round the clock to make sure they can accommodate as many patients as possible.




Not only this, they have also established Camp COVID, where more than a 100 patients, on average, are being screened every day. To top this up, they make sure that all patients in Camp COVID are screened without charges, and all those who fulfil the medical criteria and cannot afford treatment are provided free services. Kudos to Shaukat Khanum Hospital!

Additionally, so far more than 3000 COVID-19 tests have been conducted by SKMCH&RC of which, for 2,300 tests, kits were provided by the Government of Punjab while other resources were expended by the Hospital. Apart from this, the Hospital has also conducted more than 700 free tests with its own resources.




Shaukat Khanum Hospital has implemented a number of other timely strategies to help minimise the pandemic risk particularly for their cancer patients. As the pandemic spread in the country the management of SKMCH&RC had to make some difficult decisions to ensure the safety of the Hospital patients. This was important because cancer patients are particularly vulnerable to various infectious diseases, and are at a much higher risk of becoming severely ill, due to their compromised immunity. The intake of new cancer patients was temporarily delayed so that the Hospital could prepare itself for a possible influx of cancer patients infected with coronavirus. In a recent post on their official Facebook page, the Hospital has announced that it has resumed intake of new cancer patients from this week, starting from the most common tumours that are seen at the Hospital, which are breast cancer and Hodgkin's lymphoma.




What makes us super proud is that even during this stressful time when there is uncertainty and immense fear everywhere, SKMCH&RC went beyond the call of duty and opened not only its services, but also shared its expertise and knowledge on the national level.

We hope that SKMCH&RC can reach new heights in serving humanity while battling on both fronts, cancer and coronavirus, with the help of the generous people of Pakistan who will rise to this challenge to keep hope alive for thousands of patients.



























COMMENTS
Comments are moderated and generally will be posted if they are on-topic and not abusive.
For more information, please see our Comments FAQ