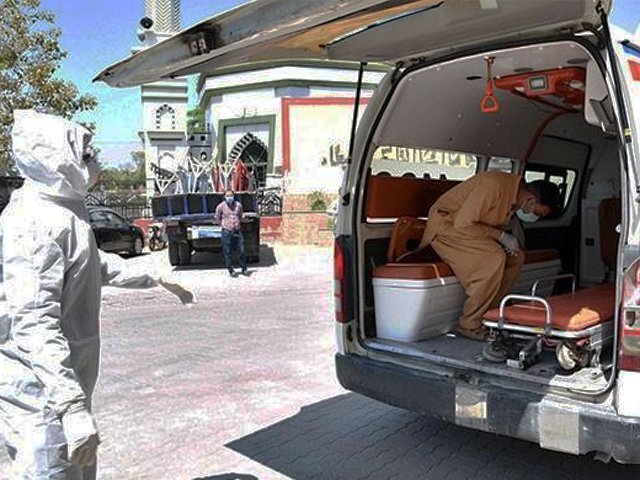 ---
3,265 bodies brought for burial in 49 days
April sees lowest number of burials so far, compared to the last six months
---
KARACHI: As many as 3,265 bodies were brought for burial to 30 graveyards in the metropolis in the 49 days between February 20 and April 9, official statistics from the city's top administrative body revealed on Thursday.

Interestingly, however, the data shared by Karachi Municipal Corporation (KMC) senior municipal director Masood Alam showed that the number of burials in the city had declined by 25 per cent in the first 15 days of April, while the most burials so far this year - a total of 2,849 - were carried out in January.

As many as 13,993 people had been buried in 31 different graveyards operated by KMC during the last six months. April, with 766 burials, has seen the lowest number so far. Around 2,013 burials were done in these graveyards in October 2019, 1,807 in November 2019, 2,303 in December 2019, 2,278 in February and 1,978 in March.

Mosques gear up for congregational prayers amid pandemic

The development comes after reports were published in some segments of the media regarding a spike in deaths in various hospitals in the city, setting off alarm bells as many feared that the number of Covid-19 fatalities could be much higher.

However, there was no official confirmation from the authorities and no clear connection in the reports that the deaths had occurred due to the highly contagious disease.

In 49 days

In Central district, 181 bodies were brought to the C-1 Area cemetery, four to Haji Morid Goth cemetery, 76 to Yasinabad graveyard, 273 to Sakhi Hassan graveyard, 30 to Al-Noor cemetery, 681 to Mohammed Shah cemetery, 59 tp Ghasdar Baba graveyard and 430 to Siddiqabad cemetery for burial during the 49-day period, according to the Karachi Metropolitan Corporation's (KMC) data.

Similarly, in West district, 155 bodies were brought to Salimabad cemetery, 140 to Al-Fatah cemetery, 19 to Ghaziabad graveyard, 54 to Jannatul Baqi cemetery, 31 to Gulshan-e-Zia cemetery, five to Yaqubabad graveyard, 44 to Gulshan-e-Bahar cemetery, 91 to Ibrahim Ali Bhai cemetery, 25 to Thorani Goth cemetery and 79 dead bodies were brought to Machh Goth cemetery for burial.

In East district, 128 bodies were brought to the Manogoth cemetery and 14 to PECHS cemetery. In Korangi district, 193 dead bodies were brought to Chakra Goth cemetery, 15 to Korangi cemetery and 152 to Azimpura graveyard.

No evidence antibody tests can show coronavirus immunity, warns WHO

In Malir district, 93 dead bodies were brought to Saudabad cemetery, 160 to Model Colony graveyard, five to Colony Gate cemetery, 15 to Hyder Shah cemetery, two to Masoom Shah graveyard, 49 to Molamadad Rabi Goth graveyard and 62 to Ismail Goth cemetery.

According to data obtained from government hospitals in Karachi, 10,791 patients were brought to the emergency department during the first three months of 2020. Of this, 121 of those were dead on arrival while the fatality rate was 1.12 per cent.

The statistics showed that no authenticated test report revealed that the cause of death of these patients was linked to coronavirus. Moreover, no hospital had conducted tests to ascertain that the cause of death was indeed Covid-19.

The lack of testing further casts doubt on the claims that the deaths were due to the virus.

Published in The Express Tribune, April 18th, 2020.