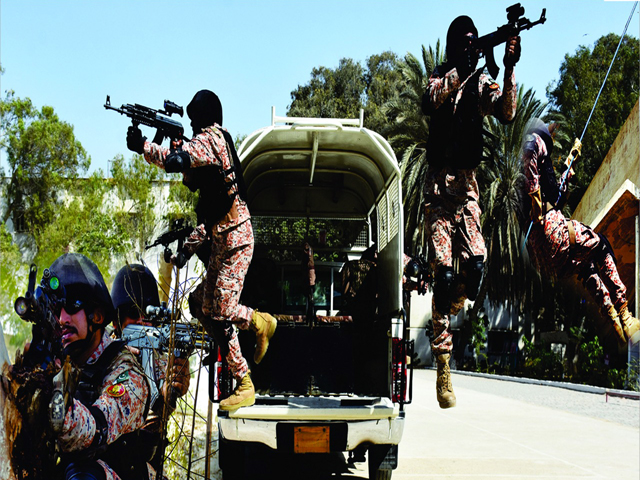 ---
KARACHI: The Pakistan Rangers (Sindh) and the Counter-Terrorism Department claimed on Friday to have arrested two wanted criminals belonging to a banned outfit during a joint operation.

According to a Rangers spokesperson, the raid was carried out on a tip-off and the arrested have been identified as Samiullah alias Arshad and Muhammad Jaffer alias Barkat.

In a statement, he said that Attaur Rehman alias Naeem Bukhari, the leader of the banned outfit, and Sabir Munna alias Bhai Jan, who headed the group's target killing wing, had been arrested previously. As per the statement, all of them are wanted criminals, each having a bounty of Rs5 million on their heads.

The statement claims that Samiullah confessed to multiple crimes, including the target killing of four Rangers personnel in Baldia Town in 2015, the target killing of police personnel and Awami National Party (ANP) leaders Dr Ziauddin and Haji Saifullah Afridi between 2014 and 2015, and the murder of a Pakistan Navy official, Syed Jaffar Raza, in 2020, during initial interrogation.

Meanwhile, Jaffer has confessed to killing 13 policemen and committing seven murders fueled by sectarian and ethnic differences, on the directives of Munna. Besides, he has told law enforcement personnel of his involvement in target killings of persons belonging to the Ahmedi sect, the murder of ANP's Syed Lal Darwesh in 2020 and other offences including robberies.

The arrested have been handed over to the police for further legal action.