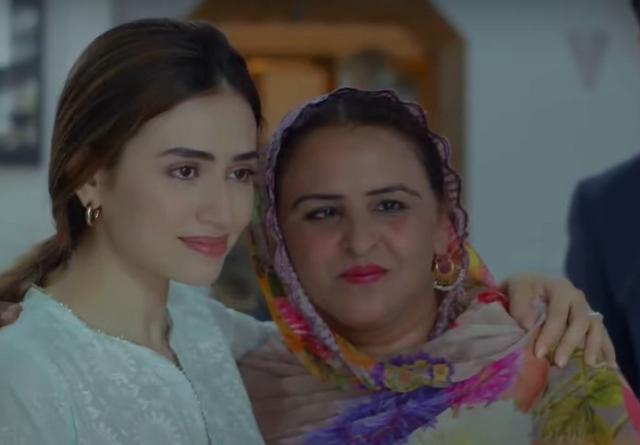 ---
Sana Javed and Mikaal Zulfikar's drama serial, Ruswai, came to an end on Tuesday night. Ruswai narrated the tale of a gang-rape survivor and spoke about how they are shamed in society. Javed plays Sameera, who was abducted and raped by four men right before her wedding to Salman (Zulfikar).




While the show seemed to have lost its focus on Sameera's story midway, it concluded strongly with her receiving the justice she longed for.

The final episode also featured a cameo by Mukhtaran Mai, who suffered the same fate as Sameera in real life. Mai was gang-raped by men in her village and raised her voice against the injustice.

Ruswai ended with Sameera meeting Mai in an emotional sequence. Twitter was in awe of the scene and lauded the makers of the show.

https://twitter.com/guldaar/status/1250123773090713603

https://twitter.com/k_abjaoO/status/1250115316107087872


Mukhtaran Mai is a gang rape survivor who raised her voice and punished the culprits !!! A surprise entry in the finale made the episode more epic !!#Ruswai pic.twitter.com/Nxs5MPg0DX

— Laiba Khan (@TheLaibaKhan) April 15, 2020
Ruswai's last episode was worth watching. Especially the entry of #MukhtaraMai The day women decide to get their accusers into prison, nothing comes in between. Rapists deserve it.

— Areeba (@areebaasiddique) April 14, 2020


https://twitter.com/MSalmanAli96/status/1250295598365814785

The protagonist of the show, Javed, also shared her heartfelt gratitude in an Instagram post.

https://www.instagram.com/p/B--B-eRHfyZ/

"With the grand finale of Ruswai, my journey with the most impactful character yet of my acting career (Sameera) came to an end," Javed said in the caption of the picture with Mukhtaran Mai and the rest of the cast. "Justice was served and the evil culprits were punished, Sameera managed to emerge as victorious."

She went on to add, "May Sameera inspire you all to find the courage and strength to stand against injustice and evil."

Javed continued to thank her cast and crew. "I must thank the team behind the project and my co-star, my Instagram family as well as all those who wrote about Ruswai and made me feel on top of the world."




She also talked about the last scene with Mai's cameo.

"With Mukhtaran Mai's surprise entry in the last episode, life came full circle for Sameera and her quest for justice. I owe my success, my ability to pick substantial roles to all of you out there. Thank you for your love and constant support. Until next time!"

Have something to add to the story? Share it in the comments below. 
COMMENTS
Comments are moderated and generally will be posted if they are on-topic and not abusive.
For more information, please see our Comments FAQ