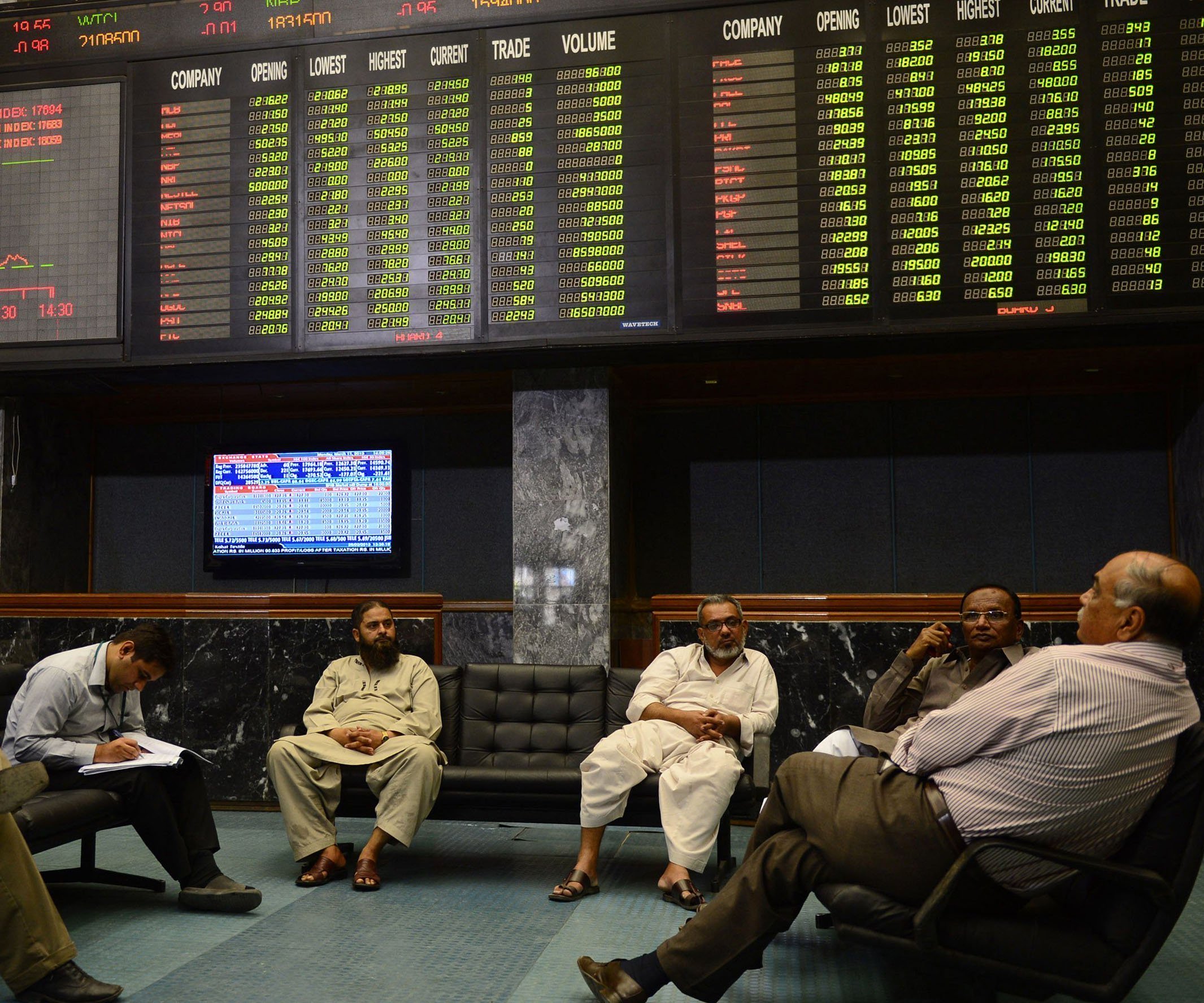 ---
KARACHI: A day after plunging about 1,000 points, the Pakistan Stock Exchange managed to recoup some of the losses as the KSE-100 index rose 190 points amid volatile trading.

Investor sentiment recovered after the government announced partial lifting of the lockdown and some businesses were granted permission to operate. It acted as a much-needed positive trigger, which sparked speculation that Pakistan's economy would soon return to normalcy.

The mood, however, remained mostly subdued, which led to trading in a narrow range throughout the day.

The international oil market witnessed a dip in prices, which also impacted oil-related stocks that prompted investors to resort to profit-booking.

Earlier, trading began with a dip but losses were wiped out shortly afterwards and the index posted considerable gains during early trading. Volatility emerged at midday that erased all the gains, dragging the index into negative territory. However, a rally before close helped the bourse to end the day in the green.

At close, the benchmark KSE-100 index recorded an increase of 189.75 points, or 0.61%, to settle at 31,222.74.

Arif Habib Limited, in its report, stated that the market traded in the positive zone for most part of the session, despite international crude oil prices dipping below the pre-production cut levels.

West Texas Intermediate (WTI) crude recorded a decline of around 2.5% in international market, which caused local investors to book profit on stocks of exploration and production and oil and gas marketing companies.

"Similar activity was observed in the cement sector that saw Maple Leaf Cement and DG Khan Cement touch levels near their lower circuits but they rebounded strongly by the close of the session," it said. "Textile sector also benefited from the positive investor sentiment."

A major reason behind the positivity was government's consideration to go for smart lockdown/ partial opening of businesses across the country that raised hopes among investors for a return to normalcy.

Banking-sector stocks largely stood their ground with HBL, MCB and UBL experiencing range-bound trading amid low volumes.

The cement sector registered trading volumes of 37.5 million shares, followed by oil and gas marketing companies (14.7 million) and power firms (11.7 million).

Among individual stocks, Maple Leaf Cement topped the volumes with 11.4 million shares, followed by Hascol Petroleum (10.7 million) and Pak Elektron (7.7 million), the report said.

JS Global analyst Danish Ladhani said the stock market remained range bound throughout the trading session, touching intra-day high and low of +362 and -92 points respectively. It closed at 31,222, up 0.6%.

"Overall, the market remained slack with slim volumes and limited participation," he said. "On the economic front, the Asian Development Bank (ADB) has agreed to lend $800 million to Pakistan to help the country combat challenges posed by the novel coronavirus."

Moreover, despite production cut by the Organisation of the Petroleum Exporting Countries (OPEC), there seemed to be little effect on international oil prices as the coronavirus continued to depress demand.

Lucky Cement (+2%), MCB (+0.7%), Pakistan Oilfields (+0.2%), Engro (+0.6%), HBL (+0.5%) and UBL (+0.3%) cumulatively contributed to positive close of the index.

Traded value stood very low at $29 million, down 16% and volumes came in at 130 million shares, down 15%.

"Going forward, we expect the market to trade sideways and recommend investors to sell on strength," he said.

Overall, trading volumes increased to 130.4 million shares compared with Monday's tally of 153.9 million. The value of shares traded during the day was Rs4.8 billion.

Shares of 327 companies were traded. At the end of the day, 209 stocks closed higher, 95 declined and 23 remained unchanged.

Maple Leaf Cement was the volume leader with 11.4 million shares, gaining Rs0.74 to close at Rs23.05. It was followed by Hascol Petroleum with 10.7 million shares, losing Rs0.09 to close at Rs14.76 and Pak Elektron with 7.7 million shares, losing Rs0.3 to close at Rs21.63.

Foreign institutional investors were net sellers of Rs171.6 million worth of shares during the trading session, according to data compiled by the National Clearing Company of Pakistan.