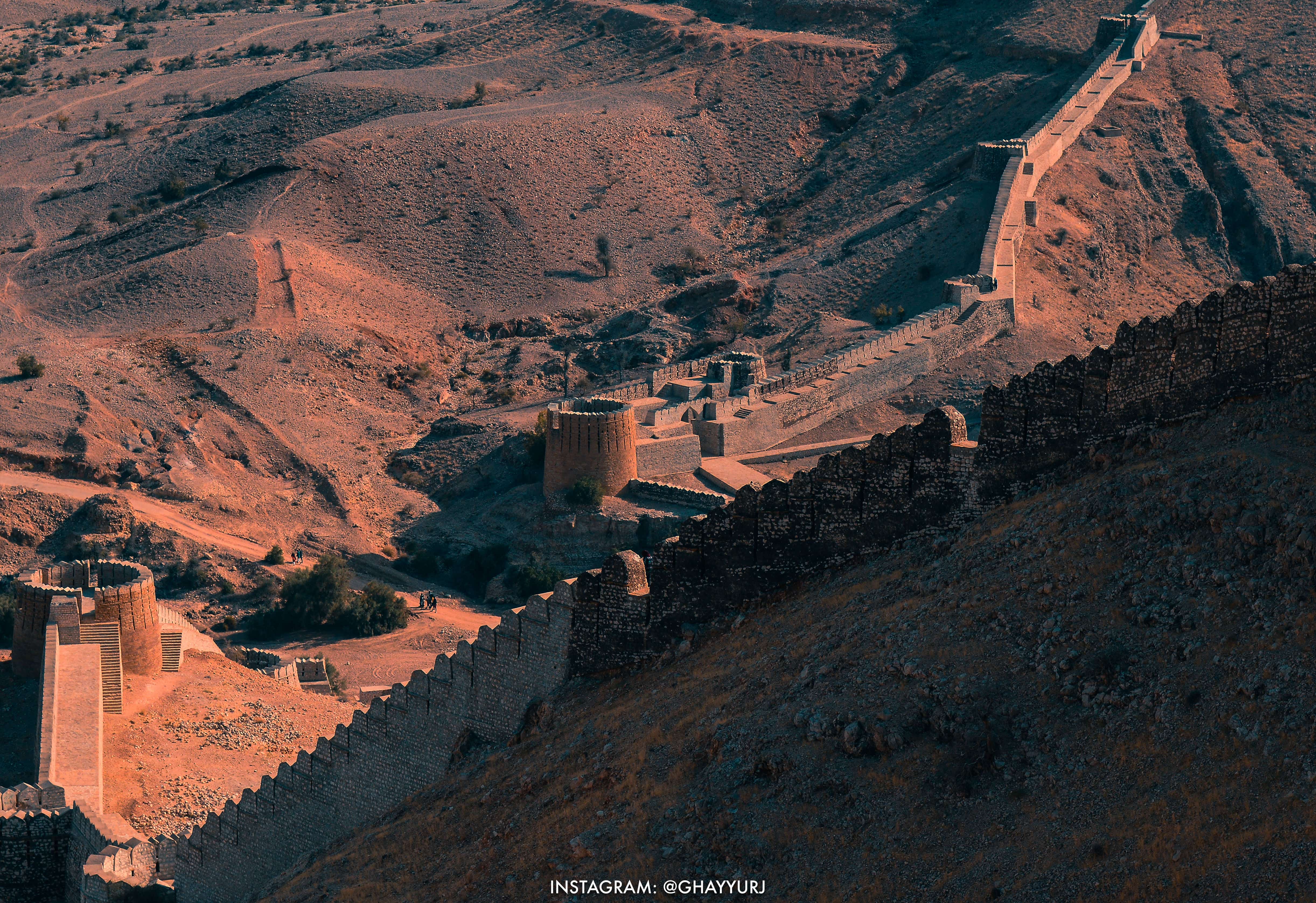 ---
SINDH: Literally known as the Great Wall of Sindh, it's hard to believe that something people regularly compare to a new wonder of the world lies in the wilderness of interior Sindh.  A marvel to behold, Ranikot Fort - the 'world's largest fort' – is one place in Pakistan that falls off the beaten path.

Alas, Ranikot is riddled with mystery. You can almost feel the energy as soon as you take the long, winding road into what seems like the unknown, an ancient lullaby enticing you each kilometre you cover.

On the trail we blaze




The spectacle that is currently intriguing a growing number of foreign tourists is easily accessible from Karachi. Rise early, pack your camera equipment, wear comfortable shoes and head off. Also, it's not a bad idea to take some SPF with you as the sun blazes harsh in the region, even before summer.

From Karachi, head to Dadu on the Indus Highway. After a few chai stops along the way (because that's a must on any road trip), you'll come to a diversion with a rusty board announcing that Ranikot is 30 kilometres away.

Travel to Ziarat: Where the night is brighter than the day

Be prepared for a bumpy ride henceforth, because this road is in poor condition and snakes its way through sparse wilderness with only the occasional Baloch or Sindhi herdsmen passing by.

It's no short feat though, because this gnarled and erratic track continues for at least 40 minutes, until you start feeling like you're on a journey to the fabled El Dorado. You will finally reach the eastern side of the fort, known as 'Sann Gate.' This is a must-stop, because the walls here are in good condition and the panoramic views on both sides are truly mesmerising.




After the road twists and turns once more, a small fortress within the fort called Meeri lies ahead. From here on, look ahead towards the magnanimous mountain landscape to see Shergarth, another fortress.

And while you're at it, Mohan Gate is also an absolute must-see during the day. For this, you must drive from Meeri and take a walk on a meandering path.

A historical mystery, still unsolved




But what is Ranikot Fort exactly? Why was it built? And by whom?
Well, it's almost like the walls are guarding its ancient secrets. It's hard to believe that Ranikot Fort is still on the tentative list of UNESCO World Heritage Sites, because its grandeur is surely unlike other fort, stretching for 32 kilometres, spreading out like wings across Kirthar Hills.

The original purpose and architects of Ranikot Fort are unknown and to this day, has archeologists scratching their heads. Although it was thought to have been built around the 17th century by a myriad of by-gone ancient people, experts believe that the present structures were constructed by the Talpur dynasty in 1812.




Before that, any group of people could've built the site, including Sassians, the Scythians, the Parthians or even Bactrian Greeks, a kingdom which expanded into present-day Pakistan from as far back as 180 BC.

The fort is huge, connecting several bleak mountains. Two of the gates are crossed diagonally by the Sann River. Speaking of, a passage through one of the canyons brings you to a secret rain-stream area, which is also a life-line to the Gabol villagers residing inside the fort.

But more awaits, because just three or four kilometres down the track is Paryun Jo Talao - or Pool of Fairies. The pool is quite deep in a few places, but it's a refreshing spectacle amidst the harsh, dry terrain.

Sunset glory beside an ancient marvel




As the blazing sun begins to take rest over the horizon, the coolness not only brings a welcome relief from the day but also creates what seems like spell-binding magic over Ranikot Fort.

You'd want to take a seat on one of its stone ledges, dangle your feet over the edge and watch the dusky pink colours take over the sky. The mountains lie before you in the distance – a jackpot for photo-taking.

Quetta: Where mountains greet with gratitude

Watch lone tribesmen pass by with their flocks inside the fort's walls, silently beholding the spectacle around them. You may also spy groups of people rushing home via the craggy path from the rain-stream.




Birds glide in the horizon, like tiny specks over the mighty mountain landscape. Look behind you and you'll see the sun glimmer through the holes and spaces between Ranikot's walls. The fortress seems to expand infinitely into the distance.

Smile in gratitude, for even if Ranikot guards its historical secrets well, the fortress is like a shy bride removing just a part of her veil to those who wish to appreciate her magnificence.

Enchanting star-gazing




As dusk turns to twilight, head back to a local rest house nestled right next to Ranikot Fort. But there's no time to actually rest because a night-time extravaganza awaits.

The stars light up the sky in a celestial display that truly bedazzles the eyes and hearts, so be sure to get cozy around a campfire. A warm cup of chai and the quiet stillness of the night will surely humble and enchant you.




And like a great poet of old once said, "The morning breeze has secrets to tell, don't go back to sleep." Truly, the crisp in the air at Ranikot during sunrise is unforgettable.

Rise just around Fajr time and experience the magic for yourself: the sun engulfs the area with a golden-pink glow, a final message before leaving behind an indelible, ancient mystery that has never been figured out.

Photography by Ghayyur Jadoon

*This travelogue is published in collaboration with Find My Adventure. To book a trip like this, click here.

Have something to add to the story? Share it in the comments below. 
COMMENTS (2)
Comments are moderated and generally will be posted if they are on-topic and not abusive.
For more information, please see our Comments FAQ