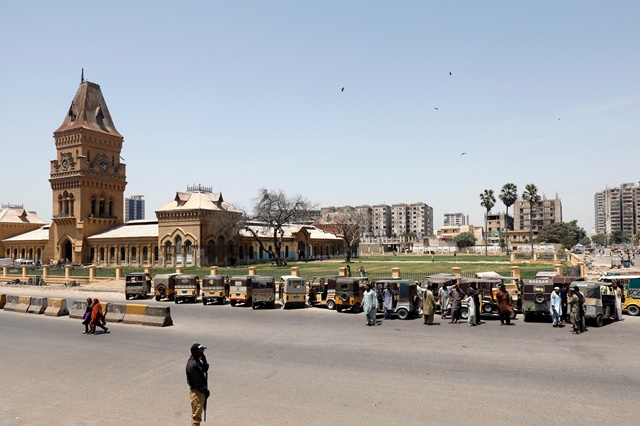 ---
KARACHI / ISLAMABAD / QUETTA / PESHAWAR / LAHORE / GILGIT / MUZAFFARABAD:┬áThe novel coronavirus emerged in the central China city of Wuhan towards the end of last year and proliferated to almost the whole world within a couple of months. ItÔÇÖs not the virulence or fatality, but the infectivity of the new virus ÔÇô also known as SARS-CoV-2 ÔÇô that has set off a global frenzy.

The COVID-19 respiratory illness caused by this mysterious contagion has so far infected more than 1.6 million people in 202 countries and territories of the world ÔÇô more than 100,000 of them have died and counting.

Pakistan, despite its close proximity with China, remained coronavirus-free until February 26 when a young man from Karachi tested positive after returning from Iran ÔÇô one of the worst-hit countries. After a brief hiatus following the first case, COVID-19 cases spiked as more pilgrims returning from Iran tested positive for the virus.

The nationwide tally of COVID-19 patients soared past 5,000 with 2,410 cases in Punjab, 1,318 in Sindh, 697 in Khyber-Pakhtunkhwa, 228 in Balochistan, 216 in Gilgit-Baltistan, 113 in Islamabad, and 34 in Azad Jammu and Kashmir.

The virus has claimed 86 lives while at least 762 coronavirus patients have recovered.

The number of cases has continued to soar despite the country being under lockdown for the third consecutive week.

The situation remains fluid and weÔÇÖre updating stats as soon as new figures are officially released.

Follow┬áThe Express TribuneÔÇÖs live coverage of the pandemic here.




11:00pm: Six more succumb to COVID-19 in K-P as death toll rises to 31

The Khyber-Pakhtunkhwa (K-P) health department has confirmed that six more patients of coronavirus have passed away in the province, taking its death toll to 31.

45 new cases COVID-19 have also surfaced to bring the tally to 697, it added.




10:30pm: Sindh govt takes back initial decision to shut down 11 UCs in Karachi

The Sindh government vacillated about its next move in dealing with the coronavirus outbreak on Saturday as it worried about being overwhelmed by the pandemic in the provincial capital. First announcing that 11 union councils (UCs) in Karachi were to be sealed, preventing residents from venturing outside, the authorities later withdrew their decision.

The UCs in question, some of the most infected areas in the city, are all part of Karachi divisionÔÇÖs East district. They include UC-6 Gillani Railways, UC-7 Dalmia, UC-8 Jamali Colony, UC-9 Gulshan-II, UC-10 Pehlwan Goth, UC-12 Gulzar-e-Hijri, UC-13 Safoora, UC-14 Faisal Cantonment, UC-2 Manzoor Colony, UC-9 Jacob Line and UC-10 Jamshed Quarters.

Read full story here.




9:30pm: 'Domestic transmission of coronavirus could unleash catastrophe in Pakistan'

President of Infection Control Society of Pakistan (ICSP), Professor Rafique Khanani has warned that the second phase of coronavirus outbreak in Pakistan, which is a community spread, could have ÔÇ£devastating impactÔÇØ on the population if stringent measures are not taken.

Professor Khanani, who is a renowned pathologist, told The Express Tribune on Saturday that the local transmission cases of COVID-19 is on the rise and it could further intensify if people do not take preventive measures and strictly follow social distancing protocols.

Read more here.




8:30pm: Eight new cases in Balochistan; tally rises to 228

The Balochistan health department has confirmed eight new cases of COVID-19, bring the provincial tally to 228.




7:30pm:┬áWorried by ÔÇÿworld's highestÔÇÖ test rate, Sindh CM blasts laxness in lockdown

Sindh Chief Minister Syed Murad Ali Shah has warned the people of the province that 20 per cent of tests conducted during the last 24 hours came out positive for COVID-19, which he said is the ÔÇ£highest average in the worldÔÇØ.

In a video message, the chief minister said that during the last 24 hours (Friday 8am to Saturday 8am), 531 new samples were tested, of them 104 came out positive. ÔÇ£This is quite worrisome and the solution lies in social distancing and observing the lockdown in true letter and spirit,ÔÇØ he said.

Read full story here.




6:45pm: One more tests positive in G-B as tally rises to 216

The Gilgit-Baltistan government has reported another COVID-19 patient, bringing the region's tally to 216.




5:40pm: Govt targeting 25,000 tests a day by April end, says Asad Umar

The government is trying to increase testing capacity to 25,000 tests for COVID-19 per day in a bid to contain the spread of the highly contagious disease, Federal Minister for Planning and Development Asad Umar said on Saturday.

Flanked by PM's aide on health Dr Zafar Mirza, Umar was briefing the media on overall situation of the coronavirus outbreak in the country.

South Korea is a prime example they conducted tests rapidly to contain the virus, he said.

We have worked on SOPs about COIVD-19 how to draw samples and how to carry out tests... we're in coordination with provinces as well, said the minister.

Umar said, ÔÇ£It is easy to go for the lockdown option, but its economic consequences are very dangerousÔÇØ.

ÔÇ£We would eventually have to ease restriction. Therefore, we need a mechanism for life after lockdown.

ÔÇ£We would have to decide soon what industries and sector would need to be opened. We will assess the risk factor and decide.ÔÇØ


#Live: SAPM on Health @zfrmrza and Federal Minister for Planning @Asad_Umar briefing media persons in Islamabad https://t.co/560kfWOnRp

— Radio Pakistan (@RadioPakistan) April 11, 2020


5:30pm: 74 new cases swell Punjab's COVID-19 tally to 2,410

The Punjab health department has confirmed 74 new cases, bringing provincial tally of coronavirus cases to 2,410.




5:10 pm: 11 Union Councils of Karachi sealed

The administration of Karachi has sealed 11 Union Councils of the city to try and curb the spread of coronavirus.




4:30 pm: Federal Minister for Education Shafqat Mahmood talks to media 
#Live: Federal Minister for Education, Shafqat Mahmood talking to media in #Lahore https://t.co/26akmlX0G3

— Radio Pakistan (@RadioPakistan) April 11, 2020


4:00 pm: CM Sindh alarmed by worsening situation

Sindh Chief Minister Murad Ali Shah is alarmed by the worsening situation as 20pc of those tested in last 24 hours turn out positive for coronavirus.

ÔÇ£The situation was under control till the lockdown was properly enforced,ÔÇØ says CM in daily briefing.




3:30 pm: Sindh makes committee for experimental use of plasma

The Sindh government has formed a committee for experimental use of plasma for passive immunization.

A notification issued by the provincial health secretary confirmed the development. The committee consists of health officials and related experts, and they will submit a report on the efficacy and availability of plasma treatment for COVID-19 patients.

2:45 pm: Sindh passes Covid-19 Emergency Relief Ordinance, 2020
The ordinance passes relief to students paying fee, tenants and incorporates other measures.
[sc name="relief ordinance"]
2:30 pm: Sindh reports more than 100 new cases, six deaths
Sindh CM Syed Murad Ali Shah says 20% Coronavirus cases have increased ...... pic.twitter.com/ZBiek95f9O

— CMHouseSindh (@SindhCMHouse) April 11, 2020
2:15 pm: SAPM asks people to wait for SMS confirmation before going to distribution centres
SAPM on Poverty Alleviation Dr Sania Nishtar has asked all deserving people to await an SMS confirmation regarding date of dispersal of the cash grant meant to support the needy.
The SAPM said payment of Rs12,000 can be received from ATM and designated centres.
SAPM on Poverty Alleviation Dr @SaniaNishtar has asked all deserving people who are sending SMS on 8171 for cash grant not to rush for payment before final response of payment date@MoIB_Official @PTIofficial #PMIKCoronaFund #PakistanFightsCorona https://t.co/noaQo3vNOq pic.twitter.com/b534nhB5cs

— Radio Pakistan (@RadioPakistan) April 11, 2020
1:45 pm: Special PIA flight leaves for South Africa
A special PIA flight left for South Africa with 300 passengers on board.
All the passengers were screened at the Islamabad International Airport before the flight took off.
1:10 pm: PIA flight carrying medical relief goods from China arrives in Islamabad
A plane carrying relief goods, including sanitizers and other necessary equipment. to prevent the spread of coronavirus has reached Islamabad.
Speaking at the airport, Chairman National Disaster Management Authority Lieutenant General Muhammad Afzal said the relief equipment is a donation from the Pakistani community in China.
He said at present we have achieved the capability to conduct around 40,000 tests a day, while 27 laboratories are fully functional.
Speaking on the occasion, Minister of State for Climate Change Zartaj Gul said the government is making all out efforts to protect its citizens from novel coronavirus.
12:30am: Crime rate goes down by 80% in Rawalpindi
Crime rate in Rawalpindi has gone down significantly owing to the lockdown in the city.
Car theft, mobile snatching, robbery incidents have reduced by 80% in the city.
12:15 pm:Parliamentary subcommitteesÔÇÖ meetings to be held via video link
Speaker National Assembly Asad Qaiser has ordered members of all parliamentary subcommittees to hold meetings via video link.
The speaker has tasked the relevant IT officials to facilitate legislators in this regard.
Read story
here
11:50 am:  Four new cases emerge in Swat


At least four new cases have emerged in Swat taking the tally of the district to 54.


11:40 am: K-P urges medical workers for recruitment in merged tribal districts
The provincial government has opened more than 600 positions for medical workers in the merged tribal districts.
600+ positions in the merged tribal districts. Never before has the health system needed you more. Apply! pic.twitter.com/KdVaiTQB36

— Taimur Khan Jhagra (@Jhagra) April 11, 2020
11:00 am: New cases in Islamabad, AJK


PakistanÔÇÖs national database for coronavirus shows that there have been at least five new cases in Islamabad and one in Azad Jammu and Kashmir.

The tally for Islamabad is now 113 and AJK has 34 cases.


10:30 am: More than 760 recover from the virus


The governmentÔÇÖs official portal for coronavirus statistics shows that 762 people in the country have now recovered from the virus, with more than 30 recovering in the last 24 hours.


10:00 am: Balochistan reports one more case
The provincial government reported one more case, taking the tally in Balochistan to 220.
بلوچستان میں کرونا وائرس سے متاثرہ افراد کی تعداد 220 ہوگئی۔
مذید ایک فرد میں کرونا وائرس کی تصدیق ہوگئی ہے۔
ابھی 188 رپورٹس موصول ہونے جن میں سے صرف ایکمثبت اور 187 منفی نتائج سامنے آئے

بلوچستان میں 89 مریض صحتیاب اور 2جاں بحق ہوئے ہیں#CoronavirusOutbreak#CoronaFreePakistan

— Liaquat Shahwani (@LiaquatShahwani) April 10, 2020
9:30 am: K-P govt discusses coronavirus situation with traders
Health Minister K-P Taimur Khan Jhagra held discussions with traders in K-P on the directions of the chief minister.
1. Had separate meetings with industrialists & traders, on CM @IMMahmoodKhan's request, as part of GoKP's effort to take everyone on board on GoKP's #CoronavirusOutbreak efforts.
Important for business & industry to understand we are in this & have to take decisions together. pic.twitter.com/dLUAYgNE4O

— Taimur Khan Jhagra (@Jhagra) April 11, 2020
9:00 am: Punjab announces relief package for journalists amid pandemic
The Punjab government announced a relief package for media workers in the wake of ongoing fight against coronavirus pandemic as the provincial tally of cases soared past 2,279.
Addressing a press conference in Lahore, Information Minister Punjab Fayyazul Hassan Chohan said that the government would pay Rs1 million to any journalist who succumbs to the deadly virus while his widow would get Rs10,000 as monthly pension for life.
Read story
here