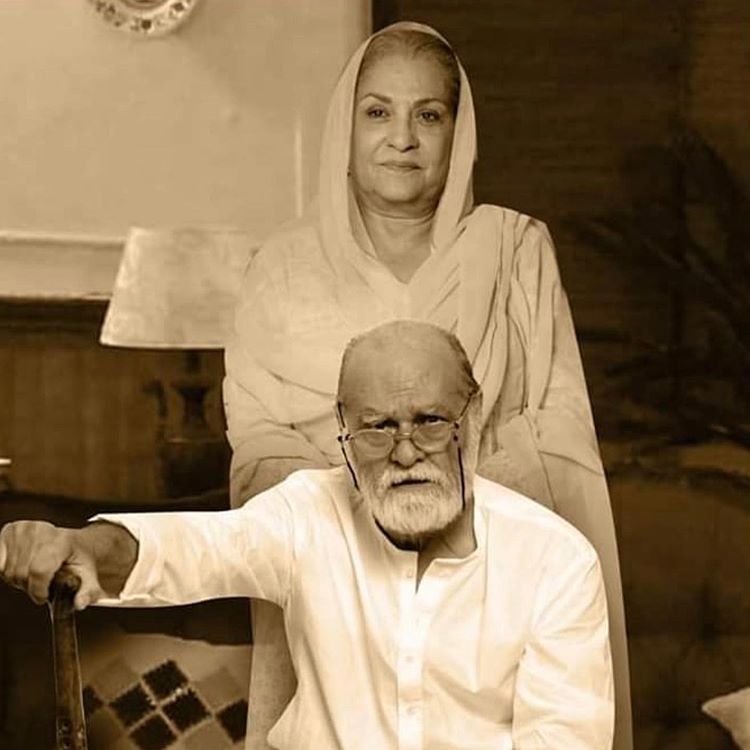 ---
Veteran Pakistani actors Samina Ahmed and Manzar Sehbai tied the knot on April 4, 2020. The dada from Alif and Suno Chanda's Beejaan looked absolutely adorable in their all white ensembles and beaming smiles seen in their wedding picture circulating the internet.




The event was clearly a low key affair, with no other pictures of the couple or the celebration found anywhere. There has been no public announcement from the two either although people have been continuously talking about them.

Getting married at an older age is in itself considered a taboo, with several deeming a woman above the age of 30 to be an unlikely partner for their son. For many it is about women not remaining as fertile or beautiful when they grow older, so if they can't produce kids then what's the purpose of getting married?

For many others, senior citizens should not be thinking about marriage altogether because they need to be focused on redemption rather than reliving their past 'mistakes'. It is considered vulgar, a thought process that has made way for the long used phrases, "budhay/budhi ko jawaani sujh rahi hai, aik tang qabar men hai phir bhi harkaten dekho!"

But clearly these actors knew that marriage is about 'companionship,' as pointed out by one Twitter user, and not just about producing kids. While other youngsters also appreciated the veteran actors' decision to continue their pursuit for happiness without caring about, "log kya kahengay."

Some even compared their marriage to that of the 18-year-old couple that went viral earlier, adding that this one was better.

"They set a better trend than those 18-year-old kids did. No publicity, nothing, even though as actors, they need a limelight. But no. Simplicity ki misaal qaim kardi (They have set the standard of simplicity). Best people," wrote a user.


#SaminaAhmed They set a better trend than those 19 years old kids did. no publicity nothing, eventhough as an actors they need a limelight but NO simplicity ki misaal qaim krdi. best people.

— Amanullah Karim (@AmanullahKarim2) April 9, 2020


Another said, "There must be millions of tiny moments that created your love story. Samina Ahmed looking gorgeous as always. A beautiful couple made in heaven."


There must be millions of tiny moments that created your love story.#SaminaAhmed looking gorgeous as always. A beautiful couple made from heaven.

— Naveed Ahmed Khan (@NakNaveed) April 9, 2020


One added, "Shattering taboos of not marrying in old age."


shattering taboos of not marrying in old age.#ManzarSehbai #SaminaAhmed https://t.co/GCxkzJbzY4

— Junaid Abdul Wahid (@junaidwahid007) April 9, 2020


A fan wrote on Instagram, "Age is just a number! Veteran actors #SaminaAhmed and #ManzarSehbai found love and cemented it with marriage in the autumn of their beautiful lives. May they be forever young and free where it matters: in their hearts."




Meanwhile, some fans took their example to advise others on how they can restart their lives at any age by getting married whenever they want.

https://twitter.com/GhazalRehan1/status/1248169427767623680

Some users continued to add that it was "high time society understood that a marriage is about companionship and not just producing kids."


High time our society understood that a marriage is about companionship, not necessarily about producing kids only. At any stage of life if two people mutually agree to become companions for life, then why not? #SaminaAhmed

— Kiran (@KiranW_) April 9, 2020


Another user penned an elaborate note warning people not to criticise Ahmed since she had worked really hard all her life, raising her children alone. "Please don't criticise this couple. Samina Ahmed has worked really hard to raise her children as a single mother," she said.




She also quoted Ahmed's earlier statements on why the actor hadn't gotten married again earlier. "When, on Rewind with Samina Peerzada she was asked why she didn't marry again. Samina said she never had the guts since her children were nine or 10 when she became a single mother. She had further added, 'Main doosri shadi ker ke settle ho jati magar bachon ke sath zayaadati hoti (I would have remarried and settled down again but it wouldn't have been fair to my children)'."

Have something to add to the story? Share it in the comments below.