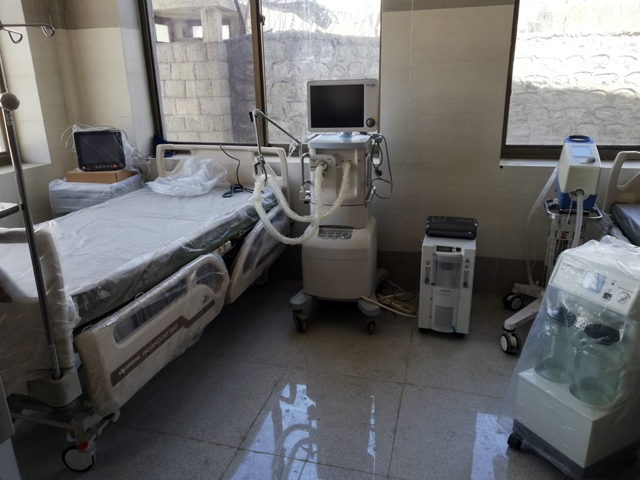 ---
Skardu doctors set up ICU for COVID-19 patients on self-help basis
A well-equipped health facility is built with donations to combat the deadly virus
---
GILGIT: As coronavirus pandemic reached Gilgit-Baltistan (G-B), doctors in Skardu town took it upon themselves to set up a well-equipped intensive care unit (ICU) in a region that badly lacked health facilities to tackle the deadly disease.

"We knew we lacked the equipment to treat patients of coronavirus," Dr Kamran Ahmed, a consultant surgeon at the district headquarter hospital Skardu, said on Wednesday.

Dr Ahmed is an active member of doctors' team that launched a donation campaign under Pakistan Medical Association (PMA) and Doctors Forum in Baltistan.

A state-of-the art health facility was badly needed in Baltistan region, which lacked ventilators and other equipment to deal with COVID-19 despite being the second worst virus-hit area following Nagar valley with 36 positive cases.

Sindh nurses decry unavailability of safety gear, salary cuts

As the campaign kicked off, donations started pouring in. Within a short span of time, doctors were able to collect Rs13.8 million.

"We immediately spent a handsome amount on purchase of equipment," said Dr Kamal while talking to The Express Tribune from Skardu – his hometown about 200 kilometres from Gilgit.




The five-bed ICU was set up at a private hospital - Abdullah Hospital – which was taken over by the government to treat exclusively coronavirus patients till the pandemic is over.

Besides four ventilators, the doctors purchased cardiac monitors, suction machine, oxygen concentrator, defibrillator machine, ECG machine, ABGs analyser, breathing circuits with HME filters with the donation money.

"It is the third day since ICU became operational with four ventilators in our region," said Dr Kamal of Baltistan, where no ventilator existed till doctors purchased four from donations this month.

He heaped praise on Dr Musa Irfani and others for leading the campaign till purchase of the equipment.

But all is not okay with the newly-built ICU.

"While we have been able to put together something, we need an oxygen supply plant to provide support for this newly built ICU facility," said Dr Saad Shafique, another doctor in Skardu. "Currently oxygen is filled in cylinders and brought in from Islamabad and Rawalpindi which in itself is an arduous task and an also unpredictable one."

Tenants likely to get two-month reprieve from Sindh govt amid COVID-19 crisis

According to doctors, oxygen generation plant may cost 30 to 35 million rupees, an amount impossible to be arranged without generous support from philanthropists. "Without oxygen generation plant this ICU would be impossible to run in the long run," said Dr Shafique.




According to the doctors, the coronavirus cases are rising with a disproportionate number in G-B comparing to other parts of the country.

"This is primarily due to a couple of reasons... firstly a majority of pilgrims that arrived in Pakistan through Taftan border are residents of Baltistan -- almost 70% -- and secondly due to a high frequency of COVID-19 cases per unit population i.e. 175 cases per million; in comparison with other regions which show a much lower frequency e.g. 18 cases per million in Punjab and 19 cases per million in Sindh," Dr Shafique explained.