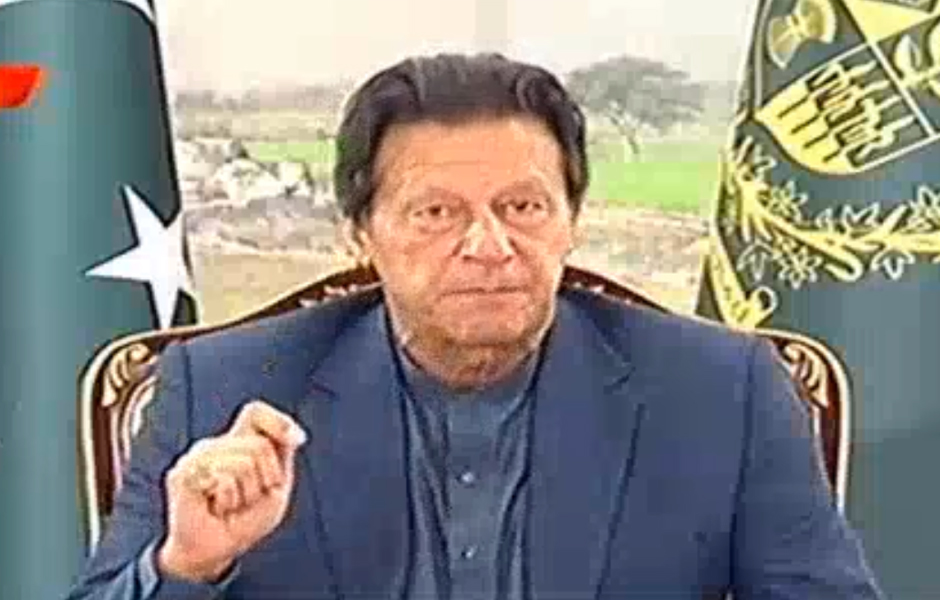 ---
KARACHI / ISLAMABAD / QUETTA / PESHAWAR / LAHORE / GILGIT / MUZAFFARABAD: The novel coronavirus emerged in the central China city of Wuhan towards the end of last year and proliferated to almost the whole world within a couple of months. ItÔÇÖs not the virulence or fatality, but the infectivity of the new virus ÔÇô also known as SARS-CoV-2 ÔÇô that has set off a global frenzy.

The COVID-19 respiratory illness caused by this mysterious contagion has so far infected more than a million people in 202 countries and territories of the world ÔÇô more than 82,000 of them have died and counting.

Pakistan, despite its close proximity with China, remained coronavirus-free until February 26 when a young man from Karachi tested positive after returning from Iran ÔÇô one of the worst-hit countries. After a brief hiatus following the first case, COVID-19 cases spiked as more pilgrims returning from Iran tested positive for the virus.

The nationwide tally of COVID-19 patients soared past 4,200 with 2,108 cases in Punjab, 1,036 in Sindh, 527 in Khyber-Pakhtunkhwa, 212 in Balochistan, 212 in Gilgit-Baltistan, 92 in Islamabad, and 19 in Azad Jammu and Kashmir.

The virus has claimed 60 lives while at least 467 coronavirus patients have recovered.

The number of cases has continued to soar despite the country being under lockdown for the third consecutive week.

The situation remains fluid and weÔÇÖre updating stats as soon as new figures are officially released.

Follow┬áThe Express TribuneÔÇÖs live coverage of the pandemic┬áhere.




11:30pm: 'COVID-19 detection higher in Pakistan than Xinjiang'

Detection of novel coronavirus cases in Pakistan appears to be 10 times higher than in ChinaÔÇÖs Xinjiang region, the head of the Chinese medical team visiting the country warned as she urged authorities to ramp up testing.

ÔÇ£In Pakistan, one out of every 10 people tested for COVID-19 up till now has returned a positive report,ÔÇØ revealed Dr Ma Minghui. ÔÇ£This is much higher than Xinjiang, where only one in 100 people tested for the virus reported positive,ÔÇØ she told The Express Tribune.

According to Dr Ma, who is also the deputy director general of the Xinjiang Uygur Autonomous Region Medical Products Administration, the team of Chinese doctors she is leading started by analysing two groups of Pakistanis first. ÔÇ£We looked at Pakistanis who had returned from Iran and those who attended a religious gathering in Punjab. As many as 50 per cent of the former and 15 per cent of the latter tested positive for COVID-19,ÔÇØ she said.

Read full story here.




10:00pm: Pakistan allows cargo trucks to cross over into Afghanistan thrice a week

Pakistan has decided to allow movement of cargo trucks and containers to cross-over into Afghanistan thrice a week starting from April 10 on the neighbouring countryÔÇÖs request.

The decision was taken following consultations and coordination between the two countries as per agreed upon protocols, Aisha Farooqui, spokesperson for the Ministry of Foreign Affairs, said in a statement on Wednesday.

ÔÇ£Responding to Afghanistan governmentÔÇÖs special request, and based on humanitarian considerations, it has been decided to facilitate the movement of cargo trucks and containers to cross-over into Afghanistan through Torkham and Chaman border crossing points thrice a week (on Monday, Wednesday and Friday) from 10 April 2020 onwards,ÔÇØ she said.

Read more here.




9:45pm: Tenants likely to get two-month reprieve from Sindh govt

The Sindh government is considering giving exemption to all tenants from payment of two monthsÔÇÖ rent┬áin view of prevailing socioeconomic conditions that emerged due to outbreak of COVID-19.

Sources in the Sindh government told The Express Tribune that the provincial authorities have decided to bring ordinance to amend the Sindh Rented Premises Ordinance, 1979.

A new insertion will be made in the previous law wherein a tenant shall not be liable to pay rent for the period which will be decided through a notification.

Read more here.




9:30pm: Six new cases bring Balochistan's COVID-19 tally to 212

The Balochistan government has confirmed six new cases of coronavirus, raising the provincial tally to 212.

76 COVID-19 patients have recovered in the province, said the health department in a statement on Wednesday.




7:25pm: Punjab reports 78 new cases, pushing provincial tally to 2,108

The Punjab health authorities have reported 78 confirmed coronavirus cases, taking the tally for the province to 2108.

According to a spokesperson of the provincial health department, 695 cases were reported from pilgrim centres, 755 belonged to Tableeghi Jamaat in Raiwind, 58 prisoners and 744 were common citizens.

He further said that all confirmed cases were admitted to isolation centres.




5:08pm: 12m families will start getting Rs12,000 per month from tomorrow: PM Imran

Prime Minister Imran Khan has announced that Rs12,000 per month will be given to 12 million families beginning from tomorrow (Thursday).

He made the announcement in a media briefing in Islamabad on Wednesday. The move under 'Ehsaas Programme' will help reduce the impact of lockdown on underprivileged people as nationwide tally of COVID-19 has surged past 4,200.

ÔÇ£When we think about lockdown, we cannot afford a lockdown being enforced in Europe and United States,ÔÇØ the premier said, adding, ÔÇ£We knew labourers would be affected the most so we had to maintain a balance.ÔÇØ

While highlighting the governments initiatives regarding the economic activities in the country during the COVID-19 crisis, PM Imran said: We have to let our agriculture sector to work fully we also decided to let construction sector to work as well.

Talking about the future strategy as parts of the country are under lockdown till April 14, the premier said: ÔÇ£From April 14, we're thinking to strike a balance between the impact of coronavirus and poverty.ÔÇØ

There is no lockdown in rural areas, he added.


#Live: PM @ImranKhanPTI talking to media persons in #Islamabad. #PakistanFightsCorona #TogetherWeCan #CoronaVirusPakistan #StayHomeSaveLives #CoronaInPakistan #Covid_19 https://t.co/TOGLauBUth

— Radio Pakistan (@RadioPakistan) April 8, 2020


Read full story here.




4:30pm: PM Imran, CM Sindh talk via video link

Chief Minister Murad Ali Shah participates in Prime Minister Imran Khan's meeting via video link.




4:00 pm: CAA employees to be tested for the virus

Employees of the Civil Aviation Authority (CAA) will be tested for coronavirus after 25 passengers they were exposed to tested positive.

The passengers were on a special flight from Toronto that arrived in Islamabad on April 3.

They were sent to a quarantine facility for screening.


3:12 pm: Chamkani area sealed

Peshawar's Chamkani area was sealed after the emergence of a suspected coronavirus case.

Health teams arrived to collect blood samples of all the residents in the area.




The K-P health department has allowed MTIs and district administration to open necessary outpatient departments (OPDs) and other services, provided they take necessary precautions.



On the directions of the Honourable Supreme Court, the KP health department has allowed MTIs and Districts to open OPDs, provided they take necessary precautions.
The OPD closure was a temporary measure, to protect medical professionals at risk, not just for social distancing. pic.twitter.com/4KBMFJCzv5

ÔÇö Taimur Khan Jhagra (@Jhagra) April 8, 2020


The provincial govt, in a notification issued, asked all schools to reduce school fees by at least 20pc and to comply completely with the order 'in letter and spirit'.

The schools have also been ordered to ensure payment of salaries to teaching and non-teaching staff.

1:00 pm: Sindh tally stands at 1,036 after 50 new cases emerge 

Sindh CM Murad Ali Shah said the total number of confirmed cases in the province stands at 1,036 after 50 new cases emerged in the last 24 hours.

The chief minister also confirmed two more deaths in the province, raising the tally to 20.

He said the total number of tests conducted by the provincial government stands at 10,981.

382 patients have self-isolated at home and and over 97 are in quarantine centres.


12:40 pm: Sindh CM requests Chinese delegation to donate RTM, kits to Pakistan

Sindh Chief Minister Murad Ali Shah requested the Chinese delegation to donate rapid testing machinery (RTM) and kits to Pakistan.

The chief minister met a nine-member high level delegation from the Chinese medical sector and lauded China for its efforts to eradicate the virus.

He said the Sindh government is enhancing its testing capacity but with very limited resources, only 2,040 tests can be conducted per day.

The delegation said the Chinese government wants to offer every possible support to the Sindh government, adding that society must maintain social distance in order to contain the virus.


12:30 pm: Pakistan, China Army share coronavirus experiences via video

The Pakistan Army held a video conference with the Chinese Army and shared their experiences in the prevention of coronavirus.

During the conference, Chinese officials shared their experience of steps taken by the army to curb the spread of the virus. They also shared coronavirus detection technology methods, diagnosis and treatment plans.

The Army thanked China for sharing their experiences.
11:50 am: Instructions for using personal protective equipment (PPE)
11:45 am: Confirmed cases less than estimated number, says Dr Zafar Mirza

Speaking to reporters outside the Supreme Court, defacto health minister Dr Zafar Mirza said the number of confirmed coronavirus cases in the country is much less than the estimated number.






10:45 am: K-P govt calls on medical experts to combat the virus

The K-P government called on specialists, nurses, psychologists, pharmacists, paramedics and technicians from across the province to apply to the LOCUM programme, to help combat the pandemic.


10:20 am: K-P govt to ensure provision of PPE to healthcare community

K-P Health Minister Taimur Khan Jhagra said the provincial government will take necessary steps to ensure provision of personal protective equipment to the healthcare community.

However, there will be places where they may be shortages, he said.

ÔÇ£Some of us may be infected despite taking precautions. We still must choose to fight for everyone else.ÔÇØ


10:05 am: PIA flight from Baghdad arrives in Islamabad

A special Pakistan International Airlines (PIA) flight from Iraq arrived at Islamabad International Airport.

PK-9814, carrying 136 passengers arrived in Islamabad, where a special team of doctors conducted screenings and medical examinations.

135 passengers and 11 crew members were transferred to quarantine centres of allotted hotels.

Those who test negative for the virus will be allowed to leave.


8:42 am: Pakistani ambassador to Iraq sees off stranded Pakistani's at Baghdad Airport 


8:10 am: 208 new cases surface in the last 24 hours

The National Command and Operations Centre reported 208 new coronavirus cases in the last 24 hours, raising the total to 4,072.

The government has also enhanced testing and over 42,159 tests have been conducted.




7:13 am: K-P reports 27 new cases, provincial tally jumps to 527

Khyber-Pakhtunkhwa (K-P) Health Minister Taimur Khan Jhagra says 27 new cases have been reported in the province, as the provincial tally reached 527.

The health minister also confirmed another death in the province, raising its total to 18 in K-P.

He also said there have been 70 recoveries.



Pakhtunkhwa #coronavirus update, April 7 end of day.

527 cases in all (from 500 the previous day). One additional death, taking the total to 18. A total of 70 recoveries.

Details in the report attached. pic.twitter.com/JkhlZlYw1e

ÔÇö Taimur Khan Jhagra (@Jhagra) April 8, 2020
9:24 pm: Alice Wells lauds Pakistani Americans for assistance during pandemic 

Top US diplomat Alice Wells appreciated Pakistani Americans for serving communities in the United States and Pakistan during the pandemic.

She lauded Pakistani Americans for providing food and assistance in the US, as well as supporting healthcare professionals in Pakistan.



Great to see #PakistaniAmericans eagerly serving communities in the US and #Pakistan during the #COVID19 crisis by providing food assistance in the US, supporting healthcare professionals in Pakistan, and raising awareness online. AGW https://t.co/F2zRL2XGRm

ÔÇö State_SCA (@State_SCA) April 7, 2020

Read more here.