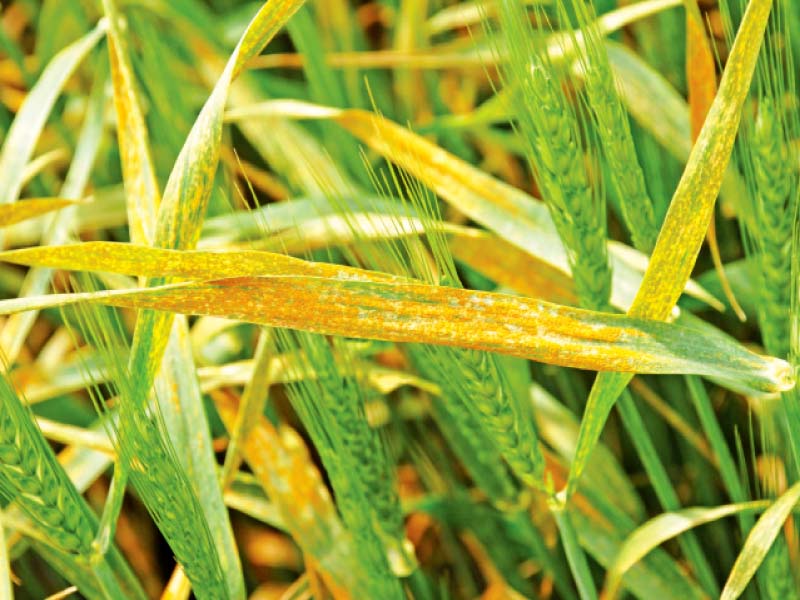 ---
FAISALABAD: Due to the devastating effects of rust plant disease, scientists at the Ayub Agricultural Research Institute (AARI) have recommended delisting of nine varieties of wheat and urged farmers to avoid sowing such low yield varieties in the future.

AARI Director Wheat Research Institute Dr Javed Ahmad told The Express Tribune that the names of nine wheat varieties prone to rust disease will be sent to the Punjab Seed Council, a subsidiary of the Punjab Seed Corporation, for delisting.

The blacklisted varieties are TD-1, Seher-06, Galaxy-13, Galaxy-2, Gandam-1, AARI-12, AS-2002, Chakwal-50 and Pakistan-13, which demonstrated more susceptibility to wheat rust than others.

"We had suggested delisting these varieties last year as well. However, the Punjab Seed Council decided to give these one more year to be sure of their lack of resistance towards rust over time," Ahmad revealed.

NICVD offers Sindh govt assistance to set up mobile labs for COVID-19 testing

The director said that he was waiting for the final harvest data (harvesting season to start next week in Punjab) to put his case forth again.




"All-out efforts should be made to supply certified seeds to the farmers and discourage the use ofmixture wheat seeds saved at homes for sowing."

The institute suggests plantation of rust-tolerant wheat varieties like Akbar-19, Anaj-17, Ujala-16, Faisalabad-08, Barani-17, Fatehjang-16, Fakhar-e-Bhakkar, Zincol, FatehJang-16, Gold-16 and NARC-11 for loss prevention and better yield.

In 2019, billions of rupees were lost as harvest suffered due to rain and hailstorms and the aggravation of rust on wheat causing cumulative loss of 4% of the total production (approximately one million tonnes).

The 34th Quarterly Early Warning Bulletin of the Food and Agriculture Organisation of the United Nations (FAO) warned of escalation of wheat rust infliction "if the levels of rainfall increase" in Pakistan.

Scientists describe wheat rust as a group of deadly, constantly changing fungal pathogens that pose a serious threat to several varieties worldwide.

Pakistan is mainly affected by two wheat rust varieties, leaf rust more commonly known as brown rust, and stripe rust also known as yellow rust, Dr Ghulam Hussain, a wheat scientist associated with Regional Agriculture Research Institute Bahawalpur, explained.

"These two strains can result in crippling losses of up to 60% of the yield in case of an epidemic, particularly that of yellow rust," he warned. Dr Hussain stressed that growers should sow wheat during November or early December to prevent infliction of rusts.

"The disease hits the crop during February and March. If the seeds have been sown early, the crop matures in these months annulling infliction chances completely."

The yellow rust, Yr27 virulent strain, caused significant losses in Central and South Asia in 2009, 2010 and 2013, according to the FAO Wheat Rust Diseases Global Programme 2014–2017 report.

Scientists across the globe agree to resistance breeding, fast track testing, release and deployment of new rust resistant varieties with diverse genetic background as the core strategy to manage rusts.

Fungicides serve as the immediate cure to instantaneously combat the rusts' sporadic outbreaks, giving authorities enough time to assess the strains and multiply new resistant crop varieties.

Tales of survivors: 'I became so paranoid, I thought doctors would kill me'

The ongoing wheat season was highly favourable for the yellow rust owing to the prolonged cool and humid weather across the region. However, different wheat varieties showed differential resistance/susceptibility behavior against rust.

The districts of Rahim Yar Khan, Sadiqabad, Bahawalpur, Lodhran, Rajanpur, Muzaffargarh, Sheikhupura, Sialkot and Attock witnessed severity of the yellow rust in this Rabi season.

Fortunately, wheat crop is near maturity now and the prevailing high temperature does not favour the fungal menace. Nevertheless it is crucial that the government develops a thorough plan to guarantee plantation of the resistant wheat varieties to protect the financial interests of the growers as well as develop an effective strategy to wipe out these parasites.

Published in The Express Tribune, April 7th, 2020.