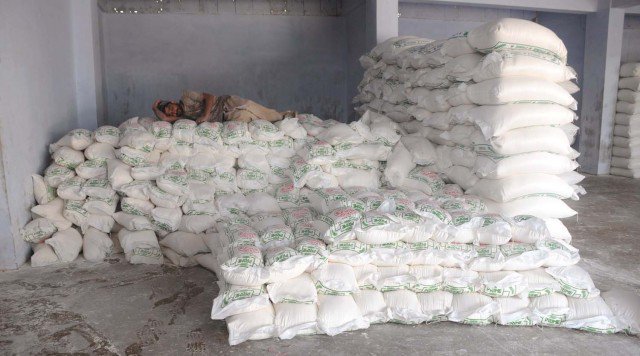 ---
LAHORE: So far, three major reasons are being cited for the wheat flour crisis in Pakistan, which came to fore in November of last year and has since been a recurrent threat to food security in the country.

Reasons which include flour mills increasing dependency on government wheat amid surging wheat prices, flour mills across Lahore, Gujranwala and Rawalpindi supplying wheat to Peshawar for higher profits instead of local markets and the district management's negligence in monitoring wheat supply in the provincial capital's markets, have further deteriorated the situation.

Another reason being attributed to the crisis under the current circumstances, is the distribution of ration by donors among those affected by the lockdown, which has created an unprecedented demand of wheat flour in market.

The Flour Mills Association on Monday, clearly instructed its members that wheat supply should not face any disruption amid lockdown period for the sake of public welfare. Further, members were also cautioned that the association will not stand by any mill in the event that it is found guilty of misappropriation of any kind and military or civil institutions decide to take action against them. On the same day, the deputy commissioner also appointed patwaris to flour mills, in a bid to ensure accountability. Whereas, in the past, it was the Union Council secretaries who would travel in wheat trucks to monitor the market supply

As per details, 150,000 bags of flour could not be supplied to shops owing to mill holiday the past Monday. However, the food department, based on tracking points, sent over 35,000 bags out of which a total of 31,000 bags were sold out.

According to market sources, there is a demand of 2, 15,000 flour bags per day in Lahore, for which the food department provides with 65% of the required wheat, while mill owners procure the remaining 35% from open markets. "Since wheat price has exceeded Rs 1,800 per maund in the open market, flour mills have started depending on and utilising government wheat for local supply, which has significantly reduced the production."

The source further informed that anywhere between 20-74 mills in Lahore have been involved in siphoning government wheat to Peshawar in greed of securing higher profits. "Moreover, the ban on flour supply imposed by Sindh Foods a few days ago has severely affected Punjab's flour production. While, big flour mills in Lahore have completely exhausted their personal wheat stocks in hopes of wheat from Sindh to likely arrive soon."

On the other hand, following a joint discussion between Punjab and Sindh food departments on Monday, the permit procedure for brining wheat to Punjab has been initiated. The deputy commissioner has appointed his staff in Faisalabad and several other cities for monitoring the market supply of wheat, while the district management has assigned the entire responsibility to the food department in Lahore.

Published in The Express Tribune, April 6th, 2020.