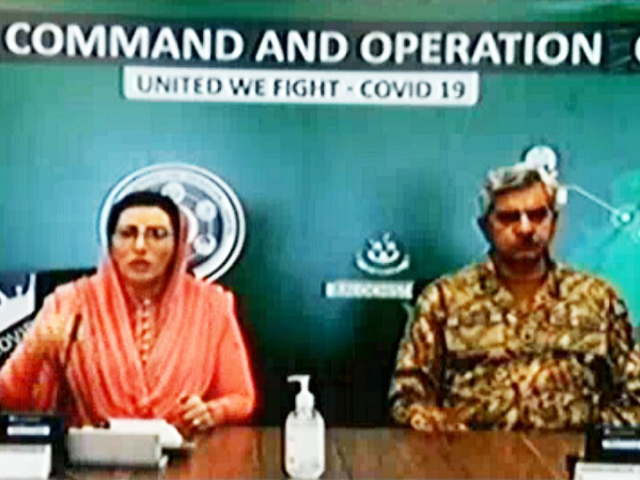 ---
LIVE: NCOC works as 'nerve centre for timely decision-making' on COVID-19, says ISPR DG
Nationwide coronavirus cases surge past 2,650 with 40 deaths
---
ISLAMABAD / KARACHI / PESHAWAR / QUETTA / LAHORE: The novel coronavirus emerged in the central China city of Wuhan towards the end of last year and proliferated to almost the whole world within a couple of months. It's not the virulence or fatality, but the infectivity of the new virus – also known as SARS-CoV-2 – that has set off a global frenzy. The COVID-19 respiratory illness caused by this mysterious contagion has so far infected more than a million people in 202 countries and territories of the world – more than 50,000 of them have died and counting.

China appears to have stemmed the tide against the viral outbreak as it has eased lockdown restrictions in Wuhan, the ground-zero of the virus, after two months, but new hotspots have emerged in Europe, Iran and the United States. In Europe, Italy and Spain are bearing the brunt as their death toll combined makes up more than half of the fatalities caused by COVID-19.

Pakistan, despite its close proximity with China, remained coronavirus-free until February 26 when a young man from Karachi tested positive after returning from Iran – one of the worst-hit countries. After a brief hiatus following the first case, COVID-19 cases spiked as more pilgrims returning from Iran tested positive for the virus.

The nationwide tally of COVID-19 patients has crossed 2,650 with 830 cases in Sindh, 1,069in Punjab, 175 in Balochistan, 343 in Khyber-Pakhtunkhwa, 197 in Gilgit-Baltistan, 68 in Islamabad and nine in Azad Jammu and Kashmir.


The virus has so far claimed 40 lives in Pakistan, while 127 COVID-19 patients have fully recovered.

The situation remains fluid and we're updating stats as soon as new figures are officially released.

Follow 

The Express Tribune'

s live coverage of the pandemic 

here.

12:30am: 47 new local transmission cases swell Sindh's COVID-19 tally to 830

Sindh's Minister for Health and Population Welfare Dr Azra Fazal Pechuho has confirmed 47 new local transmission cases of coronavirus, bringing the provincial tally to 830.

Of these, 38 cases were reported in Karachi, five in Tando Muhammad Khan, two in Jamshoro and one each in Hyderabad and Badin.

Three people succumbed to the deadly virus – two in Karachi and one in Hyderabad – on Friday.




10:30pm: Sindh CM thanks people, ulema for making govt's Friday lockdown a success

Sindh Chief Minister Syed Murad Ali Shah has thanked citizens and ulema for making the government's decision of a complete lockdown at the time of Friday prayer a success.

"I'd like to thank everyone for making today's lockdown b/w 12pm to 3pm effective. I'm grateful to our Ulema for their understanding of the current situation. Some extraordinary decisions had to be taken during these extraordinary times - Government truly appreciates your support," he wrote on his official Twitter handle.


I'd like to thank everyone for making today's lockdown b/w 12pm to 3pm effective. I'm grateful to our Ulema for their understanding of the current situation. Some extraordinary decisions had to be taken during these extraordinary times - Government truly appreciates your support.

— Murad Ali Shah (@MuradAliShahPPP) April 3, 2020


More details here.




9:45pm: One more succumbs to COVID-19 as Sindh's death toll rises to 14

Sindh's Minister for Health and Population Welfare Dr Azra Fazal Pechuho has confirmed another COVID-19 casualty in Hyderabad, bringing the province's death toll to 14.

The 54-year-old patient was tested positive earlier in the day and was a case of local transmission. The patient had a neurological disorder which affected his immune system.




8:40pm: New coronavirus cases detected in K-P, G-B, Balochistan and Punjab

With six new cases, Balchistan's COVID-19 tally has risen to 175. Punjab has reported another 57 cases to hit 1,069; Khyber-Pakhtunkhwa has confirmed 32 new cases to bring total number of patients to 343.

Giligit-Baltistan has also confirmed three new cases to raise the region's tally to 197.




8:00pm: Punjab sees a surge in COVID-19 cases as tally soars past 1,000

The primary and secondary healthcare department of Punjab government has confirmed 89 new cases to take the provincial COVID-19 tally to 1012.

11 people have died with six patients have recovered in the province.




7:30pm: SAPM on information and DG ISPR brief media on coronavirus

Inter-Services Public Relations (ISPR) Director General Major General Babar Iftikhar and PM's aide on information Firdous Ashiq Awan give a media briefing in Islamabad about decisions taken at the National Command and Operation Centre following Prime Minister Imran Khan's visit earlier on Friday.

Read more about PM's visit here.

"It will serve as the nerve centre to faciltiate timely decision-making in Pakistan's battle against coronavirus," the DG ISPR said.

The PM's pointperson on information said that ISPR and the information ministry will serve as the focal source of information for media regarding developments on and government's response to the pandemic.

"It was decided in today's meeting that ISPR and Ministry of Information and Broadcasting will serve as the main source of information for media regarding coronavirus," she said.

Maj-Gen Babar said that during the last 38 days we as a nation fought with full determination against this menace.

"People of Pakistan have shown exemplary resilience in dealing with the coronavirus over the last three months… I pay special tribute to doctors, paramedics, security personnel, on the frontlines of the battle against COVID-19 virus. I also thank ulema for their role," said the ISPR DG.

Media has also reported objectively on the issue and kept the people aware, he added.

"The National Command and Operation Centre is operating under the NCC and is headed by Federal Minister Asad Umar," said the chief military spokesperson. "It serves as a nerve centre to collate and analyse information received from provinces, after which recommendations are made to NCC so political leadership can make decisions," he added.

Maj-Gen Babar said the decisions taken after recommendation made by NCOC included isolation of areas that were identified as hotspots. "It also helps us ascertain food, medical and equipment needed in targeted areas, and allows us to make time-sensitive decisions," he added.

The ISPR DG said the media has a key role in the fight against coronavirus. "I am grateful to our media as it has been objective in its reporting and created awareness among the people," he maintained.


#LIVE: SAPM on Information @Dr_FirdousPTI and DG ISPR briefing media persons https://t.co/ghn76t5LFL

— Radio Pakistan (@RadioPakistan) April 3, 2020


6:30pm: K-P extends public holidays until April 11 amid lockdown

The Khyber-Pakhtunkhwa (K-P) government has extended public holidays until April 11 as part of social distancing measures amid COVID-19 outbreak in the province.




5:10pm: PM Imran grants industry status to construction sector

Prime Minister Imran Khan, while addressing media in Islamabad on Friday, declared the construction sector an industry.

The media briefing was organised to announce a relief package for the construction industry amid coronavirus crisis in the country.

The prime minister also announced forming of the Construction Industry Development Board.

He said the construction industry is the second largest sector in the country which provides employment to the people. Daily wagers and labourers should must not suffer amid lockdown, he maintained.

The purpose behind reopening the construction industry is to enable daily wagers and labourers to continue earning their livelihood, he explained.

Announcing incentives for the construction industry, the premier said those who invest in this sector will not be asked about their source of income.

"Withholding tax on all construction related material has been waived off except on cement and iron," he announced.

Prime Minister Imran further added that capital gain tax on property will not be charged on selling properties.

The opening of construction industry is necessary to keep the economy running, he said, adding that the sector will reopen from April 14.

"We will also announce relief [package] for people who cannot pay house rent and school fees," said the prime minister. "The government is constantly monitoring the situation," he maintained.

"This perception is dangerous that our country is immune to this virus. We are also facing threat from this pandemic and have to strictly follow preventive measures," PM Imran said.

The premier reiterated that the federal government did not want to impose its decisions on provinces after the 18th Constitutional Amendment. "Provinces are empowered to take their own decisions," he added.

"We have to maintain a balance between coronavirus and poverty," he remarked.

[/fbvideo]

More details here.


4:25pm: Two more deaths confirmed in Sindh
Sindh's Health Minister Dr. Azra Fazal Pechuho confirmed two more deaths in Karachi.
The coronavirus patients, one 60-year-old and the other 82-years-old had tested positive on April 1 and were cases of local transmission.
The 60-year-old patient suffered from cardiac ailment and the 82-years-old had renal ailments. The total number of deaths in the province are now at 13.
4:00pm: Authorities to make central database for ration distribution in Rawalpindi
Video message of DC Rawalpindi regarding distribution of Food Hammers.@GOPunjabPK pic.twitter.com/vF58is3pG9

— DC Rawalpindi (@DCRawalpindi) April 3, 2020
3:30pm Murad Ali Shah briefs PM on Sindh's situation
Sindh Chief Minister Murad Ali Shah informed Prime Minister Imran Khan that the number of novel coronavirus cases could be much higher than the ones recorded in the province.
Briefing the premier over the situation in the province, Shah stated that only limited tests have been conducted in Sindh which is why the number of cases reported have been low.
12:20pm: Sindh CM says special care to be given to Thalassemia patients
Sindh Chief Minister Murad Ali Shah has directed the Sindh health minister to provide special care to Thalassemia patients.
He has asked to ensure the arrangement of blood in a timely manner.
Sindh Health Minister Dr Azra Pechuho said she would immediately reach out to blood banks in the province.
12:15pm: Friday prayers commence despite govt lockdown
Despite the government's decision to impose a three-hour complete lockdown in the province, some mosques remained open for Friday prayers.
"The government and police are making statements to create a sense of fear. Nothing will happen. Karachi is a city of 20 million, the government can not implement its decision in every nook and cranny," said the prayer leader of the Jamia Mosque Quba.
Despite an announcement from mosques to pray at home, around three to four dozen people attended the congregational prayers at Jamia Mosque Quba.
1:45pm: President Alvi requests youth to donate blood
President Dr Arif Alvi has requested the youth to step forward and donate blood to treat Thalassemia patients.
He said he has advised provincial governments to look for donors to facilitate Thalassemia patients as they frequently require blood transfusions.
12:45pm: 17,069 tests conducted in Punjab, says Dr Yasmin Rashid
Punjab Health Minister Dr Yasmin Rashid said 17,069 tests have been conducted in the province till date.
Out of the total, 920 came out positive, while 16,149 were negative, she added.
#COVID19 tests in Punjab so far = 17,069

Breakup:#GovtSector:
Health Department's Lab = 4,039
Nishtar Hospital Multan = 500
SKMCH = 2,238 (Free Tests for GoP)
NIH Lab Islamabad = 2,980#PrivateSector = 7,312#PunjabCoronavirusUpdate

— Dr. Yasmin Rashid (@Dr_YasminRashid) April 3, 2020
Total Tests = 17,069
Positive = 920
Negative = 16,149

— Dr. Yasmin Rashid (@Dr_YasminRashid) April 3, 2020
12:40pm: PIA flight departs for Toronto
A Pakistan International Airlines (PIA) flight departed for Toronto with 295 passengers on board.
Prior to the departure, Civil Aviation Authority (CAA) and PIA management took necessary precautions to eliminate the risk of the virus. 
12:05pm: Sindh govt appreciates Bohra community for their generous contribution
Adviser to Sindh chief minister Murtaza Wahab thanked Dawat e Hadiyah and the Bohra community for their contribution of Rs20 million to the corona relief fund.
On behalf of the #SindhGovt & our people, I would like to express my heartfelt gratitude to Dawat e Hadiyah & Bohra Community for its generous contribution of Rs 20 Million into the #CoronaReliefFund

— SenatorMurtaza Wahab (@murtazawahab1) April 3, 2020
12:00pm: Sindh's complete lockdown starts
The Sindh government has imposed a complete lockdown from noon to 3:00pm across the province in a bid to maintain social distancing at the time of Friday prayers.
11:55am: PM to visit command and control centre today
Special Assistant to the Prime Minister on Information and Broadcasting Dr Firdous Ashiq Awan said the premier will visit the national command and control centre today.
He will be accompanied by Army Chief Qamar Javed Bajwa.
11:40am: IG Punjab issues advisory to police regarding Tableeghi Jamaat members
Inspector-General Punjab (IGP) Police Shoaib Dastagir has issued an advisory to police officials pertaining to the Tableeghi Jamaat members.
Punjab Chief Minister Usman Buzdar directed police authorities to treat them well. They should be educated about the current situation and should be provided with all the facilities at quarantine centres, he added.
The advisory also mentioned that members under quarantine should not interact with others outside.
11:30am: 10 more patients recover in Sindh
Ten new coronavirus patients have recovered in Sindh, raising the number of recovered cases to 65 in the province.
Health authorities confirmed that 686 patients are undergoing treatment at various isolation centres in Sindh.
11:25am: New cases emerge in Sindh, Punjab and Islamabad 
22 new cases emerged in Sindh, six in Punjab and four in Islamabad as the number of confirmed coronavirus cases crossed 2,400.
11:20am: 1,368 arrested in Karachi for violating section 144
Karachi police have arrested at least 1,368 people and registered First Information Reports (FIR) against 482 people for violating lockdown orders in the city.
11:15am: Sindh reports 22 new locally transmitted cases
22 new locally transmitted cases were reported in Sindh, raising the provincial tally of local transmissions to 438. 14 of the 22 cases emerged in Hyderabad, six in Karachi and two from the Tableeghi Jamaat in Ghotki.
10:30am: K-P to provide relief packages across the province
Khyber Pakhtunkhwa (K-P) Chief Minister Mahmood Khan said the provincial government will provide relief packages to more than two million families across the province.
He added that the registration of poor families under the Ehsas Programme and Benazir Income Support Programme has started and relief cheques will be distributed within two days.
9:00am: PM Imran to announce package for construction industry today

Prime Minister Imran Khan will announce a massive package for the construction industry today.

He said it was important to maintain the economic activity in the country, despite the growing number of coronavirus cases.

The premier said it was necessary for the government to maintain a balance, allowing industries to provide employment to the poor.


Finance Adviser Dr Hafeez Sheikh said the government has allotted Rs200 billion for those affected by the lockdown.




12:32am: President Dr Arif Alvi requests everyone to stay safe

President Dr Arif Alvi requested everyone to stay safe and pray at home. He said the Prophet Muhammad (PBUH) allowed people to pray at home to avoid rain or cold weather and even during sickness.



My request to all of you, is to remain safe. All doctors of the world are unanimously advocating social distancing to discourage Coronavirus spreading. The govt is advising us to pray Zuhar instead of Jumu'ah. May Allah forgive us, but I believe that is the spirit of my religion. https://t.co/oyYdM34VGa

— Dr. Arif Alvi (@ArifAlvi) April 2, 2020