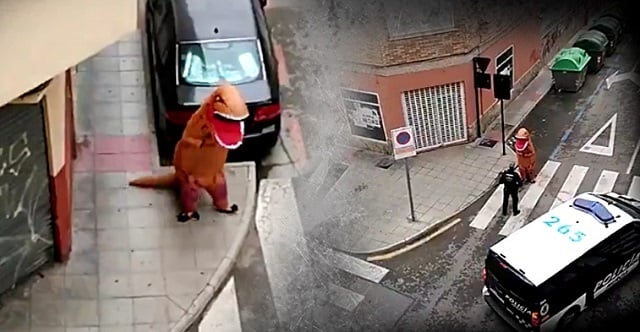 ---


With many European countries in lockdown amid the coronavirus pandemic, many heartwarming videos of people keeping spirtis high are going viral.



However, one such act by a person in Spain got him in trouble. With Spain under a lockdown, a Murcia resident took to the streets wearing a highly unusual form of 'protection gear' — a T-Rex costume and got pulled up by the cops. Although he got schooled, the video left netizens laughing out loud.

Sharing the video online, Murcia Police wrote on Twitter, "During state of alarm, walking of pets is allowed if accompanied by one person, always short walks so they can relieve themselves. Having a Tyrannosaurus rex is not covered. #stayathome."


En estado de alarma se permite el paseo de mascotas acompañadas de una persona, siempre con paseos cortos para hacer sus necesidades.

El que tengas complejo de Tyrannosaurus rex no está contemplado.#quédateencasa pic.twitter.com/C8dWkrvAdm

— Policía Local Murcia (@MurciaPolicia) March 16, 2020


With the video edited with the theme music from Jurassic Park, the video garnered a lot of attention online garnering over 4.2 million views on Twitter alone, leaving netizens in splits.

WATCH: Social media influencer who licked toilet seat in 'coronavirus challenge' contracts disease

This was not the only dinosaur video from Spain that is breaking the internet. Another video showing a person donning a similar outfit to walking down the streets to throw garbage too has been doing rounds on social media, and people can't have enough of it.


March 16, 2020


However, wearing inflatable costume amid the outbreak when hazmat suits and masks are scarce is not new idea. Earlier in China, a woman was spotted running errands at a hospital wearing a giraffe suit to collect medicine for her family. However, health experts warned, such suit do not work as as a preventive gear to protect oneself from contamination.

The article originally appeared in The Indian Express






COMMENTS
Comments are moderated and generally will be posted if they are on-topic and not abusive.
For more information, please see our Comments FAQ