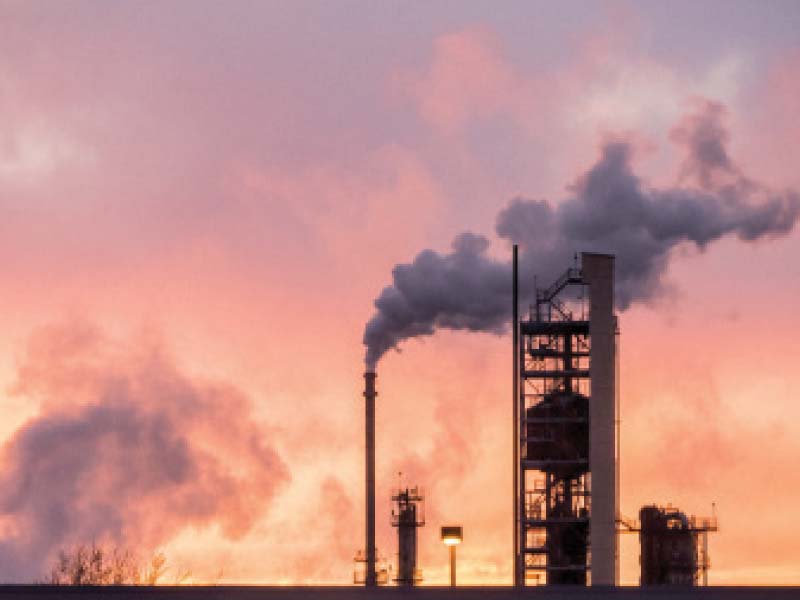 ---
ISLAMABAD: Following a reduction in production by oil and gas exploration companies, the government is mulling over a plan to operate only two refineries - Attock Refinery Limited (ARL) and Pak-Arab Refinery Limited (Parco) - while shutting down the other three refineries for a couple of months.

The move is being considered following a slump in demand for petroleum products in the wake of coronavirus-induced lockdown in most parts of the country.

Parco uses imported and locally produced crude oil whereas ARL mainly operates with local crude oil.

The demand slump has already led to the closure of National Refinery Limited (NRL) and Byco Petroleum. ARL has also shut down its main unit, which has resulted in a sharp decline in crude oil, gas and liquefied petroleum gas (LPG) production by exploration companies.

Sources told The Express Tribune that the Petroleum Division had prepared a summary to seek approval of the Cabinet Committee on Energy (CCOE) in an upcoming meeting, likely to be held on Thursday.

Under the proposed plan, ARL and Parco would continue their operations whereas the other three refineries - Byco, Pakistan Refinery Limited (PRL) and NRL - would be shut down for two to three months. In this regard, a summary has been prepared for the approval of CCOE.

The government cannot afford the closure of ARL as it operates on locally produced crude oil. In case it is shut down, several fields of oil and gas exploration companies will also have to be closed.

Parco, a joint venture between the UAE and Pakistan - will also continue operations. The government has already banned the import of crude oil and petrol.

"But there is no increase in demand and we are just surviving on an hour-to-hour basis. You know that NRL and Byco are already shut. ARL has also shut down its main plant. Parco is getting back on line," said the PRL managing director.

Meanwhile, ARL chief executive officer, in a letter sent to the Petroleum Division, said despite the assurance given by the government, there had hardly been any improvement in product demand.

Only Attock Petroleum has lifted petroleum products whereas no other Pak-Arab Refinery Limited (OMC) has bought any significant quantity from the refinery.

He said given the overall situation, they would have to shut down their main unit just to cater to the heavy crude oil produced by the Potohar/north region. "We would partially be operating for the next few days after which crude oil stocks will top up and a complete shutdown of the refinery is imminent."

In case of complete shutdown, crude oil and associated gas supplies from the exploration and production companies would be affected, ARL CEO Adil Khattak added.

The main unit, which was running at a reduced capacity of 26,000 barrels per day (bpd), was shut down on Monday and two small plants of combined capacity of 13,000 bpd were started to run for a few more days.

"If the government does not come to the rescue by pushing OMCs to lift ARL products, the refinery will totally shut down in less than a week with catastrophic consequences for oil and gas fields," Khattak told The Express Tribune.

The oil industry says there is no coordination between the federal and provincial authorities. The Petroleum Division has declared refineries and OMCs as essential services exempted from the lockdown but their vehicles are being impounded by the Punjab police and civil administration and are not being released despite instructions by the Petroleum Division.

E&P firms under threat

With the refineries being forced to shut down, the oil and gas exploration companies have also started feeling the heat. In a letter to the Petroleum Division, a copy of which is available with The Express Tribune, Hungary-based MOL said curtailment of production from the Tal block was due to reduction in crude oil offtake by ARL.

"On March 30, 2020, Attock Refinery informed us regarding closure of its major refining unit and consequently further reduction in crude/condensate offtake from the Tal block."

The MOL management said Parco told it on Monday to cease dispatches of 3,000 bpd of crude oil/condensate, effective March 31, as the refinery's crude oil storages had topped up and therefore would no more accept any further crude/condensate. This has resulted in reduction in gas reduction to 190 mmcfd against 340 mmcfd, crude oil from 22,500 bpd to 15,500 bpd and LPG from 550 tons per day to 310 tons per day.

"We apprehend that this crisis situation, if not mitigated, would further deteriorate and may head towards complete shutdown of Tal block. Furthermore, some of the wells at critical flow in the Tal block may not be revived and produce hydrocarbon post-shutdown," MOL Regional Vice President MEA and Pakistan Ali Murtaza Abbas said in the letter.

He requested the petroleum secretary to intervene and advise refineries to continue lifting of crude/condensate from the Tal block in order to avoid shutdown of the field.

The country's largest state-run oil and gas explorer has also started feeling the heat as it has curtailed production. Three major fields of Oil and Gas Development Company (OGDC) have reduced production. OGDC has faced total production curtailment of 1,500 bpd of crude oil, 100mmcfd of gas and 50 tons of LPG from Nashpa, Qadirpur and Kunnar Pasakhi Deep fields.

Published in The Express Tribune, April 1st, 2020.

Like Business on Facebook, follow @TribuneBiz on Twitter to stay informed and join in the conversation.