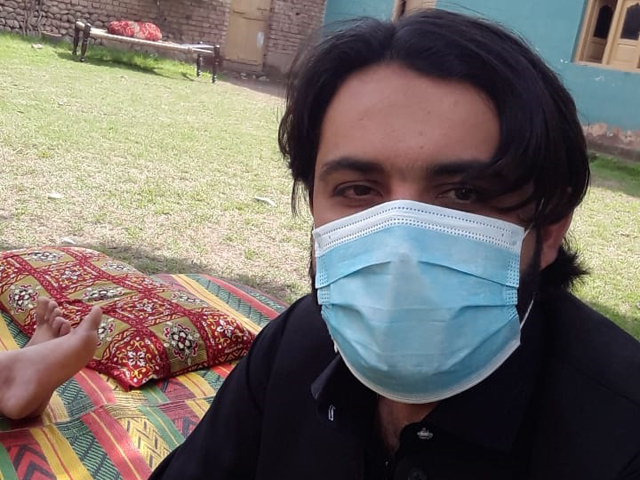 ---
BARA, KHYBER: It all started on March 12 with high-grade fever and muscle soreness. OTC fever and pain relievers didn't work. I was feverish the whole night and my body ached all over. Next morning, I went to consult a local clinical pharmacist. He took my temperature. And I had a fever of 104 degrees. Scary!

He prescribed some antibiotic along with the OTC fever reducers. I took the meds and sweated profusely. But I couldn't sweat out the fever. This is when I started having more symptoms, like chest pain, dry cough, and a painful throat. I was feeling awful. My gut instinct told me something was wrong.

On March 14, I went to consult an MBBS doctor in my village. After a thorough physical examination, he concluded that I had a sore throat. The diagnosis was convincing because sore throat normally causes high fever. I knew that because I own a medical store, and have basic information about common ailments.

The doctor changed my antibiotic and asked me to continue pain and fever relievers. The new treatment regimen didn't work either. That night, I started feeling chills. Breathing also became laborious. I was putting all of my energy toward breathing. My brother was alarmed. He rang up the doctor to tell him about my new symptoms.

Tales of survivors: How I became Pakistan's first COVID-19 patient

The doctor told my brother to take me to the Northwest General Hospital in the neighbouring Peshawar district. My family immediately drove me there. I was tested for the regular flu and other viruses. All the tests came back negative. Then they asked me if I had recently travelled outside the country or if I had come in contact with a foreign traveller or with someone sick.

The last time I travelled abroad was in mid-2019 when I drove to Afghanistan on a business trip. And before that I had flown to China in 2017. So, the two visits had happened much before the emergence of the novel coronavirus. I had also met some friends from China and Australia – but that too was two months ago. And both of them were not sick.




My travel history suggested it could be anything but COVID-19, but my symptoms indicated otherwise. Until then, my knowledge of the coronavirus was whatever I had gathered from social media. Medics at Northwest General Hospital suspected I was infected. So, they referred me to the Police Services Hospital, which the provincial government has declared as a referral centre for COVID-19 patients in Khyber-Pakhtunkhwa.

When the ambulance pulled up to the police hospital and the staff pulled me out, I realised I had something more sinister. The sight of doctors dressed up like khalaee makhlooq (aliens) scared me. It was something I had only watched in sci-fi movies. They were wearing protective suites, face masks and shields and other PPE (personal protective equipment).

They immediately shifted me to a room in the isolation ward. Next, the hospital staff plugged me into an oxygen machine to relieve shortness of breath. They also put me on IV hydration to prevent dehydration. Then they took samples for lab tests. The blood sampling procedure didn't feel more than a needle prick, but the swab test was extremely painful because they took the sample from deep inside my nostril.

The test reports came within 48 hours. This is when the doctors gave me the scary diagnosis I didn't want to hear: COVID-19. However, they tried to reassure me that this respiratory disease has a mortality rate of less than 3%. And that most of those who die are either elderly or have preexisting health conditions. "You're 30 years' old.  You've  very good chances of beating the virus within a week." I could recall one doctor telling me.

Frankly, the fear of dying from the coronavirus didn't cross my mind for once at the isolation ward. I had faith that God will cure me of this disease. And above all, everyone in my village was praying for my recovery. My only concern was that nobody from my family and friends circle was allowed to see me. I was alone in my room, where the cellphone was my only companion.

On the fifth day in the hospital, I started to feel better. My fever began to recede – 101 degrees on March 20, 100 on March 21, and the next day it was normal. I was still coughing, though. On March 23, another coronavirus test came out negative. I was declared virus-free. And the next day, I was discharged, but the doctors advised me to isolate myself as a precautionary measure. Masha Allah, I'm perfectly alright now. Today, I went out to play football with my kids.

Soon after my diagnosis, a health department team, along with security personnel, visited my village in Bara. They screened every member of my family for the coronavirus. Our entire village was put in quarantine for 14 days. The villagers were scared because few had heard about the coronavirus pandemic before.  Law enforcers are still deployed at my home. The incubation period will end tomorrow (Tuesday). Alhamdolillah, everybody in my family and everybody in my village is fine.

Appears that fear of this virus may be worse than the disease itself. And this fear has gone viral. People start worrying if they sneeze, or cough, or run temperature. I get frequent calls from health-conscious friends who try to self-diagnose by finding similarities between their symptoms and the ones I had experienced during my sickness.

Mostly, it's seasonal flu. However, if you've all the symptoms together, I'd advise you isolate yourself first to protect your family, and then get yourself tested for the coronavirus. In the end, I would say, don't be scared; don't panic because the coronavirus is not a death certificate. I'm a living example that you won't necessarily die, if you contract this virus.

(Narrated by Naveed Hussain)



Follow The Express Tribune's novel coronavirus hub here