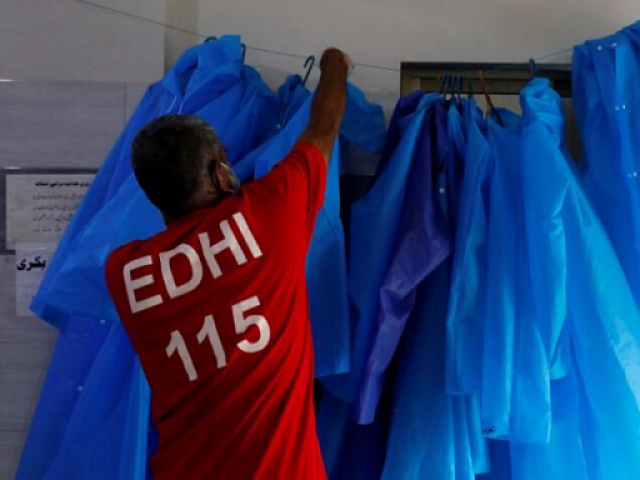 ---
QUETTA/ PESHAWAR/ ISLAMABAD/ LAHORE/ KARACHI: The novel coronavirus – which originated in the central China city of Wuhan towards the end of December 2019 – has spread to all continents excluding Antarctica. The COVID-19 respiratory illness caused by the mysterious contagion has so far killed thousands of people and infected tens of thousands of others across the globe.

Though the deadly infestation has been contained by the Chinese government in Wuhan, the virus has now spread elsewhere, especially in Europe and the United States, with the World Health Organisation declaring Europe as the new epicentre of the viral disease.

Pakistan, despite its close proximity with China, remained unscathed until February 26 when a young man from Karachi tested positive for the novel coronavirus. He had returned from Iran - one of the worst-hit countries.

After a brief pause following the first case, COVID-19 cases witnessed a sharp surge as more pilgrims returning from Iran tested positive.

The nationwide tally of COVID-19 patients has crossed 1,550 with 502 cases in Sindh, 593 in Punjab, 141 in Balochistan, 192 in Khyber-Pakhtunkhwa, 123 in Gilgit-Baltistan, 43 in Islamabad and six in Azad Jammu and Kashmir.

The virus has claimed 17 lives in Pakistan. On the other hand, 28 patients have fully recovered.

Since the situation remains fluid, the stats are changing fast and we're updating them accordingly.

Follow The Express Tribune's live coverage of the pandemic here.




11:35pm: Punjab CM confirms sixth COVID-19 casualty in the province

Punjab Chief Minister Usman Buzdar has confirmed another fatality at the hands of coronavirus in the province, bringing the death toll to six on Sunday.

"Sadly we have lost another soul to COVID-19 today. A 68 year old lady, who came from KSA [Saudi Arabia] and was under treatment in Rahim Yar Khan. So far we have lost six lives while 593 confirmed COVID-19 patients are under treatment," he wrote on his official Twitter handle.

"Our teams are constantly tracking and testing contacts of patients," he added.

Revealing details of coronavirus cases in the province, CM Buzdar said currently there are 318 confirmed cases at quarantine facilities in DG Khan, Multan, Lahore and Faisalabad.

Separately, Lahore has 116 patients, Gujrat 55, Gujranwala 11, Jhelum 28, Rawalpindi 30, Multan 2, Faisalabad 9, Mandi Bahauddin 4, Narowal 1, Rahim Yar Khan 2, Vehari 2, Sargodha 2, Attock 1, Bahawalnagar 1, Mianwali 2, Nankana Sahib 2, Khushab 1, Bahawalpur 1 and DG Khan 5.


Details: Quarantines (DGK, Multan, LHR, FSD) 318, Lahore 116, Gujrat 55, Gujranwala 11, Jhelum 28, Rawalpindi 30, Multan 2, Faisalabad 9, MBD 4, Narowal 1, RYK 2, Vehari 2, Sargodha 2, Attock 1, Bahawalnagar 1, Mianwali 2, Nankana Sahib 2, Khushab 1, Bahawalpur 1 & DG Khan 5.

— Usman Buzdar (@UsmanAKBuzdar) March 29, 2020


11:00pm: Four new COVID-19 cases surface in AJK; tally rises to six

Four more people were tested positive for coronavirus, raising the number of total confirmed cases in Azada Jammu and Kashmir (AJK) to six on Sunday.

Two cases were reported from Mirpur and as many from the adjoining Bhimber district.




9:30pm: Death toll rises to five as K-P confirms another COVID-19 casualty

Adviser to Khyber-Pakhtunkhwa CM Ajmal Wazir on Sunday confirmed that a 78-year-old from Abbottabad has passed away due to novel coronavirus, bringing the death toll to five in the province.

Meanwhile, four more people have been tested positive of COVID-19 raising the provincial tally to 192.




9:15pm: 55-year-old man succumbs to COVID-19 in G-B

Coronavirus has claimed another life in Gilgit-Baltistan after Malik Ashdar, a 55-year-old senior technician in the health department, passed away on Sunday.

Last Sunday, Dr Usama Riaz was also succumbed to the highly contagious disease after contracting the virus while treating the COVID-19 patients. His bravery and services were lauded all across the country.

Ashdar, a resident of Nagar district which is the second most affected valley after Baltistan region with 35 patients, contracted the virus during screening and sampling of the pilgrims recently returned from Iran and Iraq, Zakir Hussain, a relative of the deceased, told The Express Tribune.




8:20pm: Three new coronavirus cases surface in Balochistan as tally rises to 141

The Balochistan government has confirmed three new COVID-19 cases in the province, bringing the tally to 141 on Sunday.

There are currently 1,710 suspected coronavirus patients with two already recovered from the highly contagious disease, according to coronavirus cell of the provincial health directorate




8:00pm: Five Pakistanis stranded in India return via Wagah border

Five Pakistani nationals, visiting India on medical visas, have returned home on Sunday via Wagah border after being stranded in Noida and New Delhi due to the countrywide 21-day lockdown imposed by the Indian government amidst coronavirus scare.

The individuals, identified as Chaudhry Muhammad Ashfaq, Nighat Mukhtar, Yasir Mukhtar, Muhammad Khalid and Chaudhry Muhammad Asif, had gone across the border to the Indian capital, seeking medical treatment.

Earlier, a 12-year-old boy, Sabeeh Sheeraz who had gone for medical treatment to India along with his parents and grandfather, also returned to Pakistan on March 20. The family also returned via Wagah border.

The Pakistan High Commission in New Delhi says it has remained in close contact with the Indian side as well as the relevant authorities in Islamabad to ensure an expeditious and safe return of the Pakistani citizens.




7:25pm: G-B reports 12 new coronavirus cases, bringing region's tally to 123

The Gilgit-Baltistan information department has said that 12 more people have been tested positive in the region, raising the total numbers of patients to 123 on Sunday.

27 people were tested today, it said in a statement.




7:00pm: With 33 new local transmission cases in Karachi, Sindh's COVID-19 tally soars past 500

The Sindh health department has confirmed 33 new locally transmitted cases of coronavirus in Karachi, bringing the Sindh's tally to 502 on Sunday.

With 33 new cases, total number of COVID-19 cases in Karachi now stands at 222. There are seven patients in Hyderabad and one in Dadu. 265 pilgrims at Sukkur quarantine centre and seven in Larkana have also been tested positive so far.




6:25pm: PM to announce 'coronavirus roadmap' tomorrow: Firdous

Special Assistant to PM on Information Firdous Ashiq Awan has said that Prime Minister Imran Khan will announce a comprehensive roadmap to deal with the COVID-19 outbreak in the country on Monday.

Briefing the media following the ruling Pakistan Tehreek-e-Insaf (PTI) core committee meeting in Islamabad earlier in the day, she said that Prime Minister Imran has set the task of protecting the people from being infected from coronavirus his government's first priority through an awareness campaign and enforcing social distancing measures.

Ensuring food provision to the poor and needy is the government's responsibility, she quoted PM Imran as saying in today's meeting.

The prime minister will announce a comprehensive strategy, formed to deal with the coronavirus crisis, tomorrow (Monday), she said.

The SAPM said eight new laboratories, equipped with state-of-the-art technology, are being set up across Punjab to enhance testing capabilities and ascertain actual number of coronavirus patients in the province.


#Live: SAPM on on Information Dr. Firdous Ashiq Awan briefs media on amid coronavirus situation #COVID #COVID19Pakistan #WashYourHands https://t.co/pgTy2yB38l

— Radio Pakistan (@RadioPakistan) March 29, 2020


5:25pm: Health minister briefs media on coronavirus outbreak

State Minister for Health Dr Zafar Mirza is briefing the media over the government's measures to contain the spread of COVID-19 disease in the country.

Sharing numbers with regards to coronavirus cases, Dr Mirza said over 1,000 people were registered as suspected patients throughout the country during the last 24 hours.

"Total confirmed cases stand at 1,526... 121 new coronavirus patients have been admitted in health facilities during the last 24 hours," he said.

So far, 28 patients have been fully recovered and 13 have passed away, he shared.

The de facto health minister said around 58 per cent of total coronavirus patients are pilgrims who returned from Iran through Taftan border.

"756 coronavirus patients are currently under treatment in different hospitals across the country. 745 of them are in stable condition and they are recuperating well and will be discharged soon," he maintained.

Commenting on partial lockdown across the country, Dr Mirza said, "If we continue to enforce these measures and fulfill our responsibilities, the number of coronavirus patients in the country will remain low".

"However, if the people display irresponsibility and do not follow social distancing measures the number of COVID-19 patients can witness a spike," he maintained.

As of now, 420 cases in the country are locally transmitted, said the state minister.

He further said that essential medical gear have been dispatched to the doctors dealing with the coronavirus patients in Islamabad, Azad Jammu and Kashmir and Gilgit-Baltistan.


#Live: SAPM on Health Services Dr @ZafarMirza briefing media in Islamabad amid coronavirus outbreak #COVID #COVID19Pakistan #WashYourHands https://t.co/o0dUpLWhiX

— Radio Pakistan (@RadioPakistan) March 29, 2020


4:00pm: WHO dismisses reports that COVID-19 is airborne

The World Health Organisation dismissed reports that the novel coronavirus was airborne. "The coronavirus is mainly transmitted through droplets generated when an infected person coughs, sneezes or speaks," it wrote on Twitter.


FACT: #COVID19 is NOT airborne.

The #coronavirus is mainly transmitted through droplets generated when an infected person coughs, sneezes or speaks.

To protect yourself:
-keep 1m distance from others
-disinfect surfaces frequently
-wash/rub your 👐
-avoid touching your 👀👃👄 pic.twitter.com/fpkcpHAJx7

— World Health Organization (WHO) (@WHO) March 28, 2020


3:28pm: Jhagra withdraws inquiry against doctor 

K-P Health Minister Taimur Khan Jhagra withdrew inquiry against a doctor who wore inappropriate PPE while examining a patient.


1. W.r.t. Dr. Amir of Swabi, who posted a video treating a patient dressed in plastic bags rather than PPE; I'm instructing Health Dept KP to withdraw the inquiry report calling for disciplinary action. At this point our first priority is the moral of our doctors. However... pic.twitter.com/DY6n4Hi7cR

— Taimur Khan Jhagra (@Jhagra) March 29, 2020
2:00pm: Sindh reports two deaths 

Sindh Health Department confirmed two deaths due to the novel coronavirus on Sunday. Minister of Health & Population Welfare Dr Azra Fazal Pechuho said two patients, aged 70 and 83, passed away last night. "We received their test reports after they passed away. Both tested positive for COVID-19."


1:30pm: No COVID-19 case imported from China, says Dr Zafar Mirza

State Minister for Health Dr Zafar Mirza credited Sino-Pak cooperation for ensuring no novel coronavirus case was imported from China, Radio Pakistan reported.

Dr Mirza made the statement while addressing Chinese doctors at National Institute of Health.

The medical professionals arrived in the capital to assist Pakistan in its fight to contain spread of the deadly pneumonia-like disease that has claimed over 30,000 lives and infected over 650,000 globally since originating from the Chinese city of Wuhan last December.

"Pakistan's COVID-19 tally has crossed 1,500 yet not a single case with a travel history of China has been detected. This is remarkable," said the special advisor to the premier. "It was only possible because of the coordination between Islamabad and Beijing.

Read the full story here.


1:00pm: PIA adopts WFH policy for women, employees above the age of 50

The Pakistan International Airline (PIA) adopted work from home policy for women, employees above the age of 50 and those with diabetes. The remaining staff, however, has been directed to be on duty.

The national carrier has penned down flexible work hours and a shift rotations for front-end operations.

The move came following the cabinet divisions's directive to reduce manpower at workplaces. Earlier this month, the Aviation Division suspended flight operations as part of sweeping measures to stop proliferation of the novel coronavirus in the country. Only special planes and cargo flights have been allowed.

The decision, however, irked PIA employees. "With no flights, it does not make sense for employees to resume office."

The employees complained of lack of hygiene and absence of personal protection equipment at their offices. They pointed out that most young people live in a joint family system and young people heading out for work puts the elderly at risk.


12:20pm: G-B, Islamabad confirm new cases

Gilgit-Baltistan confirmed nine new cases while Islamabad reported four, pushing the country's COVID-19 tally past 1,520.


12:10pm: Punjab confirms 13 new cases

The Punjab government confirmed 13 new COVID-19 cases Sunday, pushing the province's tally to 570. The deadly virus has claimed five lives while five people have recovered.


11:00am: Lockdown reduced proliferation of COVID-19

Gilgit-Baltistan government spokesperson Faizullah Faraq said on Sunday that imposing a lockdown has reduced the spread of the novel coronavirus in the state.

"The G-B government is utilising all available resources to implement lockdown," he said and urged the people to cooperate.

Faraq said three testing and three trauma centres were being established in G-B with the help of National Disaster Management Authority. He said the government would also provide ration to the poor people.


10:00am: Fourth shipment of Chinese aid arrives

A PAF aircraft loaded with medical supplies landed at the Noor Khan Airbase early Sunday. This was the fourth shipment of medical aid from China to help Pakistan contain the spread of the novel coronavirus.

https://twitter.com/ForeignOfficePk/status/1244146021086777344

The medical supplies include 15 ventilators, N95 masks and medical test kits.

The plane carrying aid was received by National Disaster Management Authority (NDMA) chairman Lt General Muhammad Afzal and Chinese envoy.


12:20am: K-P Minister urges officials to use masks wisely

Khyber Pakhtunkhwa Minister Ghazan Jamal urged officials to use personal protection equipment and N95 masks wisely. "The storm is yet to come," he wrote on Twitter. "Save them for critical healthcare workers on the frontline dealing with patients.:


Please use PPE sets and N95 masks wisely. Noticing depts not needing them wasting them & taking selfies in them. The storm is yet to come. Save them for critical healthcare workers on the frontline dealing with patients #StayAtHomeAndStaySafe @PTIKPOfficial @HealthKPGovt @Jhagra

— Ghazi Ghazan Jamal (@GhazanGJ) March 28, 2020
12:00am: K-P confirms fourth COVID-19 death

The Khyber Pakhtunkhwa government confirmed fourth novel coronavirus death in its daily situational report.

Read the full story here.




Lockdown

On March 23, the federal government green-lighted military in aid of civil power under Article 245 read with Section 131(A) of CrPc across the country. DG ISPR Maj-Gen Babar Iftikhar briefed media on the guidelines of the lockdown in a news conference.

The decision came a day after PM Imran Khan categorically ruled out lockdown owing to the economic situation and urged citizens to self-quarantine.

Much of the country was already under lockdown as part of sweeping measures to prevent the spread of the virus.

Sindh announced a 15-day lockdown from March 23 with Punjab, G-B and AJK following suit. Balochistan and K-P were under a partial lockdown with minimum movement while Section 144 was imposed in Islamabad.

Educational institutions, shopping malls, markets, restaurants, and other private business remained closed while inter-provincial and inter-city transport was also suspended. Factories, banks and the financial sector was directed to reduce work hours.