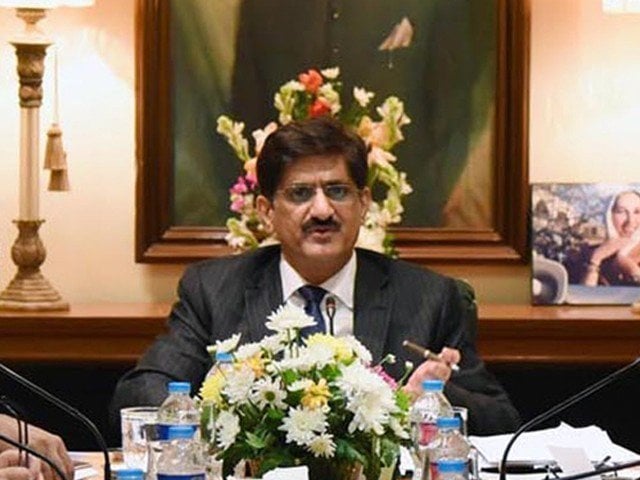 ---
CM gives nod to buying ventilators, testing kits, machines
Orders purchase of 290 ventilators, 150 testing machines and 110,000 testing kits
---
KARACHI: Sindh Chief Minister Syed Murad Ali Shah approved on Wednesday the purchase of ventilators and protective and testing equipment for coronavirus, as the COVID-19 tally climbed past 400 in the province.

Presiding over a coronavirus taskforce meeting, the CM agreed to the purchase of 290 ventilators, 3.2 million items of personal protective equipment (PPE), 100 rapid kit antigen testing machines and 100,000 testing kits, 50 RT-LAMP testing machines and 10,000 RT-LAMP testing kits and 29 portable X-ray machines, aiming to enhance Sindh's testing capacity.

Earlier in the meeting, health department officials informed him that of the 484 ventilators the department had, 353 were functional and 52 were out of order. The remaining 43 were yet to be installed, they told the CM, adding that 21 more were to be purchased by the department.

"We need at least 5,000 more ventilators to be able to deal with any emergency," the CM remarked, approving the initial purchase of 290 ventilators.

Tales of survivors: How I became Pakistan's first COVID-19 patient

He was also briefed about the rapid kit antigen testing machine prepared by Chinese scientists. It was one of the best testing equipment available at present, the health department officials told him, adding that the machine had the capacity of conducting 10 tests within an hour.

Directing the health department officials to procure 100 of these machines, along with 100,000 rapid antigen testing kits, the CM instructed that the order be placed immediately. "I want them to be delivered as soon as possible," he said.

Besides, he was told that seven healthcare facilities, including the National Institute of Cardiovascular Diseases' chest pain unit in Lyari, District Headquarters (DHQ) hospital in Kashmore, Dr Ruth Pfau Civil Hospital, taluka hospital in Hala, DHQ hospital in Sanghar, DHQ hospital in Ghotki and DHQ hospital Naushahro Feroze, were provided testing machines.

Using these machines, 1,344 tests could be conducted daily in the province, the health department officials said, underlining the need for procuring 120,960 testing kits, which were to be used over a period of coming 90 days.

At this, the CM ordered the purchase of 10,000 RT-LAMP testing kits, in addition to 50 RT-LAMP testing machines.

Cases

The meeting was informed that 3,718 samples had been tested for coronavirus, of which 3,304 were cleared of the infection, 413 were declared positive and results for 485 were yet to come. This raised the tally of locally transmitted cases to 94.

No coronavirus case was imported from China: PM Imran

Besides, the positive cases comprised 145 from Karachi, 265 from Sukkur, one from Dadu and two from Hyderabad.

The CM was further told that samples of 100 pilgrims, residing in Malir, were sent for testing, of which 68 were declared negative while results for the rest were awaited.

At this, the CM directed the health department officials to let those who had tested negative return to their homes, but monitor and maintain records of their health.

Recruitments

Later, Shah was briefed on the recruitment of medical staff and was told that 2,366 nurses had been offered jobs and 1,000 doctors and 500 technicians were being considered for employment. 

Published in The Express Tribune, March 26th, 2020.