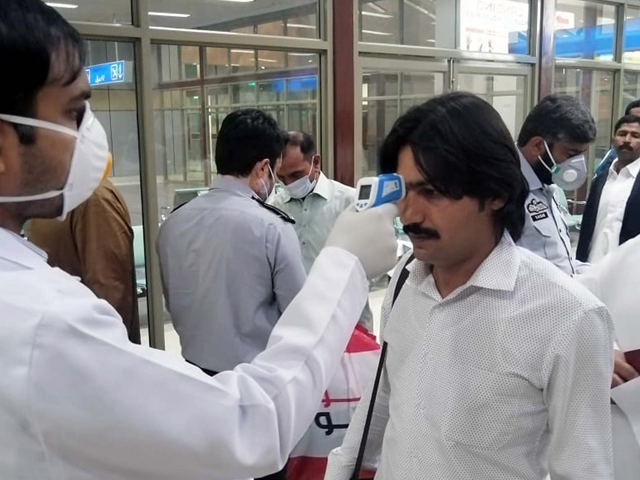 ---
1,300 pilgrims remain untested in Multan's quarantine facility
Lack of safety kits irked paramedics, who refused to operate without needed equipment
---
MULTAN: Owing to the poor strategy of the provincial government, the samples of around 1,300 pilgrims, who were to be tested for coronavirus, could not be taken, even on the fourth day.

Safety kits were not being provided which resulted in paramedics refusing to work until the much needed kits were provided to them.

In addition to this, two drivers, who transported the pilgrims have tested positive. Paramedics argue that it is impossible to take samples from the nose and throat of suspects without the safety kits.

The administration also began to hide facts related to the coronavirus issue, The Express Tribune learnt.

The diagnostic test samples of the pilgrims who returned from Iran, staying in Pakistan's largest quarantine facility in Multan, were not taken, even four days after their arrival.

Paramedics refused to work citing a lack of safety kits. Sample collecting kits and sufficient number of paramedics were not available at the quarantine centre.

Despite impact of virus, Pak-China trade to improve in second half

The paramedics eventually refused to work until precautionary measures were completed. Paramedics deployed at the quarantine centre in Multan have called the facility's situation to be of 'high risk'.

Paramedics also claimed that the provincial government did not complete the arrangements. "They are playing with our lives," a paramedic remarked.

Sources added that coronavirus suspects were being shifted to Multan Nishtar Hospital, for testing, due to a lack of kits in the quarantine facility. Reportedly, coronavirus test samples will be obtained from the suspects' nose and throat, for which special training had also been given. However, samples are impossible to obtain due to a lack of testing and safety kits.

On the other hand, there is no stance announced by the administration regarding the examination and reporting of pilgrims in the quarantine centre.

Published in The Express Tribune, March 24th, 2020.