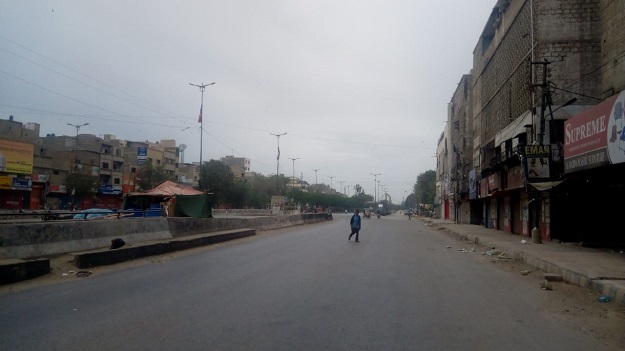 ---
KARACHI: Life remained stagnant in the port city on Monday amid the lockdown imposed by the Sindh government to limit the spread of the coronavirus.

All business centres and shops remained closed except for essential food and medical stores. Public transport also remained suspended.

Police and Rangers are deployed at several points in the metropolis and officials of law enforcement agencies are patrolling to ensure the implementation of the lockdown.

Citizens are being warned to stay in their homes through announcements on loudspeakers installed on mosques and police vehicles.




Mardan's COVID-19 victim infected five people

Security forces are stopping people riding motorcycles or other vehicles on the roads and checking identity cards. Individuals are also being asked for reasons for leaving their homes.

During the survey of various areas including Liaquatabad, Nazimabad, FB Area, Gulshan Iqbal, SITE and Gurumandir, The Express Tribune observed that people were violating the lockdown orders.

Most of the people, including elders and children, were seen purchasing various food items and a few of them were wearing medical masks.

People seem to be reluctant to take precautionary measures even though they are aware of the risk they pose to themselves and those around them if they contract the virus, whereas the shop owners were also seen without any precautionary measures.




Shahid, an owner of a grocery shop, told The Express Tribune that he had stored flour and others had stored flour and other commodities excessively before the announcement of lockdown.

"If a family consumed 10kg flour in a week, then 20kg of flour has been purchased. People are worried about getting flour," he said.

Appreciating the government's decision to lockdown, a consumer said that shopkeepers were selling items at a higher price.

"A 10-kg bag of flour is being sold at Rs640 while prices of different vegetables have also risen," she said. "Onion is being sold at Rs70 to Rs75, while the prices of potato have been increased to Rs50 and tomatoes are being sold at Rs40," she said.




A young man, Saif, expressing dismay, said that he could not get medical masks or sanitizer due to their shortage or being sold at an expensive price.

Even in mosques, the worshipers are being asked to pray the remaining prayer at home after they offer the obligatory ones. Petrol pumps are open throughout the city but are seeing fewer vehicles.

Daily wagers are extremely troubled due to the lockdown. According to Basharat, a daily wager at a tea stall in Karachi, his family is on the verge of starvation as he is unable to make ends meet.




Sindh goes into lockdown at midnight with 'blanket ban' on movement

"We only earn enough to spend for a day," Basharat said, demanding the government to assure relief and ration for the daily wagers.