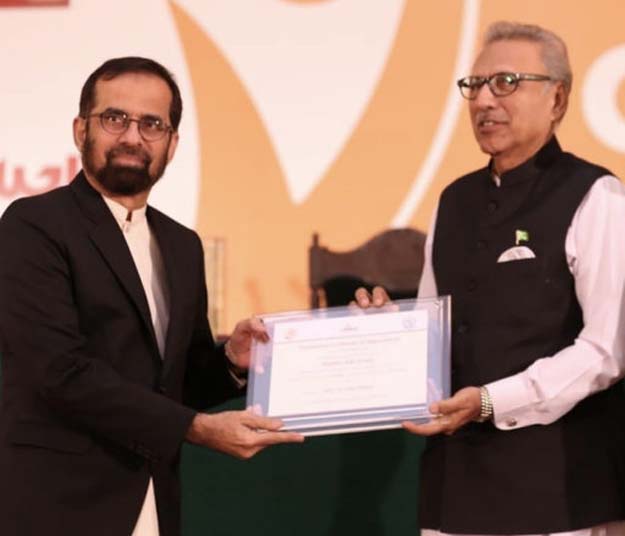 ---
'Passive immunisation' can save COVID-19 patients: Pakistan's top hematologist
Dr Tahir Shamsi says Chinese doctors have saved hundreds of lives with the help of this technique since February
---
KARACHI: Pakistan's top hematologist and transplant surgeon says that the blood of recovered patients of COVID-19 – the mysterious respiratory illness caused by the novel coronavirus – could be used to slow the spread of the deadly contagion which has killed nearly 10,000 people and sickened tens of thousands others worldwide.

"The body of a COVID-19 patient creates antibodies to fight off the virus. These antibodies in the blood of a recovered patient could be used to boost the immunity of the newly infected people," Dr Tahir Shamsi, the head of National Institute of Blood Diseases, told The Express Tribune in an interview.

In medical lexicon, this technique is called "passive immunisation" which was introduced in 1890, he added. This technique is used when there is a high risk of infection and insufficient time for the body to develop its own immune response, or to reduce the symptoms of ongoing or immunosuppressive diseases.

Over 84,000 patients recover from coronavirus worldwide

"We can save precious lives using this technique," Dr Shamsi said while adding that the National Institute of Blood Diseases is fully equipped to successfully use this technique. "Doctors have saved hundreds of lives with the help of this technique in China since February," he added.


'Passive immunisation' can save COVID-19 patients: Pakistan's top hematologisthttps://t.co/Xo7UGNJ3EW pic.twitter.com/x0U3J7eCvI

— The Express Tribune (@etribune) March 20, 2020


Convalescent plasma taken from a recovered patient is believed to be rich in the antibodies needed to fight off the deadly infection.

The novel coronavirus, medically named SARS-CoV-2, has infected more than 200,000 people across the globe since its outbreak in the central China city of Wuhan towards the end of December 2019. The Chinese government has successfully subdued the outbreak in the epicenter through unprecedented measures, but the contagion is spreading like wildfire elsewhere in the world.

Medical practitioners in the United States are also convinced about the efficacy of this technique. A plan has been presented to the Donald Trump administration for extracting convalescent plasma from the recovered patients of COVID-19 in the US states of Baltimore and New York over the next couple of weeks, Dr Shamsi added.

American medical researchers Arturo Casadevall and Liise-anne Pirofski, from the Albert Einstein College of Medicine, New York, state in a recent research paper that "human convalescent serum is an option for prevention and treatment of COVID-19 disease", which could be available in a short timescale as long as enough recovered patients could donate their blood.

On behalf of the National Institute of Blood Diseases, Dr Shamsi said they are ready to help the federal and provincial governments to fight off the viral outbreak which was declared a global pandemic by the World Health Organisation (WHO) earlier this month.

Trump believes old malaria drug may help treat coronavirus

"A vaccine works by training the immune system to recognise and combat pathogens – either viruses or bacteria – by creating antibodies in the blood. And when the pathogens enters the body, the antibodies already present in the blood successfully fight it off," said Dr Shamsi.

Currently, there are no vaccines or proven therapies available for COVID-19 disease which has the potential to affect billions of people. However, US President Donald Trump announced on Thursday that chloroquine, an old malaria drug, has shown "very very encouraging results" in treating the mysterious disease.

An official at China's science and technology ministry, Zhang Xinmin, has said that a drug in Japan, called favipiravir, is also effective against the COVID-19 disease as it has produced satisfactory outcomes in 340 clinical trials in the cities of Wuhan and Shenzhen.

About "passive immunisation", Dr Shamsi said the technique was used for the treatment of viral diseases like influenza, polio and measles before the introduction of vaccines.

"The National Institute of Blood Diseases formally wrote to the federal and provincial governments on Thursday to apprise them of this possible therapy for COVID-19," he added. "We will also arrange awareness lectures through video-link for medical professionals in other provinces on this technique."