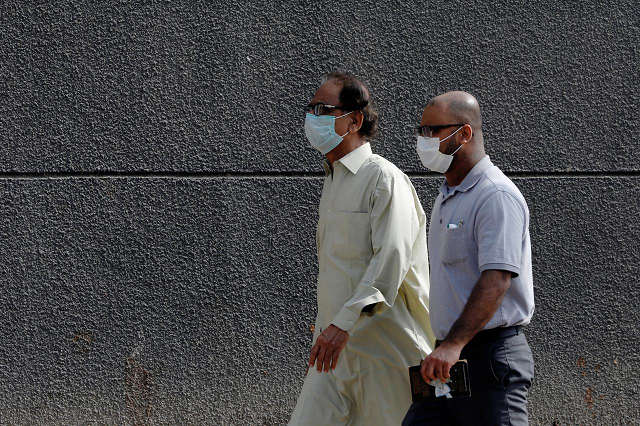 ---
Sindh mulls maximum defences amid sharp uptick in coronavirus cases
Final decision will be taken in a meeting of civil-military officials on Friday, say sources
---
KARACHI: Amid a ballooning coronavirus crisis in Sindh, government officials are pondering a plan to lock down Karachi for 15 days in attempt to contain the novel coronavirus spread in the metropolis, sources told The Express Tribune on Thursday.

On Thursday, the number of COVID-19 patients across the province jumped to 245, pushing the nationwide tally to 454.

The sources said the final decision on Karachi lockdown would be taken in a meeting of the civil and military officials in Sindh scheduled to be held on Friday (today).

The sources also claimed that the provincial government has already chalked out a lockdown plan — similar to the one implemented by authorities in Italy and China.

Pakistan's coronavirus cases surpass 450

Officials believe a lockdown in six districts of Karachi will enable the authorities to effectively implement its March 17 plan which envisages closure of restaurants, gyms, social clubs, wedding lawns and halls across the province in line with the social distancing measures.

The provincial authorities have already shut down offices of government departments for two weeks.

Under the lockdown, people will not be allowed to leave their homes unnecessarily. However, grocery stores, pharmacies and medical stores will remain open along with other essential services. Ambulance service will also be exempted from these restrictions.

Public transport in the city could also be banned, the sources said.

Karachi's Expo to become 10,000-bed isolation center

According to them, the closed educational institutions and hotels could be converted into quarantine centres for suspected coronavirus patients.

Earlier in the day, officials decided to convert Karachi's Expo Centre into a 10,000-bed isolation centre as the province ramps up its efforts to curb the spread of the highly infectious disease.

The novel coronavirus, which originated in central China's Hubei province late December 2019, has infected over 200,000 people globally with nearly 10,000 deaths.

Although scientists around the globe are racing against the time to develop a vaccine and drugs for COVID-19 disease, the only defence against the deadly pathogen currently available is prevention – social distancing.