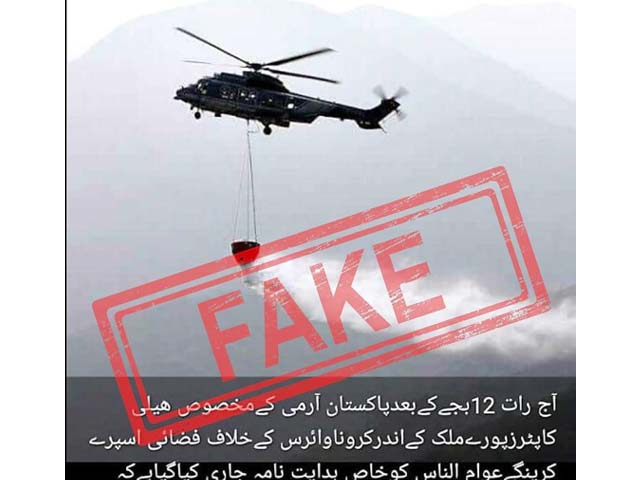 ---
FACT CHECK: Viral message on army choppers spraying 'anti-corona pesticides'
Viral message was being spread via WhatsApp to citizens amid coronavirus outbreak
---
A fake message is being spread via Whatsapp urging citizens to remain indoors at the stroke of midnight as "special military helicopters will spray pesticides to combat the novel coronavirus throughout Pakistan".

The message was widely shared on the messaging application amid an outbreak of the deadly virus in the country with nearly 450 cases having been reported so far.

60 new COVID-19 cases surface in Balocistan as nationwide tally hits 449

"Everyone who has clothes and other dishes on their roofs as well as other special items must be removed. "

It goes on to say that whenever citizens hear the sound of  the helicopters at night they should know it is part of the army's efforts to clamp down on the COVD-19.

Not only Pakistan but the entire world is trying to grapple with the spread of the deadly virus with over 204,000 cases reported the world over.  The deadly pneumonia-like disease, which surfaced in China's Hubei province late December 2019 has caused over 7,900 deaths.

Two fatalities have been reported from coronavirus have been reported from Khyber-Pakhtunkhwa.

The government has taken steps to contain the virus with a ban placed on public gatherings, as well as, religious scholars urging citizens to pray within the confines of their own homes.