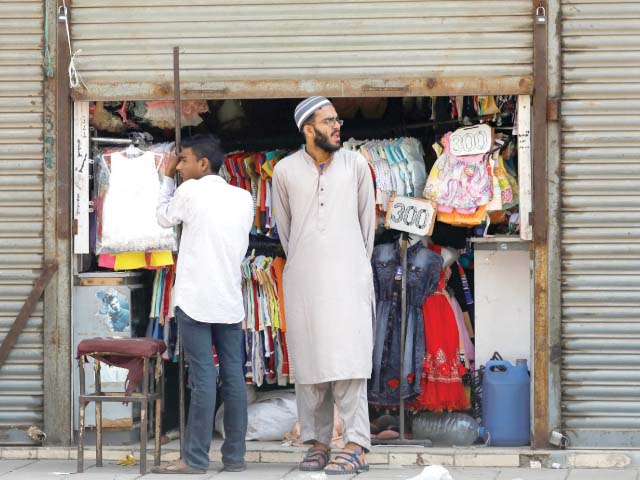 ---
As shops shut down in virus fright, some defy Sindh govt orders
At least 150 shopkeepers were arrested in Karachi for keeping their businesses open
---
HYDERABAD/ KARACHI: Roads and markets across the port city appeared deserted on Wednesday, as the Sindh government's orders to close shops and restaurants for 15 days came into effect.

Surprising customers and shopkeepers alike, small and large shopping centres in the old city area, including Bolton Market, Jama Cloth Market, Light House, Gul Plaza, Machhi Miyani, Zainab Market, Mobile Market and Empress Market, were shut down as the government sought to contain the spread of the coronavirus in the province.

"I needed to purchase clothes, but the shops are closed," said Abdul Aziz, standing at the cloth market near Memon Masjid. "A handful of shops are open, but their prices are very high."

Zainab Dawood, another shopper, was worried the closure would disrupt her preparations for her daughter's upcoming wedding. "I was told that only major markets and restaurants would be closed, but every shop in the market has been shut down," she lamented.

Sindh reports 47 new coronavirus cases, ballooning Pakistan tally to 183

On the other hand, some markets, like Jodia Bazaar, Khajoor Bazaar and Lea Market, remained open, even though the government had ordered otherwise.

"It's like Chand Raat," said Muhammad Farooq, observing the crowds of people thronging the shops that were open. He added that even though people knew grocery stores and pharmacies would still be open, they were rushing to the markets as if they would be shut down indefinitely.

A regular customer at the market, he noted that the rates of different commodities had been raised by the retailers. "The government will have to implement a rate list, or the shopkeepers will exploit the situation," he maintained.

For Sheraz Khan, the shutdown was reminiscent of the strikes that used to occur in Karachi on the instructions of the Muttahida Qaumi Movement's leader. "There is no traffic on the streets. This doesn't even happen on holidays," he remarked. Khan said that despite the advisories issued by the Sindh government to try to curb an outbreak, people in the city were not taking social distancing measures.

At Boat Basin, Suleman Patel and his friend wandered from restaurant to restaurant in search of food. They had not expected that every eatery would be shut down right away. "I am hungry, but nobody allows me to dine in," he laughed. "We are trying to convince restaurant managers to let us eat something."

Patel didn't think that smaller towns in Sindh would face the same extent of closure as the metropolis. "I am planning to leave the city with my family and have asked friends in Matiari if they will host me," he added.

It seemed like others had the same idea as Patel, as many people crowded bus stops at Sohrab Goth, Saddar, Lea Market and Quaidabad, before inter-city bus services too are halted today (Thursday).

"I want to go to my village before it's too late," said Abdul Rahim, on his way to Thatta. "There is nothing to do in the city for a few weeks, so it will be better to spend time with my relatives and friends." He too believed that matters would be more relaxed in smaller towns. "Here, there is panic and I cannot cope with this kind of stress."

Ban on gatherings

In an order issued by Karachi commissioner Iftikhar Shallwani, a complete ban has been imposed on public gatherings, including weddings, processions, jalsas, majlis, Urs, anniversaries, ijtima and sport events.

Late on Tuesday evening, following the Sindh government's orders, a separate notification banned the opening of restaurants, shopping malls, shops selling general merchandise, social clubs, public beaches, parks, swimming pools and tea shops for 15 days.

Meanwhile, all grocery stores, supermarkets, pharmacies and shops selling essentials such as fruit, vegetables, meat, baked goods and milk, were exempted from the restrictions. Take-away and delivery from restaurants is also allowed in the limits of Karachi division.

However, several shopkeepers violated the orders, remaining open in defiance of the notifications. At least 150 such shopkeepers were arrested for this. Sindh Chief Minister Murad Ali Shah was also informed in a meeting that the police had forcibly closed some shops and restaurants. However, he ordered the police to let restaurants with takeaway facilities remain open.

On Wednesday, the Sindh government also issued orders that the staff of all public and private educational institutions were not to come to work for an indefinite period of time, warning that strict action would be taken against violators.

52 new coronavirus cases push Pakistan's tally to 237

Complaints of bribes

Meanwhile, the Hyderabad commissioner too enforced a 15-day ban on opening restaurants, malls, general merchandise shops, clubs, public parks and tea shops, among other places. On the first day of enforcement, though, only partial compliance was observed, amid complaints that the police and district administration staff were demanding bribes from traders.

Commercial activities continued in Qasimabad taluka, though the representative of a traders' association in the area claimed that only shops that had obtained permission from the government were open.

On the other hand, an office-bearer from the Resham Bazaar traders' association said that the district administration had given them permission to resume their commercial activities from March 21.

While some fitness gyms were forced to close, a majority of them continued their operations uninterrupted.

Published in The Express Tribune, March 19th, 2020.