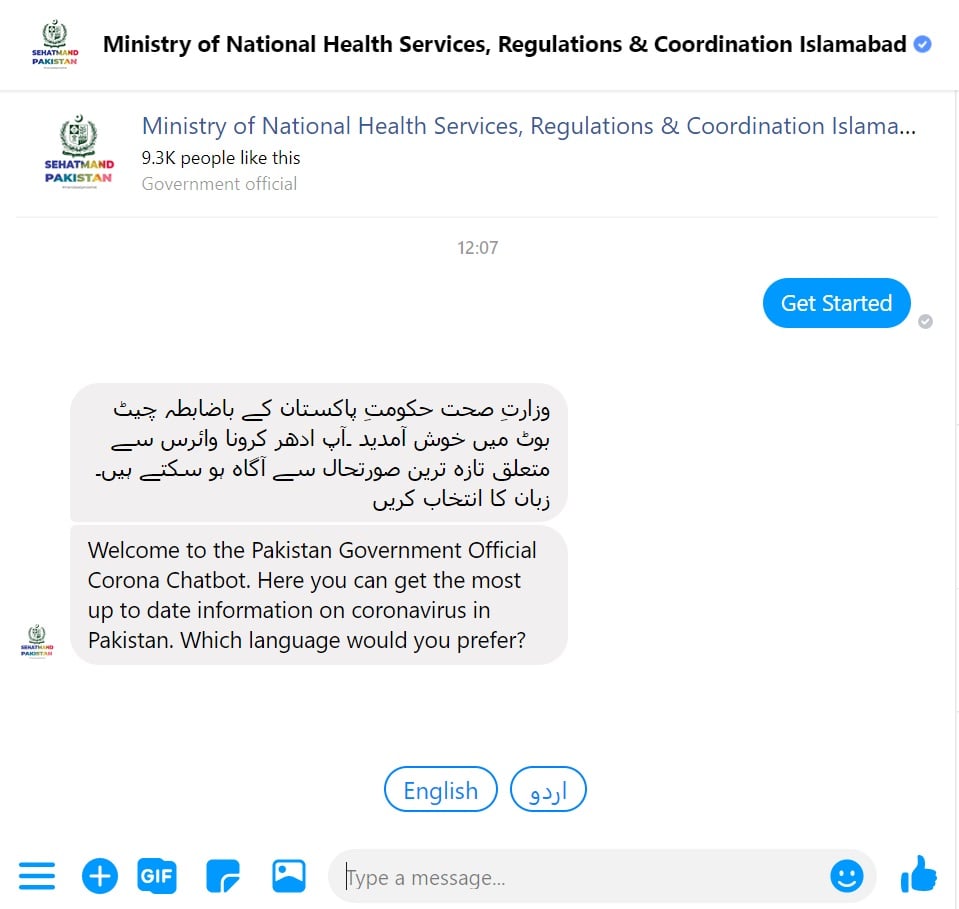 ---
The government of Pakistan has  launched a chatbot to address common concerns related to novel coronavirus (COVID-19), Head of Digital Pakistan, Tania Aidrus revealed on Twitter.

"Our team wanted to build an effective way to get information out to Pakis­tanis. We've launched a chatbot to address common concerns on #Coronavirus. You can find labs near you and even do a quick test to assess your risk of #Coronavirus. Please try it out!" Aidrus wrote.

The bilingual chatbot aims to provide Pakistanis with necessary information related to the COVID-19.

PM Imran launches 'Digital Pakistan' initiative

— Tania Aidrus (@taidrus) March 16, 2020

The Digital Pakistan team collaborated with Botsify to create the chatbot which connects users with the Ministry of National Health Services, Regulations & Coordination Islamabad.

The chatbot will be used as a platform to address common queries about the novel coronavirus and quell misinformation widespread on social media.

'Roti, kapra, makan — aur internet': Ex-Google executive's vision for Digital Initiative

You can access the chatbot through Facebook Messenger here.

Users can pick the language of their choice, Urdu or English and subscribe to the COVID-19 updates. The chatbot will provide information related to coronavirus symptoms, precautions, risks as well as testing.

Aidrus and her team have been working to bring a digital solution for people who do not have access to authentic information.



We're using data analytics techniques and cutting edge technology to get ahead of the #Coronavirus. We're trying to modernize and streamline data collection from the frontlines. We have some of the best @CodeforPakistan engineers available in Pakistan volunteering their support pic.twitter.com/8JaxAgpnTL

— Tania Aidrus (@taidrus) March 15, 2020