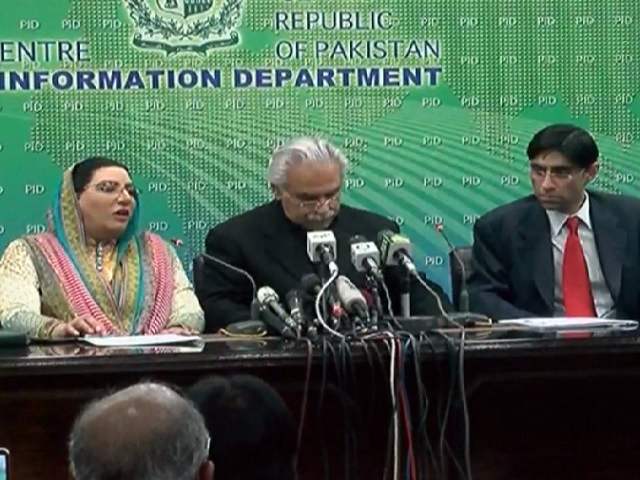 ---
KARACHI: [fbvideo link="https://www.facebook.com/etribune/videos/224405855375956/"][/fbvideo]

Seven new cases have surfaced in pilgrims who were put in quarantine at Taftan border on returning from Iran, jumping the total number of confirmed COVID-19 cases to 28 in Pakistan, State Minister on Health Dr Zafar Mirza confirmed on Friday.

Addressing a news conference, flanked by PM's Special Assistant on Information Firdous Ashiq Awan and SAPM on National Security Moeed Yusuf, Dr Mirza said a minor boy and his attendee woman are among those tested positive.

He said that a mobile laboratory has been established at Taftan border to treat any such cases. "All 28 cases are travellers," the de facto health minister maintained.

Pakistan seals borders, cancels March 23 parade amid coronavirus fears

The World Health Organisation (WHO) has already declared the outbreak of COVID-19, a mysterious pneumonia-like disease caused by the coronavirus, a pandemic.

Originated in China late last year, the pandemic has so far claimed 5,118 lives while hitting more than 115 countries around the world.

Out of total 139,356 infected, around 70,729 have so far recovered.

The press conference was organised to brief the media on decision taken by the top civil and military leadership of the country during the National Security Committee (NSC) meeting, held in Islamabad earlier today.

Dr Mirza said the civil-military huddle has decided to formulate National Coordination Committee for COVID-19, the first meeting of which will be convened by him on Saturday. The committee will review the overall situation with regards to coronavirus outbreak on a daily basis, he added.

The National Disaster Management Authority (NDMA) is designated the lead operation agency to contain coronavirus in the country, he said.

Border closure

The NSC huddle, he said, has decided to check inflow of people arriving from countries hit by virus. "Therefore, the western border with Iran and Afghanistan will be completely seized for two weeks from March 16," he maintained.

Pakistan seals borders, cancels March 23 parade amid coronavirus fears

"In these two weeks we will ensure that effective measures are taken to check and examine people coming from Torkham, Chaman and Taftan borders," he added.

Dr Mirza said Taftan border will be closed for trade and travels while Chaman border is already shut for travels and the situation will be reviewed after two weeks in this connection.

He said several people also cross these borders to travel to other countries, which would also be brought to an end.

Briefing about the Taftan quarantine facility which was established for a 14-day isolation period, Dr Mirza said that 6,000 pilgrims who were kept there after arriving from Iran are now being transported to their respective areas in the country. "Provincial governments will further examine these people as per their specific needs," he added.

The SAPM on heath said only three airports -- Karachi, Lahore and Islamabad -- are allowed for arrival and departure of international flights to ensure less entry points to the country. "This will also be reviewed as time progresses," he added.

Public gatherings

All mass gatherings are also banned across the country, said the de facto health minister, adding that "prevention is the best strategy we could adopt at this point in time".

He said HBL Pakistan Super League matches will be played at empty stadiums. Wedding ceremonies at marriage halls will be banned and movie cinemas will also be shut, he added.

Conferences will also be banned across the country, Dr Mirza said, adding that Federal Minister for Religious Affairs Pir Noorul Haq Qadri and Council for Islamic Ideology (CII) Chairman Dr Qibla Ayaz have been given the responsibility to consult with the religious scholars of all schools of thought on banning religious gatherings throughout the country.

Educational institutions

Dr Mirza said all public and private educational institutions will be closed from tomorrow (March 14) till April 5. "Schools are being shut for three weeks and the situation will be further reviewed then… all examinations and tests will also be canceled if scheduled in this time period," he added.

Judiciary

District and sessions judges, he said, will visit prisons to hold hearings rather than asking people to gather at courts. "All meetings with inmates by their relatives are also restricted for three weeks," he added.

March 23 parade

Firdous Ashiq Awan, speaking on the occasion, said the Pakistan Day parade which takes place on March 23 every year, has been canceled and ISPR, the military's media wing, will share further details in this regard.

Dr Mirza said it is important to understand coronavirus pandemic and adopt precautionary measures "so we can stop the spread of the contagious disease". For this, he added, a media campaign is being launched on all platforms including broadcast, print, online and social media in continuation to already shared public service messages.

"It's important to get timely and correct information on coronavirus through a centrally controlled mechanism. Media is advised to run news on epidemic with extreme caution and sensationalism which has been witnessed in the past two weeks should be avoided."

Dr Mirza said the Ministry of National Food Security and Research has been asked to devise a strategy to avoid food scarcity amid fears of a larger outbreak.

Moeed Yusus, speaking on the occasion said all stakeholders at NSC meeting were on same page and no division was witnessed today.

"No national emergency has been imposed. PM Imran Khan wants to convey the message that there is no need spread panic which would be damaging to everyone," he maintained.

Kartarpur border, Yusuf said, will continue to operate as normal, however Pakistanis will not be allowed to cross over to India from there.



Follow The Express Tribune's live coverage of the Covid-19 outbreak in Pakistan and the around the globe here.