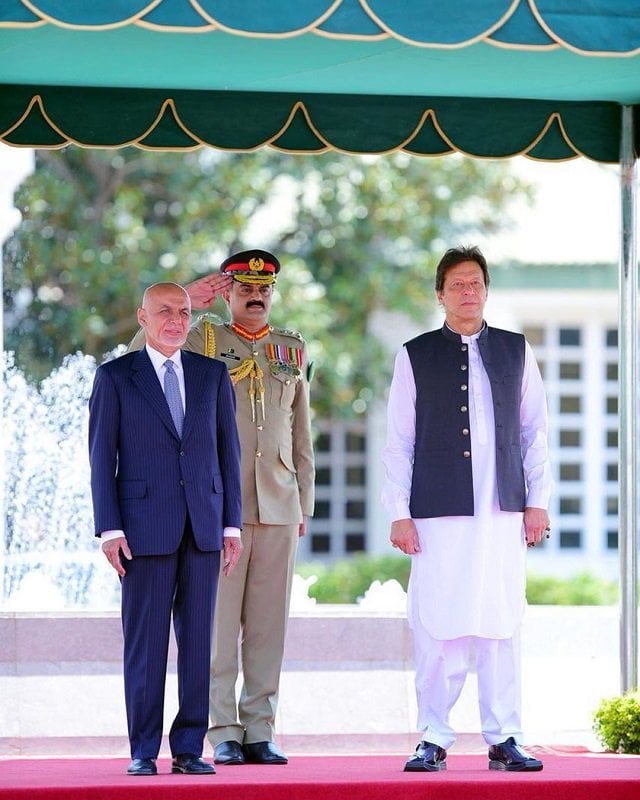 ---
Prime Minister Imran Khan has congratulated Ashraf Ghani on becoming Afghanistan's president for a second time and expressed desire to working with him.

Afghanistan's Election Commission last month announced that Ghani had retained power by winning the September 28 election. But his long-time rival Abdullah Abdullah had rejected it and proclaimed himself winner.

On Monday, the war-torn country lurched deeper into political crisis as the two rival leaders – Ghani and Abdullah – swore themselves in as president at simultaneous ceremonies that were interrupted by at least two bomb blasts.

Hours after the presidential inauguration, PM Imran assured President Ghani of his government's all possible to bring peace and stability in the region.

"I want to congratulate Afghanistan's President Ashraf Ghani & look forward to working with him. Pakistan will do everything it possibly can to bring peace and stability in our region," the premier wrote on his official Twitter handle.


I want to congratulate Afghanistan's President Ashraf Ghani & look forward to working with him. Pakistan will do everything it possibly can to bring peace and stability in our region.

— Imran Khan (@ImranKhanPTI) March 9, 2020


The bitter feud between two rivals has raised fears for Afghanistan's fragile democracy as the US prepares to leave the country following an agreement last month with a strong and largely unified Taliban.

Earlier in the day, Premier Imran also expressed optimism for the success of landmark US-Taliban deal, saying it will not only bring relief to the people of Afghanistan but also ensure peace in the tribal districts of Pakistan, which share border with the war-torn country.

"I pray for Afghanistan from the bottom of my heart and I hope that this peace deal succeeds as it will benefit Afghan people as well as bring peace in our tribal areas," he said while addressing a rally in Mohmand, a tribal district of Khyber-Pakhtunkhwa.

Meanwhile, Foreign Office spokesperson Aisha Farooqui in a separate statement extended felicitations to President Ghani, saying that Pakistan was represented at the inauguration ceremony.

"The people of Pakistan are linked to the brotherly people of Afghanistan through immutable bonds of history, geography, faith, kinship, culture, language, and customs and traditions. We wish our Afghan brethren a future of hope and opportunity," according to an official statement.

The FO communique also expressed hope that the "Afghan leaders would proceed with wisdom and foresight, eschew blame-games, resolve mutual differences, and unite in the supreme interest of their country".

The US-Taliban deal has created a historic opportunity for the people of Afghanistan and a pathway to intra-Afghan negotiations, official communique added.

"We believe it is imperative to seize this historic moment and work together constructively for securing durable peace and stability in Afghanistan."

Pakistan would continue to facilitate the Afghan peace process for bringing an end to the 19-year old conflict through a comprehensive and inclusive political solution, according to the statement.

The historic peace deal was the result of a 14-month long painstaking negotiation process — brokered and facilitated by Pakistan — between the US and the Afghan Taliban.

With additional input from agencies