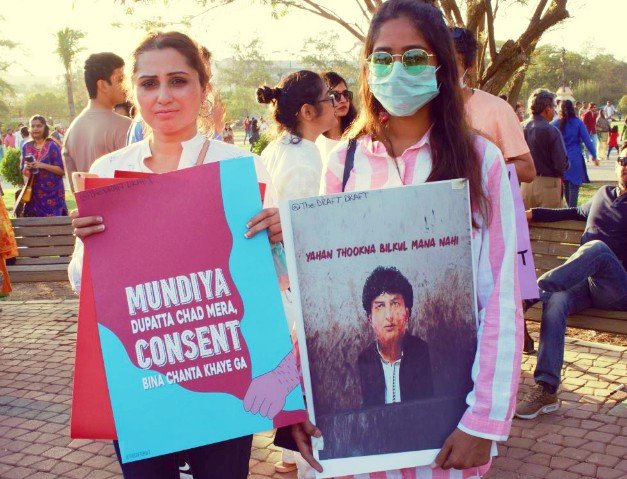 ---
KARACHI: The annual international women's day witnessed a series of successful Aurat marches held across Pakistan yesterday. The one in Karachi particularly roared with chants from women of all cultural, economic and religious backgrounds gathered to demand their rights.

There were those who dealt with patriarchy at their work place along with those who silently endured it at home. There were those who were pushed around for their choice of clothing along with those who were victims of domestic violence. The LGBTQ community protested along with the non-binary individuals without the threat of being treated differently.

But all marched for a similar cause, lifting each others spirits, making sure no one feels left out. However, amidst the inclusion, diversity, and range of objectives, another specific symbolic treatment that stood out in this year's march, was the face of Khalilur Rehman Qamar on numerous posters.

Owing to his recent controversial interview and blockbuster series, Meray Paas Tum Ho, several took a dig at the form of misogyny relayed by the writer both verbally, and creatively.

Here are some unapologetic posters highlighting just that:




PHOTO: FILE




PHOTO: FILE




PHOTO: SARAH PRICE




PHOTO: ASFA SULTAN




PHOTO: FILE




PHOTO: SHAFAQ SOHAIL




PHOTO: FILE




PHOTO:FILE


PHOTO: FILE


PHOTO: FILE



A low down of what went down before this year's march and why:



Have something to add to the story? Share it in the comments below.