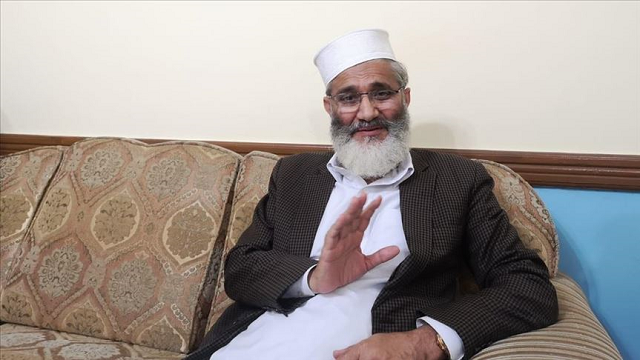 ---
PESHAWAR: Jamaat-e-Islami (JI), the country's main religiopolitical party, has said it is not in favour of removing Prime Minister Imran Khan through a no-confidence vote in parliament.

In an exclusive interview with Anadolu Agency, the party chief Sirajul Haq said his party does not support the idea of 'in-house' change and demands fresh elections to lead the country out of the crises it faces today.

"We do not support the idea of in-house change and will resist any such move against the government," Haq said.

"Our demand is for fresh free and fair elections; the people must be given the chance to elect their true representatives."

He criticised the Pakistan Tehreek-e-Insaf (PTI)-led government for the soaring inflation in the country and said premier Khan had completely failed to fulfil his promises to the public.

The JI chief also cast doubt on the transparency of Pakistan's electoral process.

Haq, 57, who was last year elected as the party's chief for a second five-year term, is known in the country's political circles for his simplicity and down-to-earth personality.

He is one of the very few top politicians who do not even own a house, and lives with his wife and seven children in a party-owned apartment in Lahore.

He is JI's fifth emir since its inception in 1941, succeeding Syed Munawar Hassan, Qazi Hussain Ahmad, Mian Tufail Ahmad, and party founder Maulana Abul Aala Maududi.

Haq has extensive experience in Pakistan's parliamentary politics. He was twice elected as a member of the Khyber Pakhtunkhwa provincial assembly - in 2002 and 2013 - and served as the provincial finance minister during both terms.

During his first term as finance minister, the Asian Development Bank declared KP the country's most financially disciplined province.

Currently he is a member of the Senate, or upper house of Pakistan's parliament.

Anadolu Agency: You have been the party's chief since 2014 and were elected for a second term last year. Could you tell us where JI stands right now?

Sirajul Haq (SH): First, I welcome you to Peshawar. As you know, JI is a democratic Islamic party that believes in the development of society, individuals, and the country through democratic means.

We are an ideological party; our struggle is for the establishment of a welfare Islamic state, where people can lead happy and peaceful lives in accordance with Islamic principles.

We are happy that a large number of people support our party and we have good presence across the country.

We have representatives in parliament who are playing a very active role in Pakistan's politics.

Recently, Pakistan Institute of Legislative Development and Transparency conducted a survey on the performance of parliamentarians, and I am happy to say that four of our members were ranked among the top 10 lawmakers.

So, our numbers in parliament may be less, but we are among the best in terms of performance.

Q: As party chief, what is your strategy for the next five years and how is JI preparing for the next elections?

SH: As you know, the election process in our country is not free or fair.

Unfortunately, before every election, the establishment is believed to distribute seats among its blue-eyed parties, which does not allow the people to elect their true representatives.

This is the reason that people have no trust in the election process, which is very dangerous for Pakistan. JI is against such conspiracies and we don't believe in relying on underhand tactics to reach the corridors of power.

We want to come to power through the public's support and its votes. For the next general elections, our party has started preparations to nominate candidates for all constituencies.

They will start planning their campaigns to reach out to the public and share our vision of a welfare state. They will try to make people realise that if they want real change and real reforms in Pakistan, they must support JI.

Q: So, do you believe people will support your party this time around?

SH: Inshallah [if God wills], we will have a good position this time because the people have no other choice. If the people want Pakistan to come out from its current economic and political crises, then JI is the best and only choice for them.

Q: How do you plan to take away public support from the three major parties; PTI, Pakistan Muslim League – Nawaz (PML-N), and the Pakistan People's Party (PPP)?

SH: PML-N and PPP have already lost the public's trust, and the PTI government has also failed miserably in fulfilling the promises Imran Khan made during his election campaign.

Khan had promised the nation that he would eliminate corruption, create jobs, and make life easier for the poor and the middle class. But today, corruption has increased, inflation is at one of the highest-ever points, and our currency has been devalued.

Khan has also now lost public support, so I am confident the people will see that JI is the only choice and will support us.

Q: If your party comes to power, how do you plan on leading Pakistan out from the current financial crisis, given the huge existing foreign debt?

SH: We have a very good team. I served as KP finance minister twice and we proved ourselves there. We repaid all of KP's debts within two years.

The World Bank and the Asian Development Bank praised our economic policies. It was the first time the province saw real reforms in health, education, and other sectors; we actually provided relief to the masses.

Secondly, Pakistan has immense natural resources, including beautiful tourist spots, and ample land and water for agriculture. So, there is no need to worry; we will use these resources to easily pay off our debts and also establish a true Islamic welfare state.

This country only needs a sincere and honest ruler. We are the only party that can fulfill that requirement; not a single charge of corruption has ever been proven against any of our lawmakers, ministers, and officials.

Q: There has been discussion around a possible in-house change to remove the PTI government to lead Pakistan out of the economic and political crises. Will your party support such a move in parliament?

SH: No, we are against such conspiracies. In-house changes only promote horse-trading and weaken democracy.

We will resist any such move inside and outside the parliament. The best way to lead Pakistan out of these crises is through fresh elections.

I demand free and fair elections, where people get the right to choose their true representatives.

'Selected' elections can destroy democracy and the country; we are witnessing that disaster today.

Q: Since the party was established in 1941, people have accused it of being a proxy of Pakistan's powerful security establishment. If so, then why does your party always win a few seats in parliament?

SH: I reject that accusation; we have never been the establishment's party. We supported the Pakistani army in the 1971 war [with India] for the unity and sake of our country.

Also, if we are the establishment's party, then why does it not want us in power? You know democracy is controlled here and they [the establishment] decide who gets to rule the country.

JI is a party of honest and upright people and they know that no one can ever blackmail us. That is why the power brokers do not want us to have a majority in parliament.

Q: Jamaat-e-Islami is seen as a right-wing party. Do you agree with that categorisation?

SH: No, we don't believe in these right-wing or left-wing categories.

We only believe in 'Sirat-al-Mustaqim' [the straight path], which is the right way and the way of our Holy Prophet (PBUH). So that is the path we are following.

Q: Jamaat-e-Islami is known as a party of educated people, but it has no representation of women at the central level. Why?

SH: That is not true. JI has the largest women's wing among all political parties, and it is very active.

We have elected women to our central shurah [executive council] and they have been involved in the party's most important decisions.

We are big supporters of women's rights; we truly believe that no society or country can progress without its women.

We have even advised the Election Commission of Pakistan to make it mandatory for every election candidate to submit an undertaking to give his sisters and daughters their due share in inheritance and properties.

Q: How do you see the ruling party's performance and its internal and external policies?

SH: You know the PTI's election campaign was all about bringing change to Pakistan.

Unfortunately, it has completely failed to fulfill its promises to the people.

The PTI has damaged Pakistan's institutions, destroyed the economy, and handed over the country to the IMF [International Monetary Fund].

Over the past 18 months, the country's GDP [gross domestic product] has decreased from $315 billion to $280 billion.

Unemployment has increased, the currency has been devalued, the stock market crashed, and legislation has slowed down.

IMF officials are now running our Finance Ministry and Central Bank, and they have increased the interest rate from 5% to 13.5%.

People have lost their confidence in the PTI; even overseas Pakistanis who were big supporters of the party are disappointed by its performance.

Around 35% of the economy is undocumented and people do not pay taxes because they do not trust the government.

Also, the PTI is not an ideological party; most of its leaders have come from other parties for personal interests. That is why Imran Khan has failed to deliver.

Q: If you come to power, what is your plan to resolve these issues?

SH: As I told you earlier, I served twice as KP finance minister and we proved our performance and good governance there.

First, through our performance, we will restore public confidence and encourage people to pay their taxes; 35% of our economy is undocumented and those people are not paying taxes because they do not trust the government and its institutions.

Secondly, we have huge natural resources and we can bring the country out of the economic crisis by properly utilising those resources.

Also, we will not go to the IMF. We can get support from overseas Pakistanis, who are currently sending around $20 billion to the country. They will support us.

Q: Islamophobia is growing around the globe. How can the Muslim world counter this negative trend?

SH: The reason for the worsening situation is that some politicians, particularly in western countries, have spread hatred against Muslims for political gains.

Islam is a religion of peace and harmony, but they have presented Islam and Muslims like their enemies.

All Muslim countries of the world should join hands and present the real Islam to the world.

I appreciate the stance of Turkish President Recep Tayyip Erdogan; he has persistently raised his voice against Islamophobia and is playing an important role in presenting the true face of Islam to the world.

Other Muslims leaders should join hands with President Erdogan to counter this baseless propaganda against Muslims.

Q: Muslims in India are facing a particularly difficult situation ever since the government introduced the new citizenship law. What do you think about the actions of Indian Prime Minister Narendra Modi and his government?

SH: Unfortunately, Muslims in India are divided and have no unity among themselves; otherwise, they are a major power in India.

But Modi's actions are now bringing them together.

I am sure the people of India will not accept Modi's agenda against Muslims.

If Indians do stand behind Modi, then India will be divided into many parts.

We strongly condemned the Modi government's actions in Kashmir and India, where it has already made over two million Muslims stateless through the controversial citizenship law.

Q: In your view, how can Turkey-Pakistan relations be further improved?

SH: Turkey and Pakistan are like two brothers.

We already have strong diplomatic relations and we are lucky that our people-to-people relations are also very good.

Our people love each other and that is a strong base for our brotherly relations.

Pakistani people also love President Erdogan; his bold leadership has increased love and respect for him across the Muslim world.

We stood with Turkey during the 2016 failed coup attempt and we will always stand with our Turkish brothers in every difficult time.