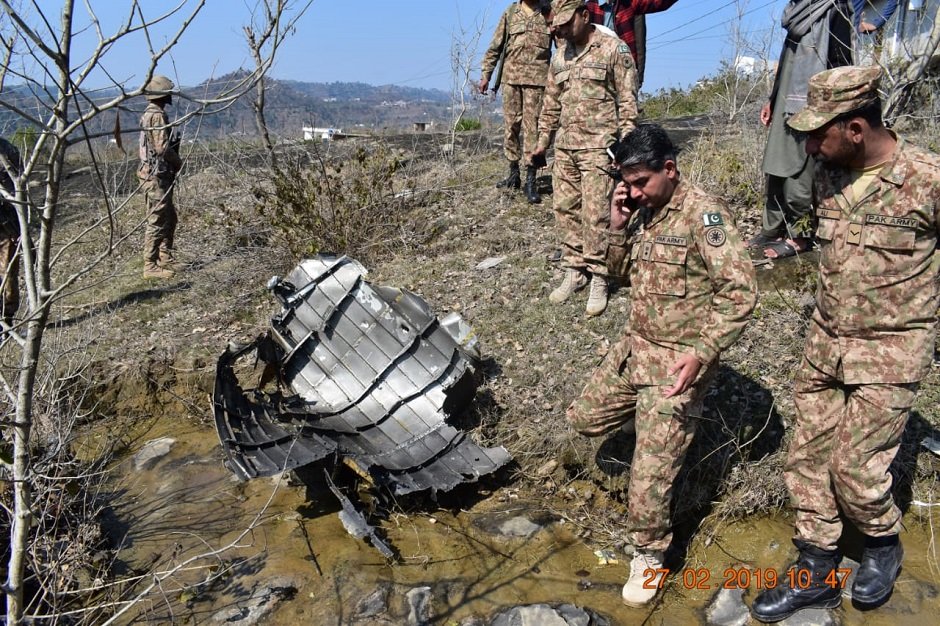 ---
KARACHI: India's dream of establishing a "new normal" to dominate the region was shattered 12 months ago by Pakistan Air Force jets.

Trying its strategy of "pre-emption" and so-called "surgical strikes", more recently referred to as the "new normal", by new army chief Gen Manoj Mukund Naravane, India had to bite the dust when Pakistan shot downed its top-notch jets in a dogfight in its airspace last year.

"On February 27, 2019, we managed to unmask the myth that Indian conventional superiority would be enough to checkmate Pakistan," said a security official, who spoke on the condition of anonymity. "We have obliterated their assumption of conventional superiority by the jaw-breaking reaction by the PAF," he added.

During the aerial skirmish with India that day, Pakistan piled a long list of mishaps for its opponent. On that list were two Indian jets, and a captured pilot, Wing Commander Abhinandan Varthaman. And to add insult to the injury, India's air defence system shot down own helicopter in "fog of war".




On the morning of Feb 27, roaring PAF warplanes struck around key targets in Indian Occupied Jammu and Kashmir in broad daylight and shot down two Indian fighter jets in a dogfight that ensued after they attempted to intrude into Pakistani airspace again.

The rare aerial engagement that significantly raised the stakes in the perilous standoff came a day after New Delhi claimed its aircraft had launched an air strike on what it called the "biggest training camp of Jaish-e-Muhammad" militant group inside Pakistan – a claim debunked by Islamabad.

"In response to PAF strikes this morning as released by MoFA, IAF crossed LOC. PAF shot down two Indian aircrafts inside Pakistani airspace. One of the aircraft fell inside AJ&K while other fell inside IOK. One Indian pilot arrested by troops on the ground while two in the area," announced Director General ISPR, in a tweet shortly before midday that day.

Sharing details the security official said: "Through our calculated response, not only did we crush India's ambitious dreams of superiority, but also sent a very strong message to the Indian forces that Pakistan is prepared to counter all challenges."

While India, analysts believe, failed miserably to establish its image as a superior military force in the region, in that episode, Pakistan successfully cemented its position as a responsible nuclear state.




Conflict prevented

The rapid turn of events that day raised fears that the historical animosities between India and Pakistan could steer the two rivals toward another military confrontation. However, the PAF's careful response prevented further escalation.

"Pakistan Air Force carefully prevented a major conflict between two nuclear rivals by exercising strategic restraint following India's mis-adventurism," said senior defence analyst Maj Gen (retd) Inamul Haq, who followed the event closely.

"The PAF had locked more targets but it walked away only after destroying two jets that day. Our jets flew closer to the headquarters only to send shivers of fear down the opponent's spine," said the senior official, who spoke on the condition of anonymity.

Diplomatic front

Shortly after being rescued by the Pakistan military, Abhinandan became the face of India and Pakistan's conflict and a major prize in a geopolitical conflict between two rivals.

But despite India's deliberate provocation, in this case, the Indian pilot was not only treated with dignity by Pakistan's armed forces, but he was also handed over to the Indian authorities after a brief detention. According to observers, Pakistan once again acted as a responsible state by following the Geneva Conventions.

"By handing over Wing Commander Abhinandan, Pakistan clearly changed the narrative. It sent a clear message to India and the rest of the world that despite New Delhi's hostile attitude, Islamabad was interested in investing in peace," said Defence analyst Lt Gen (retd) Talat Masood.  "It showed Pakistan is interested in peace and not an unnecessary conflict despite India's aggressive approach," he added.




Abhinandan's release, according to analysts, boosted Pakistan's overall image on the international stage as a peacemaker. "The event exposed India as an aggressor and Pakistan as a peacemaker," said one observer. On the diplomatic front, the observer said, Pakistan won the narrative.

Within 48 hours after parachuting into Pakistan territory, Abhinandan, the 35-year-old wing commander, who also became a popular meme on both sides of the border for his dark handlebar moustache and his comments about tea in Pakistan, was handed over to Indian border guards.

Both Lt Gen (retd) Masood and Maj Gen (retd) Haq concurred the decision to release Abhinandan showed Pakistan was willing to engage in peace. "The treatment he received in Pakistan shows Pakistan's forces are committed to professionalism," said Maj Gen (retd) Haq.

"It goes on to show Pakistan's professional forces have the capability to tame a much bigger force(Indian) at its own convenience," he added.

He said India has weakened its position internationally and diplomatically. "Our response, as measured and targeted as it was, enhanced our international standing," he added. At home, Maj Gen (retd) Haq said, the response gave a boost to our military and national morale.

Capabilities

Terming it as a sobering event for India, Maj Gen (retd) Haq said New Delhi cannot get away with its actions so easily. "Their (India) cockpit to pilot ratio is very poor. The Indian Air force is facing a dearth of pilots," he said. "Abhinandan is a wing commander, that MiG 21, which many in India refer to as flying coffin, should have been flown by a captain."

Another senior security official said India received a bloody nose in the Abhinandan episode, only because they were minimally prepared and perhaps underestimated Pakistan's readiness. "Abhinandan landed on Pakistani soil with a survival kit that had expired products. That shows how prepared they were," he quipped.

Responding to a question on how prepared Pakistan is to deal with a future threat, he said: "We are watching India's defence spending very closely. Pakistan constantly upgrades its capabilities to counter the Indian threat."




Advice for India

Analysts from the diplomatic quarters believe Pakistan should not rely on international mediation. "Instead, as Balakot demonstrated, Pakistan should take all possible actions necessary to break India's new normal," said Syed Hassan Akbar is Director Programs at Jinnah Institute. Both countries, Lt Gen (retd) Masood said, "have the choice of living in perpetual hostility or in peace." On the other hand, Maj Gen (retd) Haq, only had a terse warning for New Delhi: "Don't miscalculate."