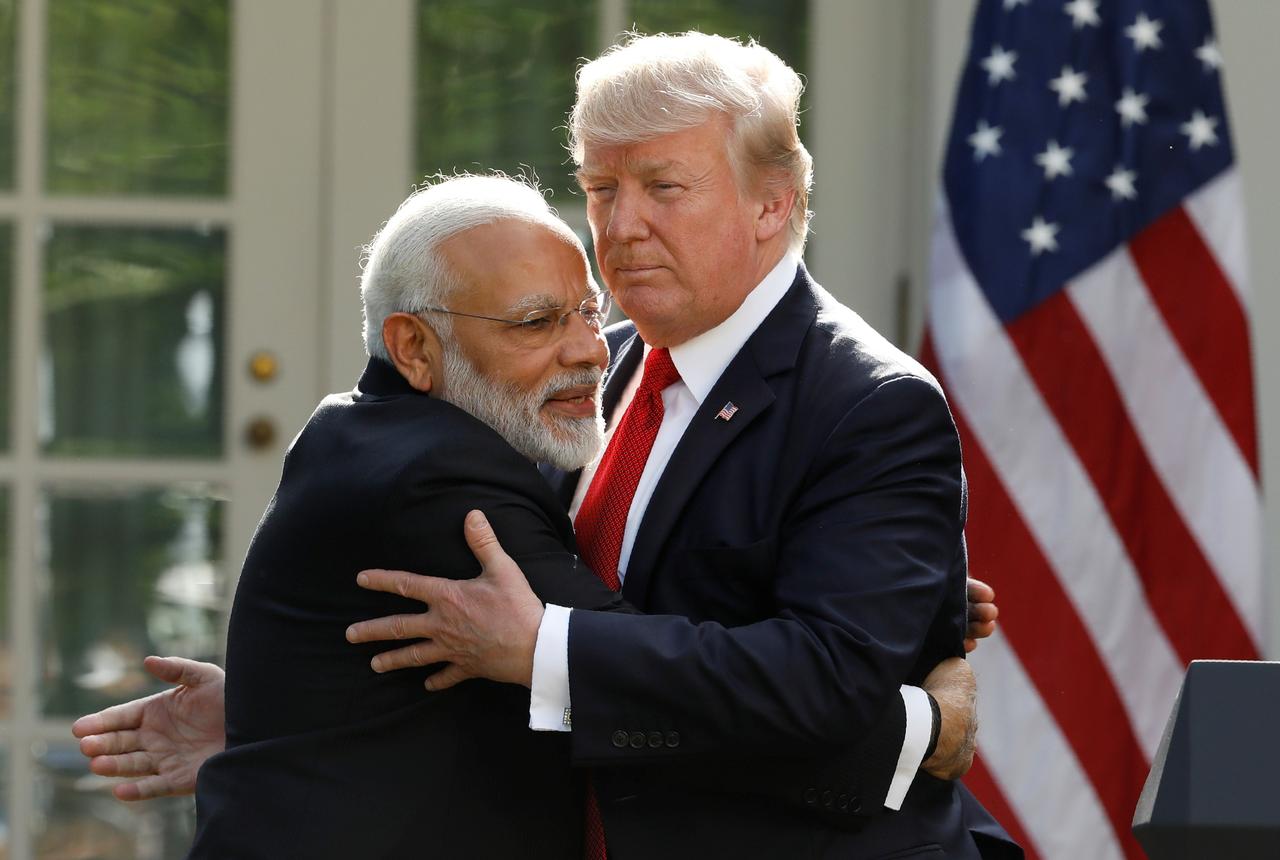 ---
The visit of President Donald Trump to India was closely watched by the world and more so by Pakistan and China. This even though the Democratic Party's presidential primary elections and the scourge of coronavirus spilling over the borders of China into more than 20 countries and threatening to be a pandemic had diverted the attention of the global media.

The BJP government had made extensive preparations, giving it a touch of a super royal visit. It was meant to feed the insatiable ego of President Trump and to demonstrate the "exceptional" relationship between the two leaders. Hundreds of artistes welcomed the President at the airport while projecting the ancient culture of India.

New Delhi wore a festive look and the ugly side of the city was camouflaged by cosmetic touches. All this was to convey the warmth of the government and people of India for America.

Later, PM Modi further inflated the ego of President Trump by assembling his promised "millions" in the Delhi stadium where the two leaders showered generous praise on each other. Modi gave a new dimension to their relationship by using vocabulary that meant that it had transcended partnership and was at a higher level. It did remind me of pre-Partition days when Indian aristocracy expressed their loyalty and affection for the British royalty.

President Trump was equally generous in his praise, calling Modi an exceptional leader. These were skilful optics as both leaders are reputed to be good marketeers of their personal image. This mutual adoration was not new. President Trump has been equally generous in his remarks when it comes to India or Hinduism. He foregoes all the principles and ideals that once were the hallmark of the American Dream and which the world, and especially younger democracies considered as their ideal and benchmark.

In a recent Op-Ed in The New York Times, the writer, Pankaj Mishra, reminded us that Trump had remarked, "I love Hindu" during his presidential campaign in 2016. This shows the extent Trump could go to please India.

No doubt there are several commonalities between India and the US. There are parallels in their historical experience. Both have been former colonial powers and struggled for freedom. This experience of subjugation and earning independence through a protracted struggle is equally applicable to Pakistan.

Optics and cringe apart, for PM Modi it was an ideal opportunity to influence the Indian expatriate community by showcasing his standing with President Trump. This, apart from gaining political mileage, may yield dividends in bringing additional investment from them. President Trump, too, has a vested interest in cultivating the relatively large and influential Americans of Indian origin. He needs their votes and financial support during the election. The Indian community is only second to the Jews in terms of political influence and economic clout. At present, or until recently, the CEOs of Google, Microsoft and several other leading firms were Americans of Indian origin.

A more substantive reason for the emerging warmth is the burgeoning defence collaboration.

India is one of the leading buyers of American defence equipment and technology today. President Trump, during the visit announced the sealing of a $3 billion defence deal. India's defence procurement from the US was nearly $17 billion since 2007 and these new contracts would give a fresh impetus to its procurement. The list includes the purchase of 24 MH-60R Seahawk helicopters. India has allocated $10 billion to be spent on purchases from the US in the next three to five years. It insists on the transfer of technology and manufacturing the weapon systems in India. The US will be willing to oblige to an extent that it does not entail any latest technologies or equipment. By leaning in favour of the US, India is gradually moving away from its traditional supplier, Russia.

Obviously, no one expected that President Trump would either publicly or privately mention India's gross mistreatment of Muslims and other minorities. Or of its dangerous slide toward transforming India into a Hindu nationalist state and imposing a draconian regime on Kashmir. India's brutal manifestation of human rights and religious bias also found no mention.

President Trump's own record reflects a strong bias against Muslims and other minorities, economic considerations aside.

Ironically, while the visit was in progress, clashes were taking place in Delhi between anti- and pro-Citizens Amendment Act groups.

These mutual gestures of goodwill and high-flying semantics between US and Indian leaders are important for domestic audience and the international community. For Pakistan and China, more critical are the span, depth and substance of the relationship and how it would impact their countries and the region.

There are several considerations — geo-strategic, political and economic on the basis of which American and Indian interests converge. At the strategic level, India is considered to possess the potential equal to China. It has the resources, talent, size and population equivalent to China but its economy, although until recently was one of the fastest growing, has slowed down and would need long-term support to catch up. Besides, due to the divisive policies of the BJP government, the national cohesion of India has been impaired. The Muslims, who constitute between 12-16% of India's population and other minorities such as Christians and Dalits, are a constant target of the government's discriminatory policies. These policies may win favour with the Hindu nationalists, but are going to be a major drag on national development in the long term. It is a different matter that President Trump would not comment on this issue in public or even during their personal interaction, as his own record of dealing with minorities is a subject of criticism.

PM Modi's policy to weaken Pakistan will never succeed. The more India unfairly puts pressure on Pakistan and the US maintains silence, it further justifies Pakistan's leaning on China, strengthens its bonds with Muslim countries, and cultivates better relations with Russia and the European Union.

Published in The Express Tribune, February 26th, 2020.

Like Opinion & Editorial on Facebook, follow @ETOpEd on Twitter to receive all updates on all our daily pieces.