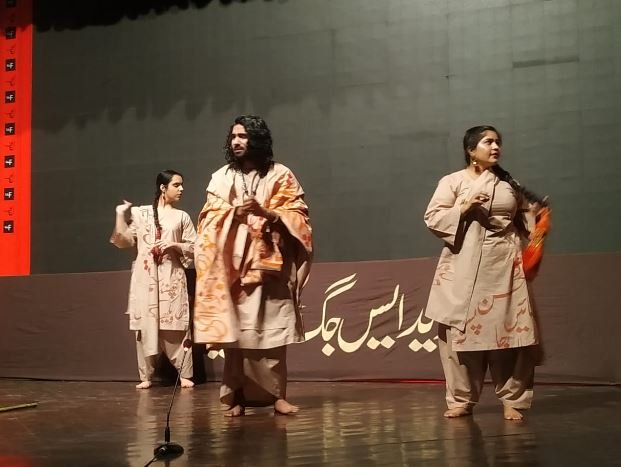 ---
LAHORE : The eighth edition of Lahore Literary Festival finished off with spectacular theatre performance on Sunday. The Punjabi drama titled Waris mian lookan kamliyan noun qisa joar hushyar  sunaya hi was directed by renowned theater teacher Huma Safdar and performed by a lot of young and talented artists.

The play was based on the popular fable Heer Ranjha by Warish Shah. Before the performance started, Zafar took the stage and gave audiences a brief introduction Waris Shah with respect to Heer.

"Waris Shah compiled Heer Ranjha  in 1760 and this was the time when the Mughal Empire was going through a crisis period . Waris Shah had witnessed this first hand. It is a popular tale in this region. This story is shown in the drama  Waris shah mian lookan kamliyan noun qisa joar hushyar sunaya hi," she said.

According to her, the character arc of Ranjha is a reflection of how society collectively shuns anyone who decides to take a leap . "Ranjha was the main character of the Heer Waris Shah book . He left his home, and family with only a flute in his hand to live a life of a Saint."
"Distraught by the constant taunts of his own family on his life choices, Ranjha decides to leave to live a life on his own terms. The story of the Ranjha who left Takhat Hazar is also a story of a passenger who faces different hurdles and barriers during his journey. Ranjha narrates the hypocrisy of different characters in the book," said Safdar.

Artists taking on different characters recited the poetry in Heer Ranjha in front of audiences. It lasted for a whole 60 minutes with the audience keenly enjoying throughout.




Additionally the performance included a short musical segment in between. The musicians included renowned Flute player Ustad Hanif, vocalists Ustad Shafqat, and Aysha along with tabla performer Ustad Riaz .

The play marked the end of LLF 2020 that commenced on last Friday. More than a 100 people including both domestic and foreign intellectuals participated in the event that consisted of 63 sessions. A broad spectrum of themes were covered in the event ranging from literature and art to politics and social issues.

Have something to add to the story? Share in the comments below.




COMMENTS
Comments are moderated and generally will be posted if they are on-topic and not abusive.
For more information, please see our Comments FAQ