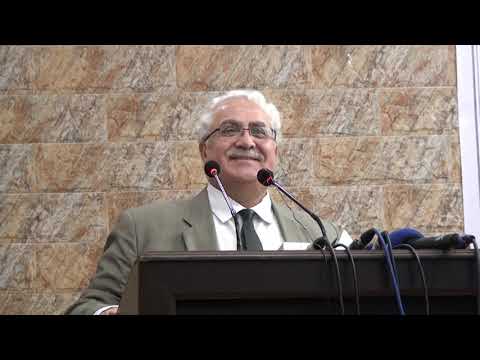 ---
ISLAMABAD: Chief Justice of Pakistan Gulzar Ahmed has proposed name of the Lahore High Court (LHC) judge Sayyed Mazahar Ali Akbar Naqvi for elevation to the Supreme Court.

A meeting of the Judicial Commission of Pakistan (JCP) would be held on March 4 to consider Justice Naqvi's name for elevation to the apex court as a position in the top court remains vacant after the retirement of former chief justice Asif Saeed Khosa, a source revealed to The Express Tribune.

Currently Justice Naqvi is the third senior-most LHC judge and is known for his expertise in criminal law. His elevation to the top court will deprive him from becoming the LHC chief justice.

If Justice Naqvi continues as the LHC judge, he will become the LHC chief justice on July 5 next year (2021) for 13 months. In case of elevation, he will work as the Supreme Court judge until August 31, 2025.

Justice Naqvi has authored more than 25,000 judgments including the last month order that declared a special court's Dec 17, 2019 verdict in a high treason case unconstitutional.

He had also banned media coverage of the MQM founder Altaf Hussain. Justice Naqvi also came into limelight when he ordered then Punjab government to make Model Town incident report public.

Recently, he granted bail to PML-N leader Hamza Shehbaz in a National Accountability Bureau (NAB) case.  Sources said representatives of superior bars have decided not to oppose Justice Naqvi's elevation to the apex court.

It has been witnessed that in the recent past, judges have been elevated to the apex court on basis of competence rather than seniority.

Two former chief justices – Mian Saqib Nisar and Asif Saeed Khosa – had not adhered to the principle of seniority while promoting judges to the top court during their respective tenures.

Three junior judges – Justice Munib Akhtar, Justice Qazi Amin Ahmad and Justice Muhammad Aminuddin Khan – had been elevated on the basis of "competency and reputation".

In a letter written to former JCP chairman Asif Saeed Khosa, the Parliamentary Committee on the Appointment of Judges had called for giving the smaller provinces their due share in appointment of judges to the apex court in order to alleviate a sense of deprivation among them.

The committee, in its letter through JCP Secretary Arbab Arif, noted that the country consists of four provinces and the Islamabad Capital Territory (ICT) and that all the federating units have high courts.

It said the Supreme Court has always had judges from every province which is a reflection of a united federation. Currently, Punjab and Sindh have six judges each in the Supreme Court while Khyber Pakhtunkhwa has two judges. Interestingly, only one SC judge, Qazi Faez Isa, hails from Balochistan.

The JCP comprises five senior most SC judges as well as the Attorney General for Pakistan, law minister and a bar representative. After considering the nominations, the JCP will send its recommendations to the parliamentary committee for further consideration.
COMMENTS
Comments are moderated and generally will be posted if they are on-topic and not abusive.
For more information, please see our Comments FAQ