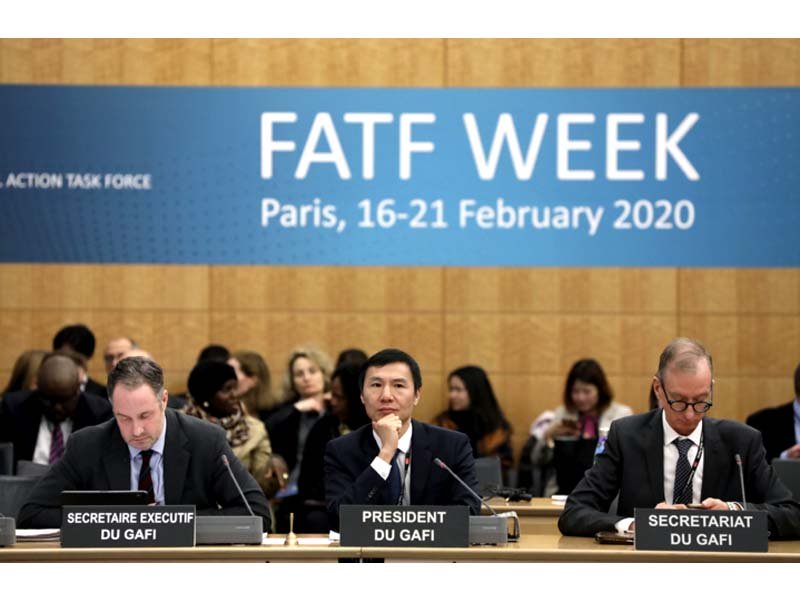 ---
ISLAMABAD: The Financial Action Task Force has decided not to blacklist Pakistan and give it more time to complete the 27-point action plan it has committed to as the "vast majority of FATF members recognised Islamabad's enormous efforts to improve its counter-terror financing regime".

The global financial watchdog announced on Friday that its plenary has decided not to blacklist Pakistan after the country showed progress on majority of the actionable points and demonstrated its serious political commitment to curb terror financing and money laundering.

Pakistan's status would be retained on FATF's Compliance Document, normally referred to as the "grey list", for four more months, setting June 2020 as the new deadline for delivering on the remaining points related to terror financing risk management.

"Pakistan has made enormous efforts in improving its counter-terror financing system, which has been recognised by the vast majority of FATF members at its latest plenary meeting concluded on February 20 in Paris, Chinese Foreign Ministry spokesperson Geng Shuang told a daily briefing in Beijing.

The FATF decision might have come as a huge disappointment for India, which has consistently lobbied for 'blacklisting' Pakistan by the global financial watchdog. Geng was specifically asked about the Indian media reports which said Beijing was shifting its stance at FATF.

"China's position on the relevant issue remains unchanged," the spokesperson told the reporter categorically. "It was decided at the meeting that Pakistan will be allowed more time to continue implementing its action plan," he added.

FATF members recognise Pakistan's counter-terrorism financing efforts, says China

"China maintains that the purpose and aim of FATF is to support countries' efforts to strengthen institutions against money laundering and terror financing and safeguard the international financing system. We stand ready to work with relevant parties to offer more assistance to Pakistan in this area."

The FATF, also known by its French name Groupe d'Action Financiere, is an intergovernmental organisation founded in 1989 on the initiative of the G-7 nations to develop policies to combat money laundering.

This is the second four-month lifeline that FATF has given to Pakistan, which would also help keep opening the financing pipelines from international creditors. Avoiding FATF's blacklist would also guarantee continuation of the IMF programme, subject to fulfillment of other IMF conditions.

"The FATF recognises progress made by Pakistan but is concerned about the failure to complete its action plan to reduce money laundering and terrorist financing risks", the financial watchdog stated in a statement issued on Friday after the six-day plenary in Paris.

FATF places Iran on terror financing blacklist

"The FATF strongly urges Pakistan to swiftly complete its full action plan by June 2020. Otherwise, [if] significant and sustainable progress especially in prosecuting and penalising TF (terror financing) not made by the next plenary, the FATF will take action," the statement added.

The FATF plenary was chaired by its President Xiangmin Liu of China. Xiangmin's term will end in June and in July Germany will take the chair of the 39-member global watchdog.

Finance Adviser Dr Hafeez Shaikh on Friday thanked the Chinese government on its "massive support in the FATF meetings". Shaikh said China and other brotherly countries supported Pakistan throughout the FATF process in terms of guiding the country to improve its frameworks.

The FATF statement noted that since June 2018, Pakistan made a high-level political commitment to work with the FATF and the Asia-Pacific Group (APG) to strengthen its AML/CFT regime and to address its strategic counter-terrorist financing-related deficiencies.

Pakistan's political commitment has led to progress in a number of areas in its action plan, the statement said. The progress has been made on risk-based supervision and pursuing domestic and international cooperation to identify cash couriers, it added.

The FATF underlined that Pakistan should continue to work on implementing its action plan to address its strategic deficiencies by:



demonstrating that remedial actions and sanctions are applied in cases of AML/CFT violations, relating to TF risk management and TFS obligations;


demonstrating that competent authorities are cooperating and taking action to identify and take enforcement action against illegal money or value transfer services (MVTS);


demonstrating the implementation of cross-border currency and BNI controls at all ports of entry, including applying effective, proportionate and dissuasive sanctions;


demonstrating that law-enforcement agencies (LEAs) are identifying and investigating the widest range of TF activity and that TF investigations and prosecutions target-designated persons and entities, and those acting on behalf or at the direction of the designated persons or entities;


demonstrating that TF prosecutions result in effective, proportionate and dissuasive sanctions;


demonstrating effective implementation of targeted financial sanctions (supported by a comprehensive legal obligation) against all 1267 and 1373-designated terrorists and those acting for or on their behalf, including preventing the raising and moving of funds, identifying and freezing assets (movable and immovable), and prohibiting access to funds and financial services;


demonstrating enforcement against TFS violations, including administrative and criminal penalties and provincial and federal authorities cooperating on enforcement cases; and,


demonstrating that facilities and services owned or controlled by designated person are deprived of their resources and the usage of the resources.



The FATF's decision to retain Pakistan on the "grey list" is in line with the government's expectations. Although, the government was unable to comply with some of the points in the action plan, it did make efforts to improve the situation.

There were little chances of Pakistan being blacklisted at the FATF's plenary meeting this month because of the Pakistani civilian and military leadership's commitments to plug the loopholes in combating terror financing and money laundering. But Pakistan had not expected a warning at the same time.

In February last year, the FATF had decided to place Islamabad on the "grey list" with effect from June 2018. Pakistan had been given a 27-point ambitious action plan that required it to completely choke terror financing and monetary laundering, dismantle terrorists' sanctuaries, and make the banking and non-banking financial regulations more stringent.

The FATF also stated that Iran had yet to ratify the UN's Terrorist Financing and Palermo Conventions, calling on "all countries to apply effective counter-measures against Iran".
COMMENTS
Comments are moderated and generally will be posted if they are on-topic and not abusive.
For more information, please see our Comments FAQ