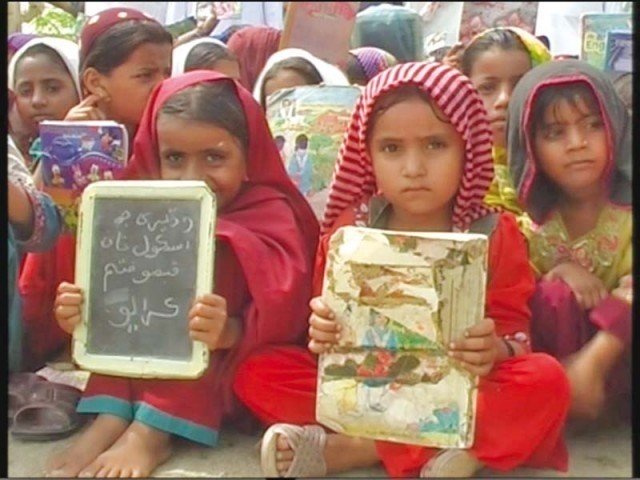 ---
KARACHI: Education has always been a critical issue for developing countries like Pakistan and despite the government's efforts and foreign funding to combat the educational system's myriad shortcomings, little has been done to mitigate the crisis. This particularly holds true for the rural areas of Pakistan where the educational structure is dismal, to say the least.

This was recently highlighted in the 2019 Annual Status of Education Report (ASER) that was compiled and launched by the Idara-i-Taleem-o-Aagahi (ITA), a public trust striving to promote education in Pakistan.

The survey for the report was conducted across 155 rural and 20 urban districts of Pakistan to assess the learning outcomes of children aged five to sixteen.

Authored by different researchers, the ASER examined the educational system in rural and urban areas of the country while keeping in mind the United Nations' Sustainable Development Goals, specifically SDG 4, which is to 'Ensure inclusive and equitable quality education and promote lifelong learning opportunities for all. '

Researchers conducted a well-rounded, door-to-door survey in rural areas of the country and while they highlighted a few milestone achievements, the overall picture turned out to be quite grim and pointed toward the country's chronically-underdeveloped educational system.

The learning crisis

The report cuttingly points out that despite better learning trends in 2019 as compared to previous years, the rural part of the country is still in crisis as 41% of fifth-grade children are unable to read a simple story in basic languages, such as Urdu, Sindhi, and Pashto. Adding to it, the report also indicates that 14% of children in lower secondary schools are also unable to read a standard two-level story. This situation, per ASER's findings, puts Pakistan's rural areas on declining levels of achievements and amplifies the call for action to the fundamental challenge that mere enrolment or schooling does not equate to learning.

Speaking to The Express Tribune on the on-going learning crisis, Dr Syed Kamal, former director National Education Assessment System (NEAS) said that in order to improve reading and writing skills, parents and teachers should foster a reading environment in homes and schools.

"Inculcating reading habits at home can be the beginning of overall learning cycle which our country desperately needs right now," he said.

Gender disparity in education

Akin to other fields in Pakistan, gender difference also exists in the educational system, that too to a serious extent. Per the survey, the gender gap in learning continues as boys outperformed girls (age five-sixteen) in literacy and also in numeracy skills. This has a lot to do with the fact that education for girls is still an issue and how little attention is paid to it in rural districts. More importantly, the report also talks about how important it is for a woman to be literate by referring to mothers with primary education as 'a rich untapped resource.'

Marginalisation of children with disabilities

The report also highlights a very important aspect of what's missing in Pakistan's educational system – the element of inclusivity, particularly disability.

Accordingly, almost 20% of schools in rural areas have enrolled differently-abled children. With regards to the types of disabilities, the highest reported type was physical disability 41.4%, followed by behavioural disability, which was 12.1%, and multiple disabilities, which was estimated to be 11.8%. Furthermore, the report said that only 2.1% of surveyed government schools and 2% of surveyed private schools had ramps. Similarly, only 3.9% of surveyed government schools and 7% of surveyed private schools had disability-friendly toilets.

The present situation strongly points out that in order for schools to become more inclusive, there is a need to ensure a trained workforce, provide adequate disability-friendly facilities and support service.

There is a dire need to provide all basic facilities to children with disabilities both in urban and rural schools. Sadly, such basic faculties are also absent in the elite urban private schools of the country.

"The provision of basic facilities (ramps, special toilets and chairs) in schools is the constitutional right of differently-abled children. I urge media organisations to highlight this issue", said Dr Kamal said.

Light at the end of the tunnel

While the report highlighted some harsh facts about the country's poor educational system, it also shed light on some positive developments in the field. Tossing out an astonishing fact, it stated that in 2019 more people opted for public-sector education rather than private education. This is an achievement in itself and the government's efforts have been lauded for it.

The report also found that teachers' attendance in schools of rural areas have increased and the concept of ghost staff has become slightly unpopular.




COMMENTS
Comments are moderated and generally will be posted if they are on-topic and not abusive.
For more information, please see our Comments FAQ