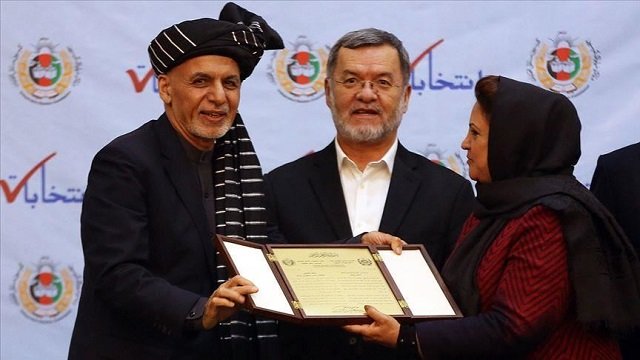 ---
KABUL: Riding a delicate victory, Afghan President Ashraf Ghani embarked on his second five-year term amid rejuvenated peace talks between the US and Taliban.

The 70-year-old president faces the daunting task of uniting the country and protecting democracy, political commentators and observers told Anadolu Agency.

"He is faced with challenges of a mammoth scale on at least three fronts. One and most serious of all now seems the challenge posed to him by all the key politicians who have been in power since the fall of the Taliban regime [in 2001] such as [former power-sharing Chief Executive] Abdullah Abdullah, former President Hamid Karzai, [former Vice President] Gen. Abdul Rashid Dostum and others," said Gen Momand Katawazi, a senior Kabul-based political analyst.

According to the announced details of the understanding reached between the Taliban and the US after marathon rounds of talks in Doha, Qatar, the Afghan government should come up with an inclusive team to hold talks in the next round with the insurgents.

"The other two fronts for Ghani are of course the Taliban always discarding the legitimacy and authority of the Ghani administration, and the US seemingly in a rush to reach some sort of deal with the Taliban for the exit of troops in this election year in the US," Katawazi added.

Ghani secured the required minimum of 50 per cent-plus votes to secure the top office, the election authority said Tuesday, announcing the results of the September vote after months of delay.

US-Taliban agreement to cut violence will start in next five days

His main rival, Chief Executive Abdullah Abdullah trailed with 39.5% of votes. Veteran Mujahideen leader Gulbuddin Hekmatyar received 3.8% of the total votes cast, while former intelligence chief Rahmatullah Nabil came third. All of them have rejected the initial results.

Building inclusive strategy

In the deeply divided tribal Afghan society, analysts believe Ghani's main challenge would also be to demonstrate and adopt an inclusive strategy forward in a bid to end the feelings of resentments and alienation among different groups.

Stating that there was no international reaction to the final results, political analyst Muhib Shareef said intense diplomatic efforts are underway to avoid serious backlash from either side.

"These diplomatic efforts stopped [Abdullah's camp] from coming short of announcing a parallel government and instead vowing to establish an inclusive government only. It seems an understanding would reach somehow," he said.

Among the few prominent international voices to immediately endorse the results so far has been, Kai Eide, former UN envoy to Afghanistan.

"Time to say «game over», accept the results, stop quarreling and start working on the crucial issues waiting: form an inclusive team and prepare for intra-Afghan negotiations in good faith!" the former Norwegian diplomat tweeted.


Time to say «game over», accept the results, stop quarreling and start working on the crucial issues waiting: form an inclusive team and prepare for intra-Afghan negotiations in good faith! https://t.co/565c2CZwHy

— Kai Eide (@kai_eide) February 18, 2020


A former World Bank economist, Ghani has been instrumental in different roles in the post-Taliban administration in Kabul.

In the Afghan political arena dominated by warlords, and former Mujahideen and tribal elders, Ghani remains an outsider who received an equal share of praise and criticism for dividing and sidelining the traditional power brokers, and replacing them with the younger lot, mostly young Afghan expats under his electoral slogan of 'State Builder'.

Shortly after his election victory, a visibly confident Ghani greeted his supporters in Kabul.

"The government's arms are open to Taliban and other groups. We want peace and sustainable peace. And, God willing this team would bring peace to Afghanistan," he said, as the Taliban, who are close to inching a deal with the US, called him a western stooge.