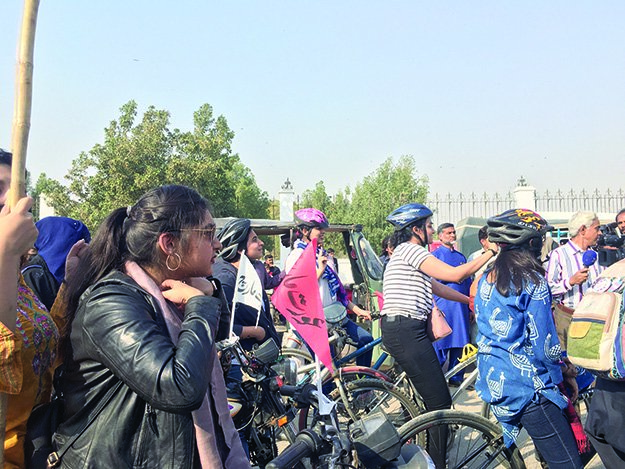 ---
KARACHI: Paying rich tribute to the late rights activist and lawyer Asma Jahangir, women, students and activists participated in a bike rally going from the Quaid's Mausoleum to Nursery on Sunday.

Organised by members of the Aurat March community, the rally aimed to empower women and help them reclaim space in public areas. It was also an attempt to mobilise participants for the upcoming Aurat March, scheduled for March 8 at Frere Hall.

"The presence of women on the roads is considered unusual and even looked down upon. The idea behind our initiative is to change this mindset," explained Rasheeda Muqaddam, one of the organisers for Aurat March, adding that they had arranged for around 30 bicycles and a couple of motorcycles for the rally.

"Women own the roads and public spaces as much as men do, and whether it's riding bikes or using public transport, these activities should be perceived as normal for women as they are for men," she maintained.




Pointing to the stigma attached to women riding bikes in Pakistani society, Greesha Kumari, another organiser, said that the country had a long way to go in accepting women on wheels.

"Women receive so much flak even when they are just driving cars, I can't imagine what they go through, especially while riding bikes, given how they are directed to sit in a certain way and be in a certain way," she said. However, she added, motorcycles are a convenient and cheaper mode of transport that had the potential to greatly benefit women.

Saman Nair, a student who learned how to ride a motorcycle through the Women on Wheels programme at Karachi University, urged girls to take charge of their own transport in order to become more independent, confident and self-sufficient.

"Young women can easily ride bikes and make it to their colleges and universities without being dependent on anyone else," she remarked, adding that she was participating in the rally to promote this trend.

Remembering an icon

The rally was symbolic, in line with Jahangir's vision that aimed to give women control over their own lives and the liberty they deserve.

Talking to The Express Tribune, Kausar Saeed, a founding member of the Women's Action Forum, called Jahangir the "greatest icon the country has ever seen."

Praising the youth on coming to the forefront to fight for the cause, she said it was a wonderful feeling to see them leading the rally.

"Asma was a friend - we started our struggle together. Her life and journey is an immense source of inspiration for all and continues to stimulate us. Three cheers for her!" continued Saeed, adding that Jahangir was still alive in their protest and in people's hearts.

Another participant of the rally praised Jahangir as a Pakistani icon and a source of pride for the country.

"I am a huge fan of her work. I study at the Institute of Business Administration and a lot of my courses have been looking at how she used her knowledge and influence to free so many women from the shackles of patriarchy and dictatorship," noted Isha Shakeel, a student who is also a regular participant at marches that draw attention to the plight of women and the climate.

Published in The Express Tribune, February 17th, 2020.
COMMENTS
Comments are moderated and generally will be posted if they are on-topic and not abusive.
For more information, please see our Comments FAQ