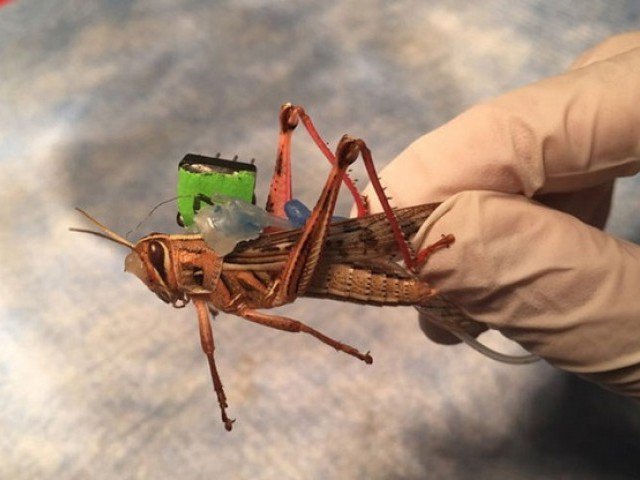 ---
ISLAMABAD: Minister for National Food Security and Research Khusro Bakhtiar has said that the country is under severe locust attacks, which pose a substantial threat to the food security.

"The locust attacks have occurred after 27 years and the government has directed the authorities to assess the value of crops lost," he said.
The minister made these remarks during his visit to Pipli Pahar, a locust-hit area in Okara, along with National Disaster Management Authority (NDMA) Chairman Lieutenant General Muhammad Afzal on Sunday.

Briefing the media, Bakhtiar said the situation in over 85 per cent locust-hit areas was under control.

He stated that the federal government had declared a state of emergency in different parts of the country in the wake of the attacks.

The minister noted that all institutions including the National Disaster Management Authority (NDMA), Plants Protection Department, army, air force and Provincial Disaster Management Authorities (PDMAs) and international agencies had been working to cope up with the menace.

Locust emergency – a threat to food security

He warned that if timely action is not taken, the attacks could become a threat to the food security in the country.

He assured the farmers that they would be accommodated accordingly.

Speaking on the occasion, NDMA Chairman Lieutenant General Muhammad Afzal said a comprehensive strategy had been formulated to eliminate the locusts through chemical spray.
He said that army aviation and air force help would also be sought if the need arises.

Okara Deputy Commissioner Usman Ali briefed the minister and NDMA chairman on the situation after the outbreak of the attacks.
United Nations Food and Agriculture Organisation (FAO) director general, country representative, PDMA DG Punjab and others stakeholders were also present on the occasion.
COMMENTS
Comments are moderated and generally will be posted if they are on-topic and not abusive.
For more information, please see our Comments FAQ