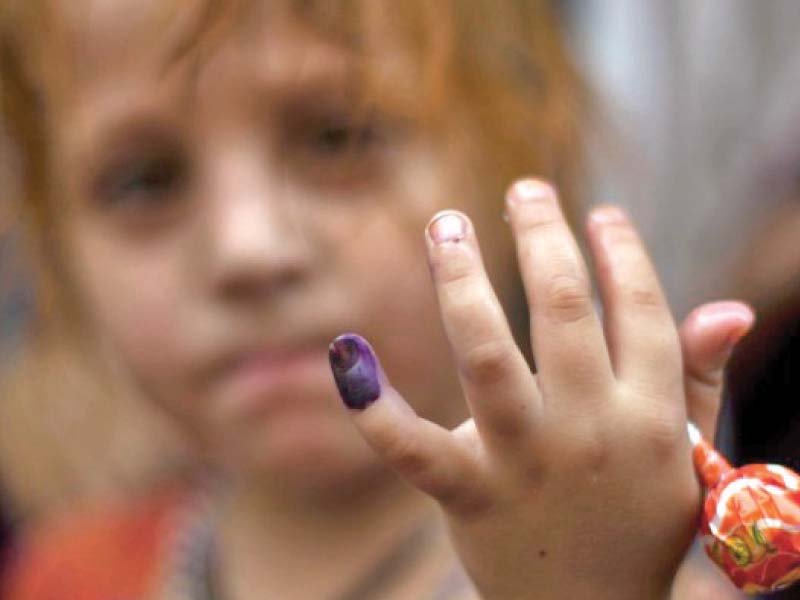 ---
ISLAMABAD: The current year's first nationwide polio campaign that is set to kick off from Monday (today) apart from Karachi where it had been preponed by one week targets to immunise around 40 million children under the age of five.

In the week-long drive, more than 265,000 frontline polio workers will go street to street and administer vaccine to 39.6 children.
According to National Emergency Operation Centre (NEOC), aggressive measures will be taken to root out the crippling virus from the country following the success of drive in December last year.

Special Assistant to Prime Minister (SAPM) on Health Dr Zafar Mirza noted that the government had critically reviewed its performance during the last campaign and worked with the provincial and district teams to derive better results this time.

He termed the geographical spread of the crippling virus and its transmission a real danger for the children.

NEOC Coordinator Dr Rana Muhammad Safdar said that reaching out to every child door-to-door would increase their immunity and protect them from the lifetime of disability.

Four-day anti-polio drive to kick off from tomorrow in Balochistan

"We resolve to turn around the situation this time keeping in view our experience of 2019. The national team urges every Pakistani to assume the role of Sehat Muhafiz ensuring vaccination to their children as well as to others," he said.

In order to benefit from the low temperatures, the anti-polio drive had been scheduled for the months of December, February and April.
In addition, two strategic response rounds in high-risk districts had been planned for January and March.

The NEOC has deployed its 50 experts as facilitators in important areas of the country to support the frontline workers in administration of polio drops to each child during February.

The effort will not only save the children from contracting the disease but also protect them from carrying the virus to their bodies.

Safdar said the programme aimed at making Pakistan a polio-free country and was supported by all segments of society including the medical community, religious scholars, journalists, famous personalities and others.

He urged the parents and caretakers to welcome the polio frontline workers and assist them in vaccinating their children as well as those in their neighbourhood.
COMMENTS
Comments are moderated and generally will be posted if they are on-topic and not abusive.
For more information, please see our Comments FAQ